Victory for Clegg on economics as left-leaning Lib Dems fail to scupper motion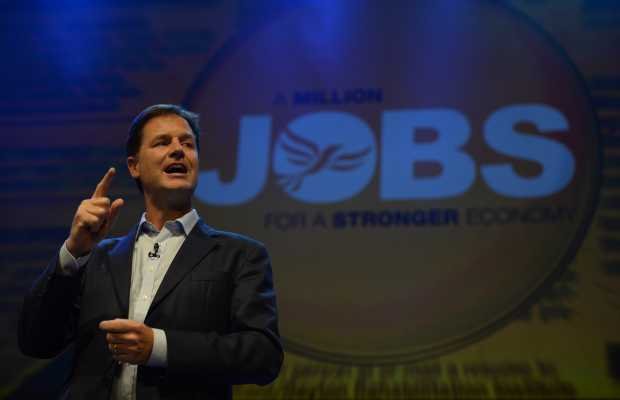 Liberal Democrats have supported Nick Clegg's motion "Strengthening the UK Economy" (pages 37-39). The proposed and largely rejected changes – put forward by the left-leaning faction the Social Liberal Forum (SLF) – are below.
The party leadership were happy to accept the first amendment if the first four lines of that did not pass, and not the second. Those four lines and that second amendment failed to pass, with overwhelming voting against each.
A win for the party leader, as the victory shows up the fault lines running through the party. Clegg rallied the crowd against the amendments saying that they would only benefit George Osborne and Ed Balls.
Leading Liberal Democrat Vince Cable had refused to show up to participate in the debate, instead electing to turn up for the end of the session.
Our reporters Jim Waterson and Michael Bird:
The split between Clegg and Cable seemed even wider after the business secretary decided not to speak in support of the Lib Dem's economic policy at the party's annual conference in Glasgow. Cable had been expected to publicly support the motion but pulled out after ordinary members tabled an amendment that called on the party to slow the rate of deficit reduction.
Amendments:
Independent economic strategy

a) Lines 53 to 55 – delete all and replace with "Conference affirms its support for a fiscal mandate under the terms of the Coalition Agreement, but believes it must be rebalanced to give greater support for measures that raise employment and growth. Conference therefore calls on the Coalition Government to…"

b) Add after Line 76: Conference recognises that the electorate will expect all major political parties to present their own distinctive economic policies during the 2015 General Election campaign. Given the need for healthy government finances in a balanced, sustainable economy, Conference therefore believes that the principles behind the Liberal Democrats' economic policy beyond 2015 should be guided by:

increased capital investment in people, business and infrastructure
rebalancing the economy away from dependence on unsustainable debt and house prices, towards robust regional economies that raise living standards through sustainable growth
improving the provision for the most vulnerable in society; and
a recognition that beyond 2015, the burden of fiscal consolidation should be shifted further towards fairer taxes, especially on wealth and land.

Housing

At line 59, delete from "pooling" to "rent" (line 64), replace with:

"2) Dramatically increase the number of houses being built to at least 300,000 a year as agreed to in Policy Paper 104 "Decent Homes for All" at September 2012 Conference. Further, to use untapped sources of finance and giving more freedom to social landlords, local authorities and local communities, including by:

a) Removing council borrowing limits, thereby enabling councils with a sustainable business model to borrow to invest in building at least 50,000 homes per year for social rent; and further to examine urgently whether Public Sector Net Debt (PSND) could be brought into line with definitions of other EU countries so that the liabilities of trading corporations (such as council housing operations) are off balance-sheet

b) Ensuring an environment supportive of approaches through which the long-term investment needs of pension funds and insurers can be met through housing
c) Taking radical steps to improve land supply, including through releasing public land with 'build now, pay later' deals."

and at line 75-6, replace (7) so as to read:

"7) Monitor closely the progress of the Bank of England, ensuring it has a refocused mandate that allows monetary policy to aid growth, reduce the unemployment rate to below 6% creating at least a million jobs, and to address weak income growth, targeting a higher level of national/median income."