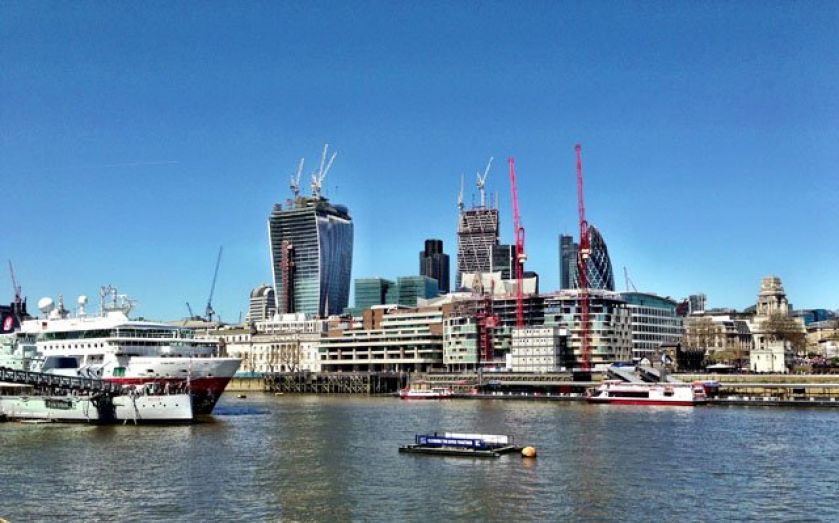 THE UK ECONOMY looks set to finally record robust growth this week, after a bundle of positive indicators from consumers and firms this morning all point to an expanding economy.
All five of the latest surveys are positive, continuing a run of steadily strengthening data over the past few months and bolstering hopes that Thursday's second quarter GDP release will entrench the recovery.
Most City forecasters are expecting growth of 0.6 per cent, similar to a prediction from the National Institute of Economic and Social Research. Some of the more optimistic economists are hoping for up to 0.8 per cent, with even most pessimists expecting growth to be higher than the 0.3 per cent seen in the first quarter of this year.
Business minister Michael Fallon talked up the economy over the weekend. "I think it is clear now that the economy is beginning to recover and that's important. Unemployment is falling, more private sector jobs are being created and tax cuts have come through," he told Sky News.
Markit's household finance index reached a new record high this month, with the strongest sentiment since the survey began in 2009.
The index rose to a reading of 43.5, substantially higher than the average reading seen over the last four and a half years of 37.8. The index has been gradually recovering since mid-2011 and has shot up recently.
"Signs of a sustained recovery across the UK economy and a corresponding upturn in labour market conditions were key factors in alleviating strains on consumer budgets," said Tim Moore, senior economist at Markit.
Lloyds TSB's consumer sentiment index reinforced the idea that strained budgets are being relaxed for the first time since the recession. The index hit a fresh peak in June, the highest since it began in 2010.
Corporate Britain is also recovering, two surveys out today confirm. The number of profit warnings issued by listed British firms fell by 25 per cent in the second quarter of this year compared with the first, according to Ernst & Young.
Capita also revealed that dividends paid out by UK companies hit a new record of £25.3bn between April and June, the best quarter ever.
Though the consumers that businesses hope will drive growth are still apprehensive about spending, more people are optimistic about their disposable income, with Deloitte's consumer tracker rising by seven percentage points. However, it still stayed firmly negative, with a net balance of minus 29 per cent.
Ian Stewart, chief economist at Deloitte, commented: "The UK consumer is past the worst and sentiment is gradually improving". He added: "Consumers have become used to weak income growth in the last five years. Given the many false dawns since the start of the global financial crisis and the continuing pressure on incomes, consumer spending is unlikely to return to pre-crisis rates of growth for a long time".
Other forecasters were also keen to nip any irrational exuberance in the bud.
Lloyds TSB's survey also contains some less welcome news for many: despite a more optimistic outlook on the economy, over two thirds of people suggest that they pay more or a lot more for their standard utilities, particularly gas and electricity, than they did 12 months ago.
The performance of business is still a key element of any recovery, and Ernst & Young highlighted upcoming challenges: "While higher levels of consumption are vital to the recovery, this remains precariously lopsided without an increase in investment and exports. Progress is still slow on both counts".
Business investment is still depressed considerably below its pre-crisis peak.
Capita raised concerns for the UK's outlook, including the frailty of the financial sectors: "There are still lots of risks on the economic horizon, with bank lending still very constrained, the Eurozone, the UK's biggest market, performing poorly, and a signalled potential winding up of the US policy of quantitative easing meaning the end to global cheap money is coming nearer".