Trevor Steven: Why my time at Marseille gives me hope for Roy Hodgson's return to Crystal Palace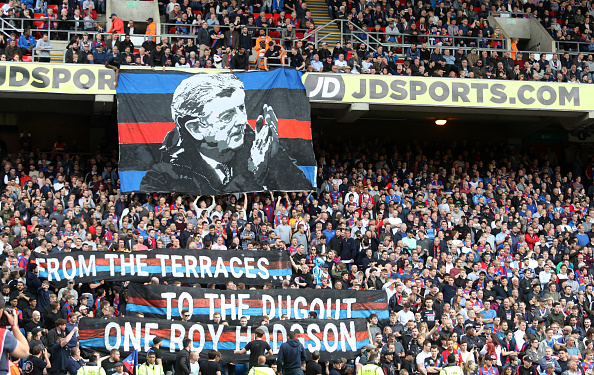 It's easy to dismiss the sacking of Patrick Vieira and re-hiring of their 75-year-old former manager Roy Hodgson as a case of Crystal Palace clutching at straws in their desperation to avoid relegation from the Premier League.
My own first reaction to the firing of Vieira was that it was a bad decision, especially without having a successor lined up. As for the choice of Hodgson, there are few examples of players or managers enjoying successful second spells at clubs, and there are concerns over his age.
But I think it's important to understand exactly what situation Palace are facing. A run of eight defeats and no wins in the last 13 games speaks for itself, and they are in more danger than their league position alone might suggest.
This season is peculiar in that even a team in 12th, like Palace, are still very much at risk. They are just three points above the relegation zone and only four off the bottom of the table. No one has yet been cut adrift; every team has something to play for.
Chairman Steve Parish has been there long enough to have a good feel for these things, and Vieira's dismissal was confirmation that those running the club believe they are in trouble. Parish had a choice: cross his fingers and hope for the best, or do something.
In Hodgson's favour, he knows the club from top to bottom, having managed them for four years until fairly recently. He is familiar with the players and they are familiar with his tactics so he can hit the ground, if not quite running, in his mid-70s, then walking briskly.
There is the emotional side, too. A boyhood fan and Croydon local, he regards Palace as home. Having kept them up in his previous stint, he may be something of a lucky omen.
This is not about next season but now; not about style of football but points. Palace have 10 league games left. If Hodgson can get three wins he will likely have done his job. Was there anybody else out there who would have a better chance? I don't think so.
It takes me back to my season at Marseille, 1991-92, when their 70-something former coach Raymond Goethals was parachuted in to revive the team's fortunes after we had started the campaign poorly under Tomislav Ivic.
Goethals had led Marseille to the title the previous season and stayed at the club as an advisor to the president. Twice he took the reins again as caretaker manager, both times with great success. 
In my season we won the French title. The following year the Belgian made Marseille European champions for the first and only time. While Goethals had higher quality players to call on, it's a similar task to the job facing Hodgson in the next two months.
I think the former England, Switzerland, Liverpool and Fulham manager will be reinvigorated by the challenge. The chance to save his beloved Palace from the drop would be the cherry on the icing on the cake of a wonderful career.
His last job, at Watford last season, was a similar task that did not end as he would have hoped. Watching from the outside, there didn't seem to be much of a relationship between Roy and the club and its fans, but at Palace there will be lots of love for him.
Football is not about niceness – and let's be clear, I don't want them to stay up at the expense of Everton – but if Hodgson can go out on a high it will be a fairytale ending. 
Trevor Steven is a former England footballer who played at two World Cups and two European Championships. @TrevorSteven63.