The £46,250 Toyota Corolla: cult-classic AE86 smashes auction record
A 1987 Toyota Corolla GT has sold for an unprecedented £46,250 at auction. The 'AE86' model smashed the US record price of $40,000 (£29,004), set earlier this year.
Bought new for £12,500 from Hallens Toyota of Cambridge, the Corolla still wears its original Wine Red paintwork, dealer-fit number plates and mud flaps. It has covered 92,000 miles in the hands of one lady owner.
The sales invoice shows no extra-cost options were chosen, but standard equipment includes side stripes, multi-spoke alloy wheels, a sunroof and a cassette player.
Saved from the crusher
Sold via Car & Classic's online auction website, the Corolla nearly didn't make it this far. After vandals keyed the paint in 2006, it was effectively written-off by the high cost of repair.
Thankfully, the owner bought it back from her insurer and had it restored to as-new condition. According to Car & Classic: 'she simply couldn't contemplate her beloved car being unjustly sent to the crusher'.
After 34 years, she finally decided to sell. A injury had made the Toyota, without power-assisted steering, a difficult car to drive every day.
As seen on screen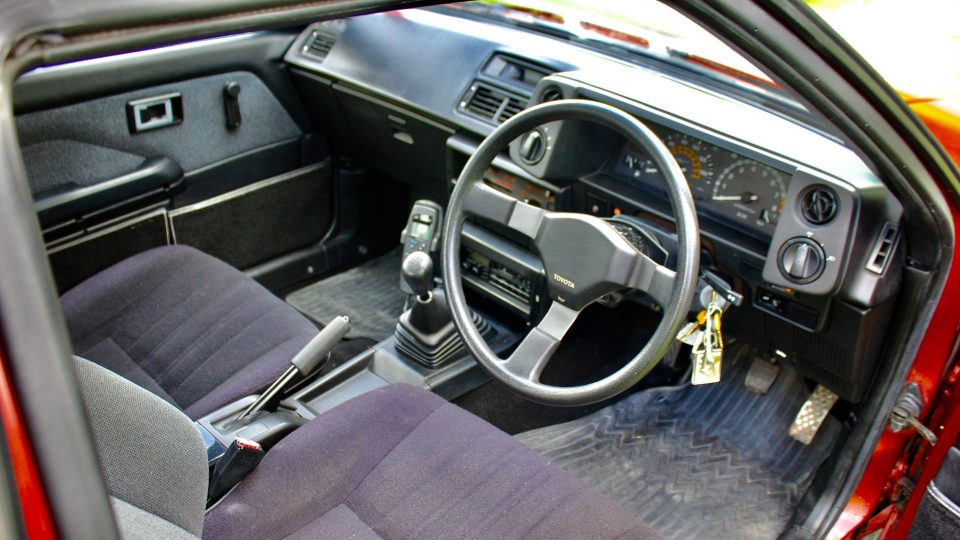 The rear-wheel-drive Corolla AE86, built between 1984 and 1987, was originally considered to be a fairly vanilla grocery-getter. However, a starring role in Japanese manga film Initial D, coupled with success in rallying, soon elevated it to cult status.
Appearances in the Fast and the Furious movies and Gran Turismo PlayStation games followed, and the AE86 became a favourite of modified car fans – particularly those with a penchant for drifting.
As a result, very few original examples are left, which explains why this standard-spec survivor was so sought-after. Let's hope it remains as Toyota intended.
Steer from the rear
Several years ago, we drove Toyota UK's heritage AE86 for our Retro Road Test. Let's conclude with an excerpt from that review, revealing what makes this outwardly humble hatchback so special:
'The twin-overhead-cam engine offers electric throttle response and revs all the way to 7,700rpm. It sounds fantastic, too, the noise hardening to a visceral snarl as the needle passes 4,500rpm. The Toyota isn't fast by modern standards, but there's ample performance here – if you're prepared to work for it.
'However, the AE86 legend was built on the drift circuit, not the drag strip. And it's the way this car goes around corners that still gets enthusiasts excited. The unassisted steering feels wonderfully delicate, while a prod of the throttle adds some easily-controlled steer-from-the-rear.
'We couldn't make the pilgrimage to Japan's Mount Fuji, but a few empty roundabouts near Crawley provided plenty of laugh-out-loud fun.'
Tim Pitt writes for Motoring Research