Thorntons' share price collapses 25 per cent following profit warning
Chocolate maker Thorntons has ended the year on a disappointing note, warning falling sales will hit the company's earnings for the full year.
The company's share price slumped a whopping 25 per cent when the market opened.
Thorntons announced its UK Fast Moving Consumer Goods (FMCG) division had faced "challenges" that hit sales performance in the all-important run-up to Christmas.
The firm, which closed 39 stores last year, said in a statement:
Against a strong comparative period last year, the board now expects earnings for the full year to be below those achieved for the last financial year.
Thorntons identified two main problems holding the company back. The first was a big reduction in anticipated orders from major buyers.
It said it had also experienced problems at its new centralised warehouse. Because of that, Thorntons' commercial channel suffered "lost and late sales" and, as a consequence, lost out on "promotional slots and reorders". The blow was all the more painful as the company had carried out significant testing before using the facility.
However, Thorntons hastened to add its "warehousing and distribution facility is now working normally". According to the company, the centralised warehouse was needed to meet its current and future business growth.
Thorntons said:
Timely management action has resulted in good control of costs and stocks. Christmas seasonal specialities have sold well and no significant excess seasonal stock is anticipated.
Over recent years the company undergone a radical transformation. These days, it it mainly sells its goods to supermarkets rather than through its own stores.
Commenting on this morning's events, Julie Palmer, partner and retail expert at Begbies Traynor, said:
Despite reporting strong sales of its seasonal Christmas products, lower than expected orders from the UK's largest supermarkets have hit Thorntons hard this festive season, reducing its visibility among its core customer base at what should be one of its busiest trading periods.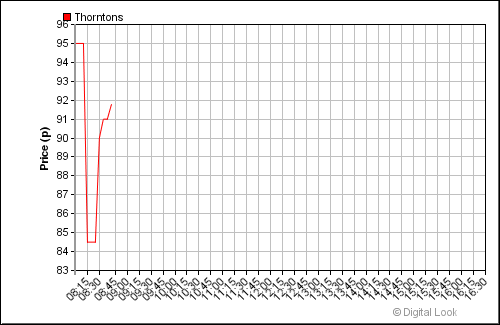 (Source: Hargreaves Lansdown)