There are crypto scams and greedy grabbers, but Bitcoin keeps proving itself to be above it all
The week in review
with Jason Deane
 
Greetings from beautiful Bali!
Of course, I should be claiming that I am here for some very important Bitcoin conference, but the reality is that I'm here for my brother's wedding along with around 50 other guests from around the world. In other words, it's a pure jolly. And I'm loving it!
But even the beautiful scenery, crazy currency and endless stream of scooters (each carrying four family members and a dog) is not enough to drown out the industry news as it happens.
For me, the biggest story this week was the SEC's action against Richard Heart who has now been charged with several counts of selling unregistered securities, namely Hex, PulseChain and PulseX.
The biggest surprise is not that this happened, but that it took so long for it to happen.
I always found it incredible that fans of Hex never seemed to understand what it was they were dealing with, apparently completely taken in by Heart's larger than life personality and penchant for ridiculous clothes. But then, we've seen plenty of people in this business with the ability to create an army of zealots who will defend their leader to the death as they quietly bleed them dry in the background.
The SEC's press release also talks about a $12m misappropriation of funds from the projects to buy expensive items and this is a notably small amount compared to his lifestyle. Do they have specific evidence for this amount? We will see when the inevitable criminal charges are filed later on.
Of course, this news would have far more impact if the SEC actually had any credibility left, but their actions over the last few years in particular have been an embarrassing misuse of power.
None of this, of course, affects Bitcoin which remains outside of the cesspool of the crypto industry as a whole. Strong words perhaps, but we still have a long way to go before the mess is anywhere close to being cleared up once and for all.
My pro-Bitcoin stance is well documented and, under a technical definition I am definitely a "maxi", but even I have to accept the reality that crypto will almost certainly have a role to play in the future. However, "Bitcoin" and "crypto" are so completely and entirely different that the issue for me is one of categorisation.
Put simply, cryptos are essentially equities. You invest based on the people who issue and own the token supply (and let's be clear, ALL of them, with the exception of Bitcoin, are owned, run or influenced in some way by humans), the token's business case and what you think the future value of that business case is, if any. As soon as you think of it that way, you can make your own investment decisions in the same way you would when you invest in the board of a company via traditional stocks.
Except for Bitcoin which sits firmly outside of that control and definition and probably why people like Michael Saylor are so openly obsessed about acquiring as much as possible, something he has to do by selling stock because he doesn't control the Bitcoin supply and more than any of us do.
At the end of the day, you pays your money and you takes your choice, but understanding those choices fully is our own responsibility.
Otherwise people like Richard Heart will make it theirs.
Have a great weekend!
Want to really understand the difference between crypto and Bitcoin? Or just ask any questions about Bitcoin in general and find great learning material? Join BitcoinHODLers today, a free Telegram community managed by the author of this article full of passionate and positive bitcoiners from all over the UK, See you there!
Yesterday's Crypto AM Daily
In the Markets
The Bitcoin Economy
*Data can be found at https://terminal.bytetree.com/
🌅Total crypto market cap
🔵 $1.16 trillion
👆 0.12%
What Bitcoin did yesterday
🔺 Daily high $29,409
🔻 Daily low $28,981
Bitcoin market capitalisation
🟠 BTC $576.86 billion
🟡 Gold $12.989 trillion
💳 Visa $500 billion
Bitcoin volume
🪣 Total spot trading volume $12.47 billion
👇 17%
SP500
👇 0.25%
Fear and Greed Index
Bitcoin's market dominance
📊 50.33
Relative Strength Index (RSI)
💪 49
Values of 70 or above indicate that an asset is becoming overbought and may be primed for a trend reversal or experience a correction in price, while 30 or below indicates an oversold or undervalued condition.
What they said yesterday
"Twitter's real-time, public platform has become the heartbeat of the financial community."

X, formerly Twitter, in a proposal to potential business partners, reportedly asking to help build a trading hub on the platform.
Whether you're a Bitcoin expert or a total newbie – or even somewhere in between – you can now join the new HODLers Telegram community to learn more… or share your insights with others!
Our goal is simple: to provide a safe place where people can ask any question they want about Bitcoin, even if they think it's a daft one! Learning Bitcoin takes time and we generally have the same questions when we first encounter it, so we know from our own experience having somewhere to ask a real person a specific question can be of great value!
There's also access to great learning resources and, to cap it all off, we run monthly competitions to win great prizes such as tickets for events, VIP passes, exclusive access to talks and webinars or even just some Sats to add to your stack, all courtesy of our partners!
Even better, the whole thing is completely FREE!
So, if you're a beginner, or know someone who is, take our fun five question multiple choice quiz and join the group today. Of course, if you're an expert, you're also welcome to join and help others who are looking to understand Bitcoin as an asset and the industry as a whole.
T's and C's: Open to UK residents only. All ages are welcome in the community, but you need to be over 18 to enter competitions. No purchase required.
All feedback on Crypto AM Daily in association with Luno is welcome via email to James.Bowater@cityam.com 🙏🏻
Crypto AM: Editor's picks
FCA's new crypto advertising rules met with mixed industry response
ChatGPT urges crypto conference panel not to become over-reliant on AI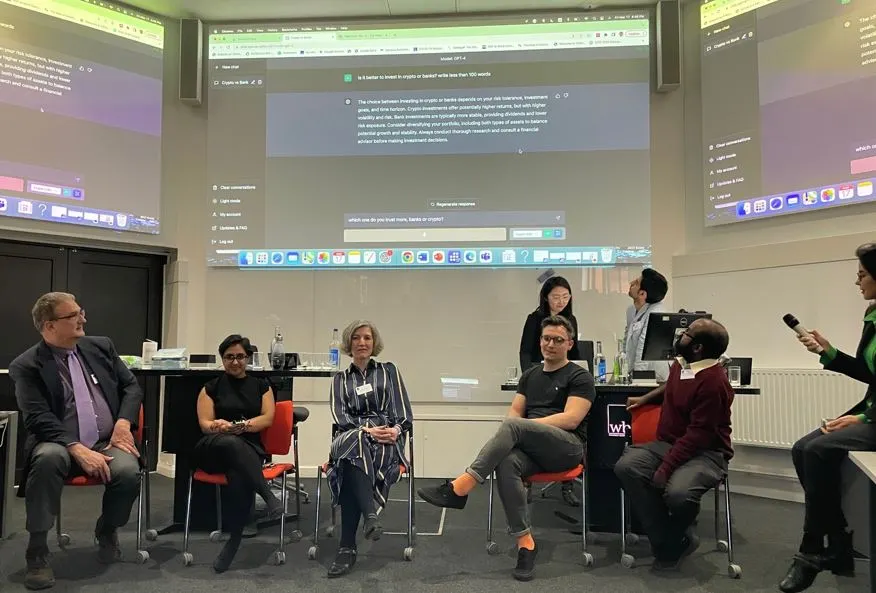 Mt. Gox customers will have to wait until November to recover lost Bitcoin funds
Sam Bankman-Fried: A tissue of lies soaked with fake tears?
Three-in-four wealth managers are gearing up for more cryptocurrency exposure
Crypto.com granted FCA licence to operate in UK
Q&A with Duncan Coutts, Principal Technical Architect at IO Global
Jamie Bartlett – on the trail of the missing 'Cryptoqueen'
MPs are falling silent over potential of cryptocurrency
Erica's 'Crypto Wars' handed honours in Business Book Awards
Crypto AM: Features
Crypto AM: Founders Series
Crypto AM: Industry Voices
Crypto AM: Contributors
Crypto AM: In Conversation with James Bowater
Crypto AM: Tomorrow's Money with Gavin S Brown
Crypto AM: Mixing in the Metaverse with Dr Chris Kacher
Crypto AM: Visions of the Future, Past & Present with Alex Lightman
Crypto AM: Tiptoe through the Crypto with Monty Munford
Crypto AM: Taking a Byte out of Digital Assets with Jonny Fry
Crypto on the catwalk
Crypto AM: Events
Cautionary Notes
It's definitely tempting to get swept up in the excitement, but please heed these words of caution: Do your own research, only invest what you can afford, and make good decisions. The indicators contained in this article will hopefully help in this. Remember though, the content of this article is for information purposes only and is not investment advice or any form of recommendation or invitation. City AM, Crypto AM and Luno always advise you to obtain your own independent financial advice before investing or trading in cryptocurrency.