It's been an odd week for Bitcoin, but not as odd as it's been for Twitter and Elon Musk
The week in review
with Jason Deane
It's been a bit of an odd week in the markets, with some solid gains from both the usual suspects as well as some unexpected outliers – followed quickly by losses. It definitely "feels" like there's more activity than usual right now, but there's also a real lack of clarity of direction.
That same lack of clarity is also painfully apparent in the world of Twitter – the traditional go-to platform for all things Bitcoin and crypto related. But for how much longer?
There's no doubt that Twitter has become a shell of its former self since Musk's take over less than a year ago. As a previously heavy user I have to agree that it's a mess and now barely post.
For example, since I have been inexplicably stopped from seeing the main accounts I follow in my feed, I now have a long handwritten list of my favourite top accounts blu-tacked to the side of my screen. A few times each day, I manually type in their names and visit their accounts for the latest revelations. That's hardly progress.
Add in this week's "rate limit exceeded" debacle and it's clear to see all is not well at Twitter HQ and I'm not sure the platform will ever recover its former glory.
This, of course, is something that Mark Zuckerberg knows very well as he launched his alternative platform "Threads" earlier this week, scooping up some 55 million users in the first 48 hours. That's pretty spectacular when you consider Twitter has around 400 million users overall and took 17 years to get there. At its current rate, Threads will reach that level just after Wimbledon finishes.
Could we be one day saying that Twitter was the MySpace of the text based social media platforms? Personally, I hope not. Apart from the fact that it's a bit of a mouthful, I'm not sure I want one person with that much control of the global chatter with ownership of Facebook, Instagram and Threads.
But then again, I'm a Bitcoiner, so I'm not sure I want one person in control of anything. History shows us we're consistently terrible at that. Of course, the stockholders like it though as Meta has risen 134% so far this year, countering much of its losses in late 2021/early 2022 with a YTD chart that is a perfect 45 degree up and to right formation. You don't see those very often.
The Russian Ruble, on the other hand, shows a chart with the exact opposite as Putin's woes go from bad to worse as a result of his disastrous war, losing another 10% this week alone. But perhaps he's banking on the new BRICS currency, launching on August 22 this year, to be the lifeboat he's looking for in the future.
It's hard to overstate just how game changing this currency is and how much it threatens to swing the balance of power away from the traditional western economic alliances. There's a great summary here. It has also been surprisingly under-reported for such a major event, but now that a date is set, it has gone from being theoretical to "real".
Suddenly, there is a real need for proper analysis of impact – something that both myself and many others will be doing over the coming weeks and months, both from the traditional fiat economic models, but also from the Bitcoin perspective. After all, this new gold-backed currency is clearly designed as play for global reserve currency status, but it is still centralised and open to the same abuses we've seen throughout history. As I mentioned above, this has NEVER ended well – will this time really be different?
It won't, but does it matter? Bitcoin, in my opinion, is still the best and provably solid choice for this role in the long term, but it's worth understanding how BRICS+ changes the landscape in the medium term and I suspect there will be much discussion.
One thing is for certain, we're in for a fascinating few years.
Have a great weekend!
Pleased to announce the launch of the Bitcoin HODLers – a new UK community group designed for Bitcoiners of all levels to share knowledge, have fun, meet up and win fabulous monthly prizes through our partners. All welcome! Click here to check it out or join!
Yesterday's Crypto AM Daily
In the Markets
The Bitcoin Economy
*Data can be found at https://terminal.bytetree.com/
🌅Total crypto market cap
🔵 $1.17 trillion
What Bitcoin did yesterday
🌄 Closed $29,909
🔺 Daily high $31,460
🔻 Daily low $29,892
Bitcoin market capitalisation
🟠 BTC $598.775 billion
🟡 Gold $12.681 trillion
💳 Visa $496.19 billion
Bitcoin volume
🪣 Total spot trading volume $22.288 billion
SP500
🌅 24hrs -0.79%
Fear and Greed Index
Bitcoin's market dominance
📊 51.53
Relative Strength Index (RSI)
💪 55
Values of 70 or above indicate that an asset is becoming overbought and may be primed for a trend reversal or experience a correction in price, while 30 or below indicates an oversold or undervalued condition.
What they said yesterday
The "super bears" of 2000-02, 2007-09, 1929-32 & 1937-38 produced drawdowns that were significantly deeper and longer than what we've experienced so far this cycle.

Jurrien Timmer, Director of Global Macro at Fidelity 
Would you like to help spread the adoption and education of Bitcoin in the UK and even stack some Sats while you're doing it? Well, now you can!
The Bitcoin Pioneers community, backed by Barry Silbert's Digital Currency Group, was created to introduce Bitcoin to a mainstream audience in a meaningful way and now has members right across the UK.
We share tips, stories and ideas on how to encourage others to try Bitcoin for the first time. And, thanks to support from Luno, each Pioneer gets £500 of Bitcoin a month to share with beginners, helping them get started.
So, if you're passionate about Bitcoin, why not join today? Click here to find out more!
All feedback on Crypto AM Daily in association with Luno is welcome via email to James.Bowater@cityam.com 🙏🏻
Crypto AM: Editor's picks
FCA's new crypto advertising rules met with mixed industry response
ChatGPT urges crypto conference panel not to become over-reliant on AI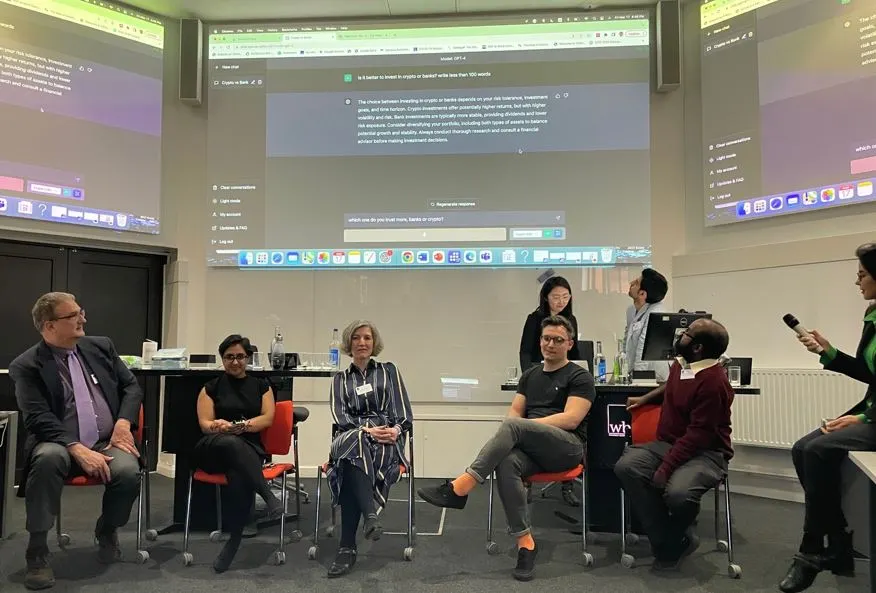 Mt. Gox customers will have to wait until November to recover lost Bitcoin funds
Sam Bankman-Fried: A tissue of lies soaked with fake tears?
Three-in-four wealth managers are gearing up for more cryptocurrency exposure
Crypto.com granted FCA licence to operate in UK
Q&A with Duncan Coutts, Principal Technical Architect at IO Global
Jamie Bartlett – on the trail of the missing 'Cryptoqueen'
MPs are falling silent over potential of cryptocurrency
Erica's 'Crypto Wars' handed honours in Business Book Awards
Crypto AM: Features
Crypto AM: Founders Series
Crypto AM: Industry Voices
Crypto AM: Contributors
Crypto AM: In Conversation with James Bowater
Crypto AM: Tomorrow's Money with Gavin S Brown
Crypto AM: Mixing in the Metaverse with Dr Chris Kacher
Crypto AM: Visions of the Future, Past & Present with Alex Lightman
Crypto AM: Tiptoe through the Crypto with Monty Munford
Crypto AM: Taking a Byte out of Digital Assets with Jonny Fry
Crypto on the catwalk
Crypto AM: Events
Cautionary Notes
It's definitely tempting to get swept up in the excitement, but please heed these words of caution: Do your own research, only invest what you can afford, and make good decisions. The indicators contained in this article will hopefully help in this. Remember though, the content of this article is for information purposes only and is not investment advice or any form of recommendation or invitation. City AM, Crypto AM and Luno always advise you to obtain your own independent financial advice before investing or trading in cryptocurrency.