The DUP must decide what Brexit they want – or Northern Ireland will be stuck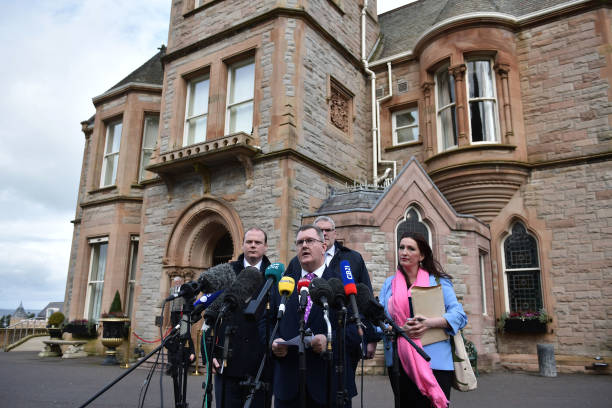 The DUP can't have it all – and it's good that Rishi Sunak's deal for Northern Ireland doesn't indulge the unionists' wildest fantasies on a hardline Brexit, writes Will Cooling
Not since John Major boasted about the Maastricht Treaty being "game, set and match for Britain" has a Tory Leader been so visibly pleased with the results of a negotiation with the European Union. Gone are David Cameron's complacency, Theresa May's caution, or Boris Johnson's incoherence. Rishi Sunak is aggressively pushing the new Windsor Framework he announced with the European Commission President Ursula von der Leyen on Monday.
His enthusiasm has caused some eyebrows to be raised, especially around his comments in Belfast that Northern Ireland now has the unique benefit of privileged access to both European and British markets. This isn't the contradiction with his belief in Brexit that many claimed it to be: instead, what Sunak was talking about was the potential for Northern Ireland to benefit from arbitrage, by being the best place to trade with both Britain and Europe. If the whole UK was still in the single market, then Northern Ireland would obviously have no such special position to exploit.
The aggressive rollout of the new protocol places those who were sceptical of Sunak's renegotiations on the backfoot. Allies of Boris Johnson are already briefing he is unlikely to oppose the deal. Leading backbenchers from the once-powerful European Research Group begrudgingly talk of being impressed with the final result. It's a far cry from last weekend when there were rumours that Sunak's government may be rocked by ministerial resignations.
Sunak's behaviour shows we have passed peak hostility towards the EU. Whether it's because of a recognition of Brexit's growing unpopularity, a desire to unlock currently frozen aspects of the Withdrawal Agreement such as Britain joining Horizon Europe, or the changing geopolitical landscape following the Russian invasion of Ukraine, Rishi Sunak is keen to reset relations with Brussels. This desire was foremost in his mind when seeking to do a deal on the protocol – perhaps  more so than reviving devolution in Northern Ireland.
With all opposition parties in Great Britain also seemingly minded to vote with the government in what many hope is the final vote on Brexit, the Democratic Unionist Party is suddenly backed into a corner. An unspoken suspicion of many outside the DUP is that the party's secret hope for Brexit was the return of a 'hard' border on the Island of Ireland. Such a border would not just affirm the province's Britishness, but end any potential for a slow drift into the economic orbit of Dublin.
If that was the hope, then it turned out to be a hollow one. If they couldn't get Tory politicians elected on an explicitly pro-Brexit platform to consider invoking Article 16 – let alone erecting customs posts – then it's just never happening. Brexit can be added to a list of issues, including the province's border and name, where Britain demonstrated that it cares about its relationship with Ireland and Ireland's many friends across the world too much to indulge the wildest fantasies of die-hard unionists.
Most people in Northern Ireland, including many Unionists, will welcome the fact that there won't be a trade war with Europe. However, much like the concessions John Major won back in 1991, it will likely turn out there's less to love about Rishi Sunak's deal than initially appeared. Journalists in Northern Ireland are already highlighting that while the paperwork involved in trade between Northern Ireland and Great Britain has been reduced, it has far from been eliminated.
There is therefore much for Unionists to reasonably still object to. The problem is that if the Windsor Framework isn't the solution, then there is not going to be one that allows for Great Britain to diverge from the European Union, as Tory Brexiters desire. Instead, the solution would be one that bound all of the UK into alignment with the single market when it comes to goods; same rules and regulations, common VAT arrangements, and membership of the customs union.
The fundamental incoherence in the DUP's approach towards Brexit is that the likes of Sammy Wilson or Ian Paisley Jr, who are least inclined to accept the Windsor Framework as a reasonable compromise, are also the ones who are most passionately in favour of a hard Brexit. They can have a Brexit that treats the whole UK the same, or they can have a Brexit that allows Great Britain to diverge from the single market, but they can't have both. That is their choice to make, but it's one they ultimately must make if Northern Ireland is ever to move on from this Brexit psychodrama.