Tesco in turmoil: Share price dives after £2bn is wiped off market value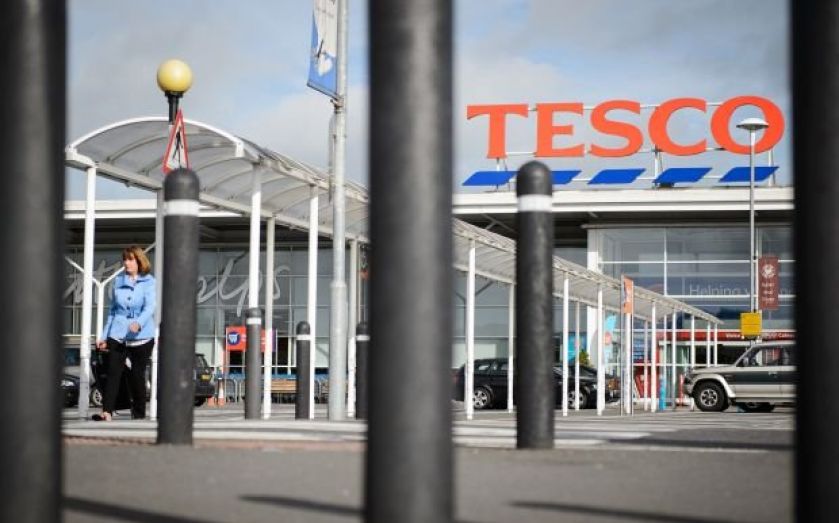 Britain's largest retailer suspends four executives and launches probes after £250m profit overstating debacle.
Tesco shares plunged 12 per cent yesterday after the embattled supermarket chain admitted that an error in its accounts meant profits for the last six months would be £250m lower than expected.
The retailer has suspended four senior executives, including its UK managing director Chris Bush, and has hired accountancy firm Deloitte to carry out an independent review after discov­ering what it described as "a serious issue" in its accounts.
Chief executive Dave Lewis refused to name the four directors that had been suspended, but confirmed that group multi-channel director Robin Terrell had stepped in to run the UK business.
UK finance director, Matt Simister and head of food sourcing and commercial director John Scouler are also thought to have been asked "to step aside".
The shock statement is Tesco's third profit warning in less than four months and means that first-half trading profit for the six months to 23 August is now expected to be around £850m instead of its previously lowered forecast of £1.1bn.
Lewis, who was parachuted into the company this month after Philip Clarke's exit, said the error had been brought to the attention of the general counsel on Friday "by an informed employee" who then alerted him immediately.
He continued: "We have uncovered a serious issue and have responded accordingly", adding that it was too early to say whether there had been an element of fraud.
Law firm Freshfields has been brought in to work on the investigation, which analysts said implied potential foul play. The retailer has also contacted the Financial Conduct Authority, the City's chief regulator.
The supermarket has blamed the overstatement on the "accelerated recognition of commercial income and delayed accrual of costs", at its UK food business, which suggests the company had taken revenues from suppliers earlier than it should have, and also delayed costs that should be carried this year.
WHAT THE ANALYSTS THINK
The fact that this has a legal angle, and not just an accountancy one, implies there is potential foul play, beyond simple account stretching.
BRUNO MONTEYNE, BERNSTEIN
These are serious times for Tesco and its shareholders. We are flabbergasted by this development.
CLIVE BLACK, SHORE CAPITAL
We believe that Tesco could eventually generate zero profits in the UK – the extent of the risks to us remain large and uncertain.
RICKIN THAKRAR, ESPIRITO SANTO
Confidence in Tesco has been undermined again… Indeed, rather than working on a repositioning, the chief executive currently has another (major) fire to put out.
DAVID MCCARTHY, HSBC
SUSPENDED: TESCO'S FOUR EXECUTIVES
Chris Bush
Chris Bush was promoted to UK managing director in January 2013 by Philip Clarke, who took charge of the UK stores a year earlier following its first profit warning.
Carl Rogberg
The former Kraft executive joined Tesco in 2006 as finance director for Asia. He became UK finance director last year after a stint as finance chief of Tesco Lotus in Thailand.
Matt Simister
Matt Simister is head of food sourcing and group food commercial director at Tesco. He has been with the supermarket for four years, having joined in April 2010.
John Scouler
Tesco's food commercial director John Scouler was appointed to the board in October 2011 after nine years at the company in various commercial roles.
What does probe mean for Tesco? Q and A
Q What exactly has happened at Tesco and how has it managed to overstate profits by £250m?
A Although Tesco has not given specific details, the issue relates to the company booking commercial income or rebates received from suppliers before being earned.
Q Has there been foul play or is this simply an accounting error?
A Tesco said it was too early to say whether this was a case of fraud. But it has brought in Freshfields as legal advisers, which implies that foul play has not been ruled out.
Q How far do these accounting errors stretch back to?
A Lewis said the accounting problem "looks substantively to be in the first half of this year", but said he will look back as far as needs be. Analysts at Cantor Fitzgerald warned of such practices in November last year.