Supporting South Africa's rarest wildlife on safari with Lepogo Lodges
I'm admiring the rolling plains of the Lapalala Wilderness Reserve, but not with the naked eye – on a computer screen. Flashing red dots indicate roaming beasts, rhinos and leopards, which are being monitored, and tiny, moving shapes show the reserve's trackers as they drive around this remote part of northern South Africa. We're three hours from Johannesburg in the operations suite of Lapalala's anti-poaching unit, where an 'unseen' task force of 17 men and women work. Some are ex-military or ex-police, targeting the theft of rhino horn, said to be one of the most valuable commodities in the world.
Going to South Africa to see the wild animals is nice, but these days, responsible tourism means doing our bit to understand the threat to the animals we love, and how we can help. Glenn Philipps, CEO of Lapalala Wilderness Reserve, tells me that up until 2019 the reserve was miraculously free from poachers. "But we knew they were coming," he says. "Rhino horn sells for one million rand, approx. £50,000, per kilo and so poaching is one of the most lucrative targets for organised criminal gangs. Many animal sanctuaries in Africa have already resorted to dehorning rhinos to avoid the poachers killing the animals. We are one of the last places not to do that, hence why we now have such a high level security strategy."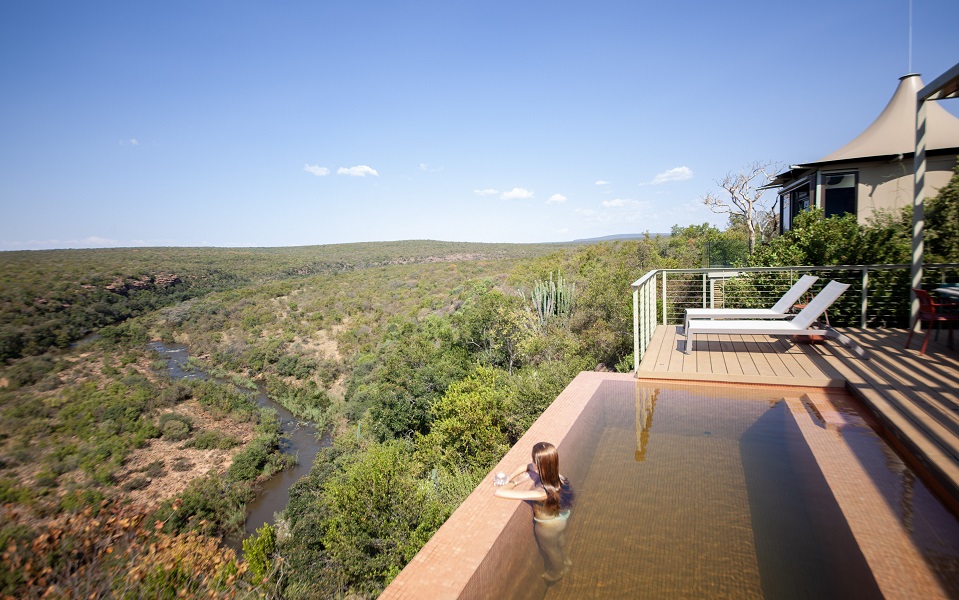 State-of-the-art surveillance cameras and GPS systems track wildlife, and there are 15 field rangers on fence duty around the clock (it takes a full two weeks to walk the whole perimeter of the reserve which stretches across 50,000 hectares). Intelligence on any attempts to poach is shared with other reserves in the country. "Without building a relationship and developing trust with local people, poachers will find a way to infiltrate the communities," continues Glenn. "We'll help where we can to build trust – only last week we heard a water pipe had broken so we sent a few guys to fix it. When locals understand what we are trying to do, they are on side. After all, our job is to simply protect these amazing animals."
The Lapalala Wilderness Reserve was created in the 1980s for that very reason. Two conservationists, Dale Parker and Clive Walker, (the latter founded The Endangered Wildlife Trust) began purchasing neighbouring farms to create a private reserve for black rhinoceros, which they re-introduced in 1990. Now it is one of the leading rhino sanctuaries in South Africa. There is also a focus on cheetah and pangolin conservation, as well as being home to the 'Magnificent Seven' (lion, leopard, elephant, rhinoceros, buffalo, cheetah and wild dog). With an eye on the future, the duo also set up the nearby Lapalala Wilderness School, which thousands of youngsters attend each year to learn about ecology and conservation.
One of Africa's few entirely not-for-profit safari lodges, Lepogo, says Kate, was developed as part of a life-long dream to create a sustainable conservation legacy
Bumping over terracotta-red earth, past anthills stretching metres high and swerving snooty giraffes blocking our path, we're driving an hour north to Noka Camp, which works alongside Lapalala to fund research to establish the reserve as a centre of excellence, offering standout wildlife experiences to guests. Run by Kate Hughes, it is part of Lepogo Lodges – one of only three commercial lodges allowed in Lapalala. It opened in late 2019, with its second stage, Melote House, opening this year. It was, says Kate, developed as one of Africa's few entirely not-for-profit safari lodges, part of a life-long dream to create a sustainable conservation legacy in Africa, with 100% of any financial gains made reinvested back into the reserve.
From the moment you arrive at Noka you are immersed in the depths of wilderness that surrounds the tiny lodge. Built on top of a 100ft cliff, each of its five villas offers views across the undulating bush and over the Palala River. Entirely off-grid, there are no electricity lines or buildings. Instead, power is gained from solar panels built into the roof of a walkway that connects the villas and communal areas. From your bed, you can spend hours watching rainbow coloured lilac-breasted rollers or European bee-eaters swooping through the sky. It's as if you've sunk into the pages of a magical realism novel.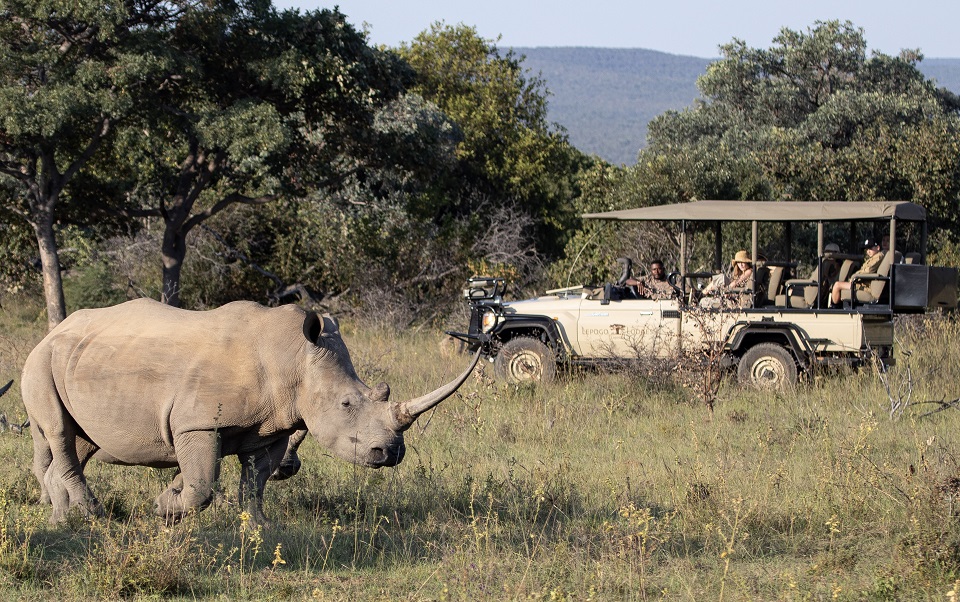 Architect Yuji Yamazaki sought inspiration from his award-winning, over-water villas in the Maldives. Meanwhile, the interiors, by Cape Town-based designer Sarah Ord, are inspired by the locality. Soft rosepink day-beds reflect the sun-dried earth and hand embroidered mats are made by a local woman's co-operative. There are pastel-coloured textiles, side tables made of recycled cork and pretty, beaded lampshades sourced from local artisans. 'Lepogo' means 'cheetah' in the local Sotho language, and Kate has been instrumental in funding a breeding programme for these animals. During one of the twice daily game drives, we are lucky enough to see the results of this up close, when our guide Juan decides its safe for us to approach a relaxing cheetah and her cubs on foot, going near enough for her to curl her lip in warning and causing us to silently retreat. Cheetahs are far rarer to see than lions so I feel really lucky.
No game drive disappoints. Each morning we leave the lodge early, just as the sun begins to streak the sky a candy-cotton pink, and we pass countless zebra, impala, antelope, wildebeest and, yes, many black and white rhino. From high up in the luxury Land Cruiser, it's a full-throttle experience, with the sharp-eyed Juan pointing out wildlife scenes most of us have only seen in The Lion King. We trace a sleeping pride of lions; oxpeckers picking ticks out from the ears of giraffe; a giant kingfisher high in the branches of a baobab tree. After nightfall, we look for the yellow eyes of the jackal.
We learn that a cloying popcorn smell means leopards are nearby and that a pungent scent, which Juan describes as "smelling like death", is the Silver Cluster tree. There are giant flying dung-beetles to avoid that "can take your eye out" and warthogs that trot fancifully past, breaking the tension by making us laugh. We pit stop for a sundowner each night, a glass of something fancy with the palpable threat of predators lurking nearby. One morning, we're taken for a 'secret breakfast', served in a disused wooden hut, with the Waterberg Mountains misty in the distance. Frogs croak dutifully along, and there's homemade granola and lamb sausages cooked over coals.
In-between game drives I splash into my private plunge pool to counteract the heat of the midday sun. White and lemon tinted butterflies land on the water to join me in my splash about. Another day I soak the dust away in the huge tub with locally made aromatherapy oils. There's a complimentary larder of snacks, home-made nachos and brownies, and one day, I practise yoga on a raised deck while a friendly impala watched from below. At the bar, there's Amarula and coconut cocktails to taste and local food like kingklip fish and African sweet potato curry.
Night descends fast at Noka. Ask for a 'sky bed' to be made up on your terrace. You'll sleep shrouded under mosquito nets, slumbering under what must be the brightest, star-lit sky on earth. Just remember to close your eyes.
Visit South Africa to go on safari at Lepogo Lodges
Rates at Lepogo Lodges start from £806 per person, per night for a Luxury Clifftop Villa on an all-inclusive board basis. lepogolodges.com
Find more travel inspiration at City A.M. Life&Style