Trekking for snow leopards – and the Yeti – in Ladakh, India
We're high up in trans-Himalayan Ladakh in India – dizzyingly high – and oxygen is hard to come by here. To reach the tiny village of Ulley, where we're holed up in a local homestay, we've already passed through thundering mountain ranges, following lines of army trucks coiled like sunbaking snakes. We've motored up the world's second-highest navigable mountain pass, which loomed at a blizzardy 17582ft, higher even than the famous Mount Everest Base Camp which sits at 5,5150m.
It has been what you might call 'a slog'; is it any wonder some of us are feeling short of breath? But I'm hoping it will be worth the altitude sickness. I've come here, to India's farthest reaches, in search of some of the rarest wildlife on the planet: elusive snow leopards that slink like fleeting gusts of wind between huge granite boulders and rare Tibetan wolves, their numbers decimated by retaliatory killings from local farmers. A couple of hundred miles away in army-heavy Dras, the hardy villagers live alongside lumbering Himalayan brown bears, which are otherwise so rarely-seen they are thought be the inspiration behind the famous yeti myth.
Ulley itself consists of a small clutch of houses surrounded by wind-whipped tiramisu mountains. It's about the size of a central London roundabout. You won't find it on the map. Up here at 14,000ft, the buildings teeter at an altitude that can floor some Olympic athletes (and send even the most intrepid tourists scarpering back to Delhi). Temperatures can plummet to minus 30 degrees in the winter – the sort of cold that feels like a knife held to the throat – and as spring-fed pipes freeze shut, running water vanishes completely. There's more than a passing chance of getting snowed in. But if the landscape's hostile, the Snow Leopard Lodge, a homestay run by local man Tchewang Norbu and his son Stanzin, is a cosy, low-slung hug of a building.
It's from here that we've been searching for leopards for the past few days, trudging our way through echoing mountain valleys and scouring rocky ridges for something toothier than the blue sheep that dot the horizon, or the sturdy ibex rooted defiantly to vertiginous scree slopes. Villagers here – who know these mountains better than anyone on the planet – are employed as 'spotters', scouring the ice-bitten landscape for hours on end. The lodge also works in partnership with The Snow Leopard Conservancy, using funds generated by tourism to help research and protect the predators. Still, relatively little is known about the snow leopard.
The solitary creatures – known in Ladakhi proverb as being 'as beautiful as ten women, as strong as ten men and as wise as ten astronomers' – have a colossal range that covers almost two million square kilometres of Central Asia. They are almost never seen. In fact, they are so hard to pin down that researchers have no real idea how many of the threatened creatures actually exist (the latest estimate from WWF puts the number at around 4000, with 100-300 thought to be left in Ladakh, an area the size of Scotland).
Many outings like mine prove fruitless, with eager travellers having to content themselves with pug marks in the mud or the thick scent of a cat's marking on a rock; nerve-tickling signs that a 'mountain ghost' has passed through. WAITING We have help in the shape of brilliant naturalist guide Surya Ramachandran, who shows us how to stuff our ears with toilet paper to keep out the cold, and Norbu himself, whose leopard-spotting abilities make him something of a local legend. But so far, the only predators we've seen are golden eagles.
Our first glimmer of hope comes at breakfast time. Through clinking cutlery sounds the cellophane crackle of the radio, and one word repeated three times in monotone: "Shanku, shanku, shanku." I launch myself out of my seat, trailing globs of masala omelette and spilling chai tea across the table. I grab my binoculars and clatter outside. With shaking hands, I raise my binoculars to the side of the mountain. There. Two of them. Trotting past prayer flags that flutter in the wind. Not leopards but something big: wolves, bellies almost grazing the ground after a good feed. We track them as they pick their way across the mountains, pausing to howl like they're calling to the gods. That night we watch snow leopard documentaries and trawl through old camera trap footage of puffy-furred cubs. Norbu de- scribes what it's like to see the cats: "When I see a snow leopard it feels like a spirit has taken over my body. Like I could fly. I feel completely exalted."
We nod politely, stomachs curdling with envy, reminding ourselves that even wildlife cameramen have to resort to footage sprung by camera traps. The final morning breaks with a sun as sharp as pincers. We head out to retrieve a camera trap that we laid a few days earlier, hoping desperately that we might have snagged some of our own footage. The tape is blank. When we return to the lodge, heads ringing with altitude, some of the group go to their rooms to work or rest. I stand in the lounge, shifting my weight from foot to foot, staring at the photographs of snow leopards on the walls, their eyes as blue as frosted marbles. I pause, shrug my coat back on and walk determinedly up to the spotters' point. Up here, it's as if the landscape has held its breath. Twenty minutes glug slowly by. Thirty. Then something happens.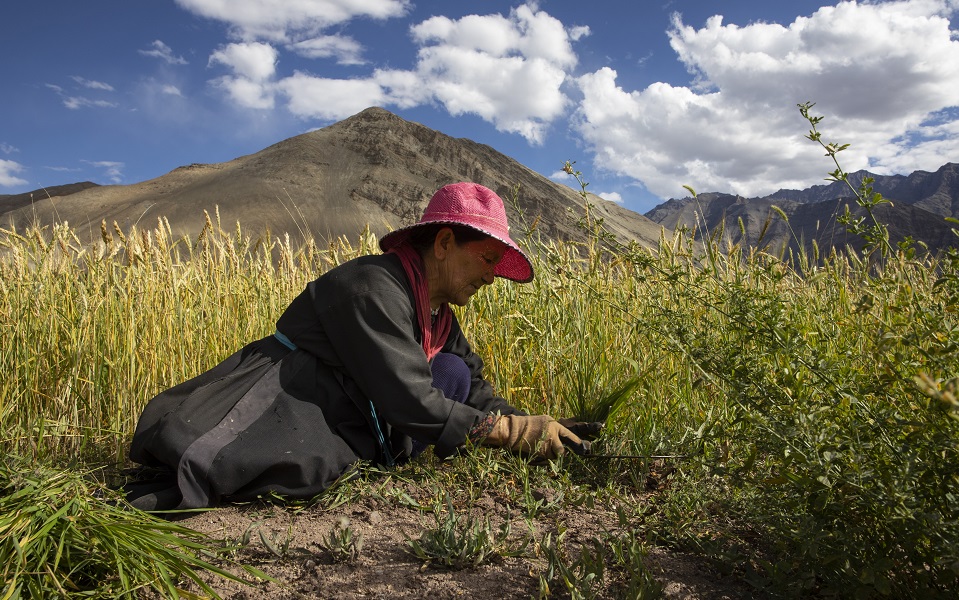 Suddenly, spotter Namgyal starts to shout. "Shan! Shan! Shan!" His eyes are glued to his scope, finger pointed urgently at the mountain. I still my breath and put my eye to the scope. There she is. High on the ridge. Silhouetted like a sphinx. It's a snow leopard. My stomach folds in on itself. The cat hauls itself to its feet, its halfcoiled tail high in the air. She looks like something you'd see emblazoned on a warrior's shield. Thick-set. Heraldic. Then a cub appears in the frame. My breath snags. Another cub follows. I make a sound I'm not sure I've ever made before. The balls of fluff clamber onto their mother's back and she pads steadily across the mountain. They climb bussized boulders as quick as spiders and leap from rock to rock, limbs spread wide as we 'ooh' and 'aah' as if we're watching a firework display.
Luck doesn't even cover it. I've seen a ghost.
In memory of Stanzin Farma, who always had a beautiful smile on his face and made us feel so at home in the mountains.
Go to Ladakh, India yourself
andBeyond's Snow Leopard Expedition starts from £5,785 per person including all meals, internal flights, all activities and transport in Ladakh and a donation fee for snow leopard conservation. The next departure dates are 24 Feb – 5 March 2024, 4 Apr – 14 April 2024 and 16 April – 26 April 2024. The trip includes one night Delhi , two nights Leh, seven nights in a snow leopard Lodge in Ulley and one final night Leh.
Find more travel inspiration at City A.M. Travel