Seven points to ponder from Jeremy Corbyn's alternative to the northern powerhouse
Jeremy Corbyn has been under pressure from more moderate Labour politicians for his economic plans, but what does he want to achieve in his desire to see the North returned to a "great engine of prosperity" and how would he do it?
Here are the seven things to take from Corbyn's "Northern Future" proposals.
The North has to take power back from London. But, George Osborne's plans are a "cruel deception"
Most parties on the surface agree to some sort of devolution, but greater democracy cannot be imposed from Westminster.
And, he's not happy with the Conservative government, who he said have devolved cuts to spending, but not the power to do anything to stop them. In a speech unveiling the plans, he said:
There is a lack of faith in the Conservatives' Northern powerhouse agenda which combines power cuts for rail electrification with the devolution of crude cuts.
So, a constitutional convention should be set up to aid the process of devotion.
Read more: Shadow chancellor Chris Leslie confirms he would not serve under Jeremy Corbyn
There is a need to rebalance the economy
Corbyn's using some stats to make this point: "Between 2010-14 London created 6 times as many jobs as in the North West, 4 times as many as the North East, 3 times as many as the West Midlands and twice as much as Yorkshire and the East Midlands."
The solution: We need to redesign the economy around some clear social and economic objectives and fulfilled by industrial strategy. For this, there needs to be a National Investment Bank to invest in infrastructure across Britain.
Industrial growth
Corbyn has called on re-industrialisation and said the North needs new investment institutions that are rooted in the northern economy to ensure deep regeneration. "There is a need to create a higher wage and better skilled jobs, while developing new industries remains important."
Local economic partnerships created by the last government, in his view, were too often under the control of central government and lacked the "scope, capacity and scale" to make the required investment. A National Education Service and a National Investment Bank are necessary to help build links between employers and employees as well as transport and broadband for companies to grow.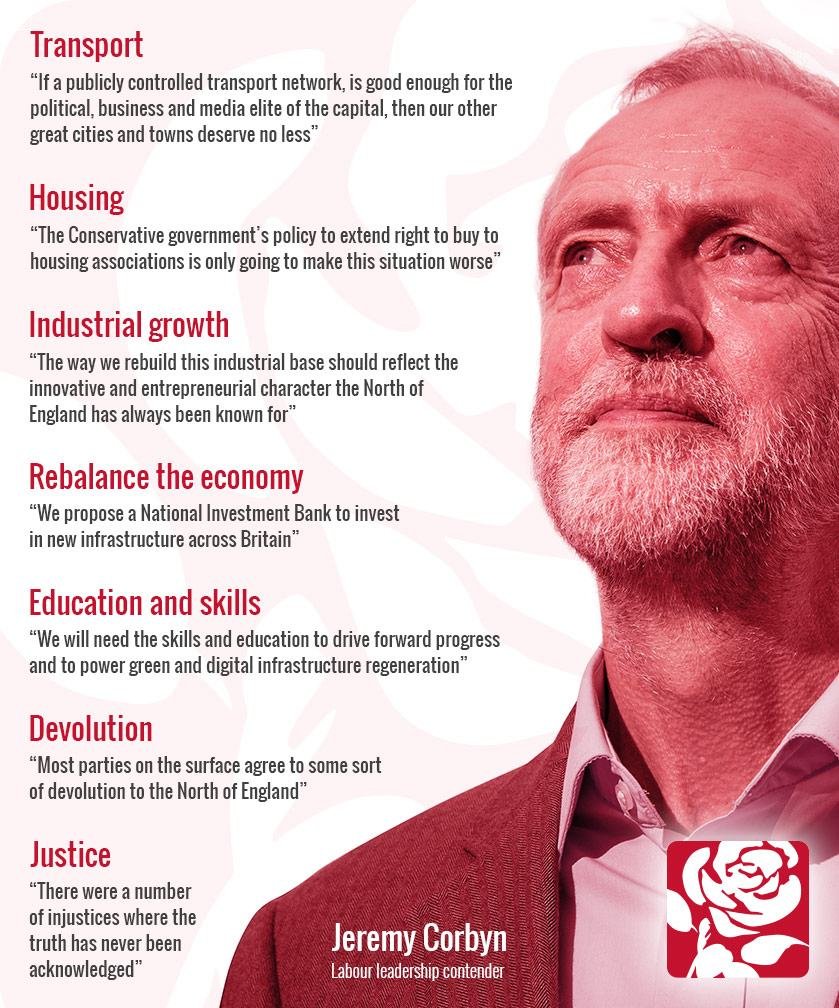 Education in skills
This is a big one, and seemingly where Corbyn has the most ready-to-go-policies: We need to get local authorities paying for part of local graduates salaries to get a job in their home area. Tuition fees should be abolished and grants restored.
Transport
Favouritism of the South East in terms of funding is unacceptable, Corbyn says. So, powers over transport should be devolved, allowing regions to regulate their own rail, tram and bus networks. We also need electrification of railways, which will also create jobs.
Housing
One of the National Investment Bank's priorities would be housing. Restrictions on councils to borrow to build council housing would be removed and extending right to buy to private tenants would undergo consultation. The possibility of tough "lose it or use it" rights over land could be imposed.
Justice
"A number of injustices have been hidden." The government attempted to influence police tactics in the miner's strikes, for one. So, the Conservative government should make a formal apology for the actions of previous Conservative governments.
Corbyn's paper and comments on how he would fundamentally shift the UK away from austerity and towards public investment come as he comes under pressure from more moderate factions of the party.