Chez Reavie would have been delighted with his third-place finish at the US Open a few weeks ago, but his victory at the Travelers Championship on Sunday was something special for the American.
Reavie had gone nearly 11 years without a PGA Tour win – a period spanning 250 tournaments and 3,983 days – but made good on his form to end his drought in Connecticut.
The 37-year-old started the final round with a six-shot lead, but needed an important birdie at the 17th to hold off a charge from compatriot Keegan Bradley to seal it on 17-under-par, scoop a $1.2m prize pot and move from 35th to 12th in the FedEx season points.
Read more: Late bloomer Gary Woodland found his winning formula at the US Open
Reavie played beautifully at Pebble Beach to tie for third behind winner Gary Woodland and looks to be swinging wonderfully at the moment. He did most of his work on Saturday, shooting seven birdies in a superb back nine to outdo the rest of the field.
He may be a bit of a journeyman and he doesn't hit it miles, but he's got a nice fluent swing and has a solid game.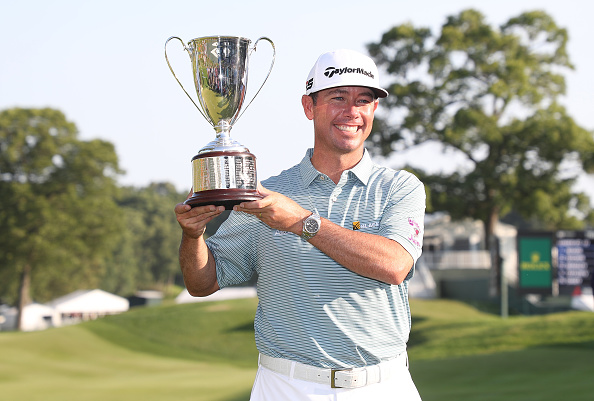 The fact he hadn't won since the Canadian Open in July 2008 shows just how much golf is a sport built on longevity; if you can stick in there and never give up your form can change. He knew he was playing well after the US Open and took his chance when it presented itself on the weekend.
Reavie underwent surgery on his wrist in 2014 and later on his knee, so it's great to see him work his way into form and come back with a win. I never really struggled with injuries – just the odd neck strain – but I know just how difficult it can be to shake them off.
Pavan takes play-off
On the European Tour there was disappointment for England's Matt Fitzpatrick, who lost a play-off against Italy's Andrea Pavan at the BMW International Open.
Fitzpatrick had his chances in Munich. He bogeyed 17, then made a fantastic birdie at the last, leaving a putt inches short for an eagle to win it.
However, he was very lucky in the first hole of the play-off, with his second shot pitching on a downslope and plugging a foot short of a water hazard.
It wasn't to be for him but it was an impressive win for Pavan, whose second victory after the Czech Masters last August moves him up to 32 in the Race To Dubai standings.
He won four times on the Challenge Tour, so he knows what it's like but it's still great to get over the line, especially in a play-off.
Pavan admitted the last hole didn't suit him, but he still managed to make a fantastic birdie to win it, hitting a wedge to within two feet.
Matt Wallace put up a great defence of his title, finishing joint third alongside fellow Englishman Jordan Smith to show the quality of his game. Wallace is a powerful player and he'll be frustrated he couldn't pass Pavan on the final few holes as the opportunities were there.
Smith also looks a really good player, but like Wallace he couldn't quite pull it off.
Finally, it looks like we might have another new star in the women's game, with 22-year-old world No114 Hannah Green of Australia winning the Women's PGA at Hazeltine to become the 11th different player to win the past 11 Majors.