The Saints go marching on to profitability: Southampton's David Bence is heading for a sustainable business model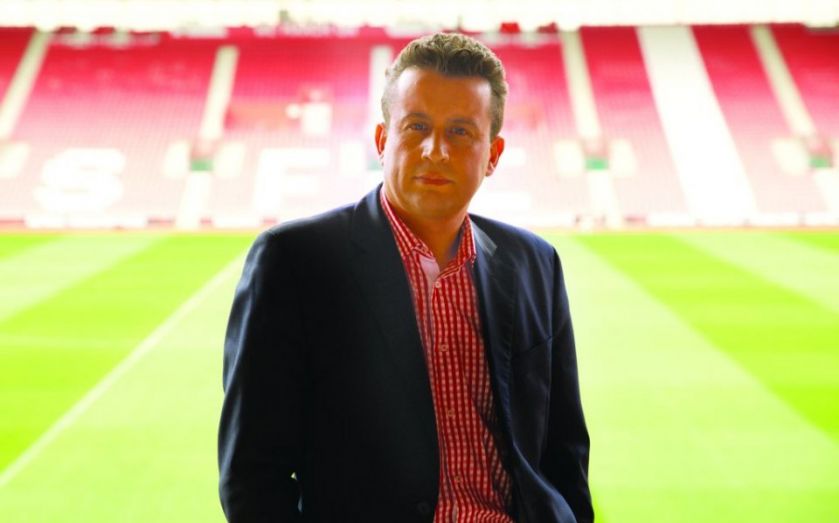 Those who read the business press as opposed to only the sports pages might have already adjusted themselves to the fact that Premier League football clubs can occasionally make profits, especially now that new financial fair play rules have begun to constrain the wage demands of the top players.
But the story of Southampton Football Club's financial turn-around is altogether another phenomenon. Just five years ago, the south coast club was deducted 10 points after falling into administration and was playing football in League One, the third tier of English football. That's not usually a terribly profitable or edifying place to be.
Under the ownership of Katharina Liebherr, who assumed control when her father Markus, a Swiss German billionaire, died in 2010, the club is now a different force altogether.
The Saints, as they are known, hover just below the top four in the Premier League and today revealed their first full-year profit since administration. And it's a healthy profit, too, of £31.4m on total revenue of £106m.
The period in question, to the end of June last year, includes the proceeds from the first couple of player departures – there were five significant ones in all – that appeared to have left the club and its new manager, Ronald Koeman, in grave danger of heading backwards down the league table.
As stars such as Adam Lallana, Calum Chambers, Luke Shaw, Rickie Lambert and Dejan Lovren headed out of the door last summer, pundits didn't give the team much chance this season of replicating their recent high achievements. But the club managed to bring in the likes of Graziano Pelle and Ryan Bertrand, signed for £10m from Chelsea, and the team's performance hasn't appeared to suffer, with even a top four place and qualification for the European Champions League still a possibility.
Says David Bence, the group's chief financial officer: "We've taken money and re-invested in the development of football here, either through transfers, wages or through the academy."
The key to Southampton's financial success is the massive increase in broadcast income enjoyed by the club. This has gone from £46.9m to £79.5m, which means the increase from the previous year is roughly equivalent to the whole of the club's profit.
Broadcast income, which depends crucially on how the team performs, totally overwhelms that from matchday income of £17.1m or that of commercial, which stands at £8.3m.
Should the new Sky Sports and BT Sport television contract go ahead as planned – it is subject to a review from the regulator after a complaint from Virgin Media – income from this stream should only go higher. However, Bence is aiming for a more balanced portfolio of revenues.
"The football strategy is there, but we need to see now whether there are any scaleable opportunities. We need to look at off-pitch, off matchday opportunities. There are lots of opportunities and we need to go through a thorough planning exercise."
Bence says the academy, which has produced the likes of Gareth Bale, now at Real Madrid, Theo Walcott and Chambers (both at Arsenal), is "the biggest area of potential".
"It's one of the most successful academies in the world, so how do we develop that.
"The academy is aspirational," he says. "There's a wall of pictures there showing all the big players that have been through the academy, and I find it very exciting."
Expenditure on the training ground has risen to £38m, which is one reason why Liebherr has recently increased her loan to the club by £20m to £70m.
"It's easy to see the reason for the debt," says Bence. "It's a combination of player costs, infrastructure costs and capex."
Some of Liebherr's money has gone on funding past transfer fees, which are still being paid out, but from now on player trading is expected to be cash neutral. "We want to commit to a sustainable business model," says Bence, who is proud that so many of the club's academy players have found their way through to the first team.
"We want to leave this community asset in a better position than when we found it."
If some fans are waiting on a couple of marquee signings this summer to help the team progress, they are likely to be disappointed.
"From my perspective, providing we stay in the top half of the table and continue building there will be a season when we finish in the top four."
If that's indeed the case there will be no complaints whatsoever from Saints fans.