Sainsbury's share price dips despite sales falling less than expected
The figures
Shares in Sainsbury's were trading down 1.1 per cent at 265 pence per share in late-afternoon trade today. They had initially opened more than two per cent higher this morning.
The supermarket announced like-for-like retail sales including fuel fell 3.9 per cent in the 10 weeks to 14 March on price deflation and greater competition. Excluding fuel, like-for-likes fell 1.9 per cent.
That's the fifth consecutive quarter of like-for-like declines the supermarket has notched up. The results aren't good, but the decline was less than the 2.7 per cent drop analysts were expecting.
There's also the arguably silver lining that more people are actually shopping at Sainsbury, though because of the various discounts and promotions this hasn't actually translated into a rise in revenues.
The supermarket added has reduced more than 1,100 prices reduced since it announced a £150m investment.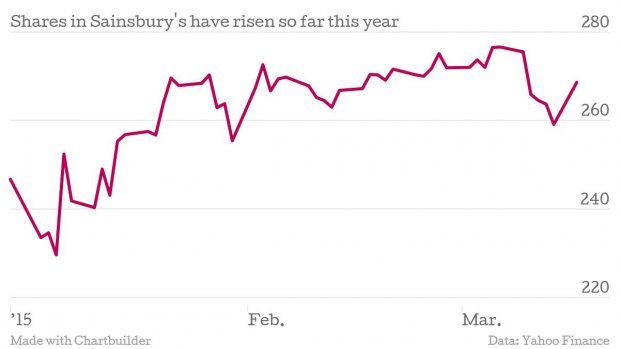 Why it's interesting
Sainsbury's had traditionally shouldered the tougher trading environment better than competitors like Tesco – or at least that's how it appeared. Now it just seems as though it was lagging behind.
The latest figures from Kantar Worldpanel showed it grew behind the market average, with sales falling 0.5 per cent.
It could be losing market share to Tesco, which posted its strongest performance in 18 months. But the bigger issue is being caused by the usual suspects Aldi and Lidl, which are putting real pressure on the Big Four to cut prices.
What Sainsbury's said
Chief executive Mike Coupe was largely downbeat:
We expect the market to remain challenging for the foreseeable future.

Food deflation is likely to persist for the rest of this calendar year, and competitive pressures on price will continue.

However, we believe that the great value and quality of our products, combined with a strong focus on developing our multi-channel offer, will enable us to outperform our supermarket peers.
In short
This is still Coupe's first year at the helm, and he has a lot to prove after Justin King's successful 10-year tenure. Many commentators believe King jumped at the right time, and it will be down to Coupe's handling of the many pressures faced by the UK's traditional supermarkets as to whether they are proved right.