The stiff competition facing Royal Mail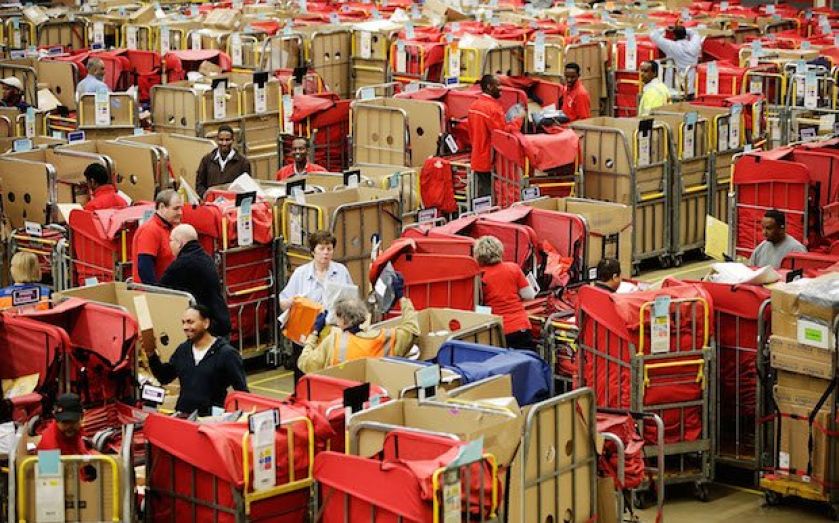 Ahead of its first set of full-year results as a listed company tomorrow, Royal Mail's announced it's going to trial delivering parcels on Sundays.
Later this summer, it'll open about 100 offices on Sunday afternoons for customers to pick up parcels.
It'll also pilot delivering parcels within the M25; and from June, Parcelforce Worldwide, its express delivery service, will offer Sunday service to retailers.
This is great news for customers: it means heightened convenience and more time saved. But the question for investors will be whether the move gives the firm a strong enough foothold against rivals.
After all, Royal Mail faces intense competition.
Just earlier in the week, Espirito Santo Investment Bank warned that the recently-privatised company will increasingly be up against it when it comes to rivals who innovate more quickly around new services and extra capacity. It knows it needs to move quickly to avoid too great a hit from declining letter volumes and revenues.
Speaking on Radio 4's Today programme this morning about the Sunday pilot, Nick Landon, managing director of parcels, confirmed they are now the biggest part of Royal Mail's business, adding that "the time has come for a service like this".
Although its smaller rivals rely on Royal Mail for some local sorting and national delivery coverage, many of them are doing well, and growing.
Crucially, Royal Mail trails DPD, Hermes, UK Mail and Amazon in announcing Sunday deliveries to start this year. Rico Logistics has even announced sameday evening delivery.
Just this morning, UK Mail posted a 28 per cent jump in full-year profit, to £22.8m, driven overwhelmingly by growth in its parcel business.
As more people shop online, and for a greater number of things, the volume of parcel deliveries keeps on climbing. According to a KPMG survey out last month, online purchasing of non-food items almost doubled in March, up 12.8 per cent from a year earlier.
Speaking to City A.M. today, UK Mail boss Guy Buswell commented:
We have been delivering on a Sunday when we've had demand for some years now, like at Christmas. [Royal Mail] is actually behind the curve, as DPD announced a similar thing a month ago.
He said their focus is "delivery slots when customers want is far more important" – the firm's trialling one-hour delivery slots with "you're next" texts.
Last year, Royal Mail had around 99 per cent of the downstream market. But Dutch Post Office-owned TNT has recently bagged funding to carry on rolling out its E2E service, with plans to serve over 40 per cent of the UK population over the next four years.
Espirito thinks this development could hit Royal Mail revenues by as much as £320m a year – difficult to offset, even with a smaller team of delivery employees. Like UK Mail it does, at present, rely on Royal Mail in terms of coverage, but that won't be the case forever.
In April, Cantor Fitzgerald warned the firm's also under threat when it comes to access mail (mail that's pre-sorted by another firm before Royal Mail delivers it). A current Ofcom review into wholesale mail prices could also impact revenues massively, because of lost contracts.
Then there's capacity growth. Nearly all of the competitors tracked by Espirito are upping capacity hubs, depots and branches. DPD's planning to add around 10 per cent to industry depot capacity between this and next year, and other such as City Link and Hermes are making substantial investments.
Investec raised its forecast for UK Mail this morning, for which it already has a buy rating. The company, it says, is "one of the best in class", because of its ability to innovate.
Back in November, reports came of Amazon's interest in converting old Underground stations into delivery drop-off points, after London Mayor Boris Johnson announced the closure of 240 by 2015.
The number of successful firms looking for a slice of the pie when it comes to answering delivery demand of surging online shoppers will only grow. Today's step shows that Royal Mail's keen not to fall behind, and the fact it's got to work hard to keep up doesn't necessarily mean it'll get into serious difficulty.
Competition drives up standards. Like its rivals, it'll have to just keep digging deeper when it comes to innovating – and Landon says they have every intention of doing so. That said, the shape of the industry means cooperation is considered equally, if not more, important. UK Mail's Buswell says:
We think the postmen do a great job for us at a decent rate. They make good money from access and they now see us as a way to market… We are not competitors with Royal Mail, we're in it together.