Rob Simmons: Australia can beat England if they go through the front door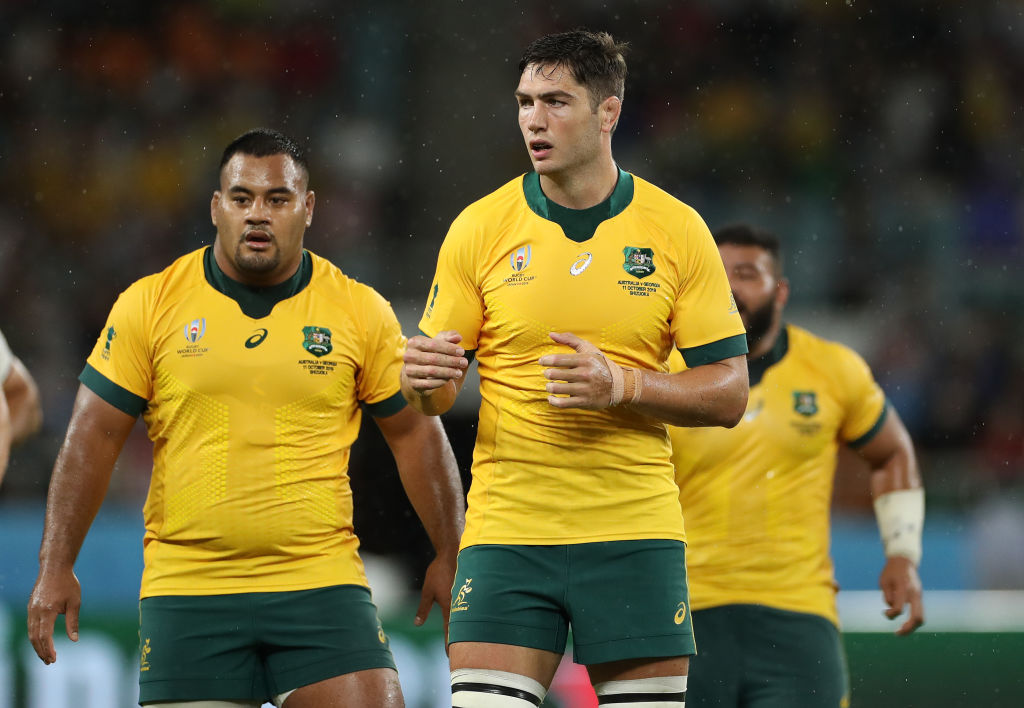 International rivalries make sport tick. The anticipation ahead of the match, the key moments, the celebration, the comedown. Fixtures often rooted in factors long reaching from sport.
When England and Australia meet each other in a sporting arena, winning feels just that little bit more meaningful.
Rob Simmons, member of the rugby institution that is the Wallabies, has been there and done that.
Part of the World Cup squad that dumped England out of their home tournament in 2015, Simmons, a second row, has tasted victory against the Poms at Twickenham.
That's something his homeland will be looking to replicate tomorrow, when the two sides clash in England's second autumn international.
"Australia played well last week, it was a really good game," said Simmons, on the Wallabies' 15-13 loss to Scotland.
"I think Australia had the right plan against the Scottish but the discipline and accuracy in certain moments of that first half let us down.
"There were a few moments where Australia could have got points but we didn't capitalise.
"We had a game plan where we looked strong at the line out and Australia probably should have had a go at that a little more.
"When Australia managed to hold on to the ball and looked to build phases, they looked really dangerous.
"It was our inaccuracies that let us down. You're less likely to get penalised when you hold on to the ball and play positive rugby. At times Australia didn't do that."
Australia appeared to struggle against the Scottish forwards, often falling short of the gainline. When they did pass it, poor discipline led to turnovers and a relieving of pressure.
England have a good record against Australia at Twickenham, winning the last five autumn internationals between the two sides. After beating Tonga last week, they're searching for their second win this autumn.
"England still have that kicking game from what I have seen," added centurion Simmons. "They're good in possession so Australia will need to hold on to the ball and use it in the best way possible.
"It will be interesting to see what they bring on Saturday. Every time I've been involved against England it's been a case of going through the front door.
"You have to win that battle and get the ball going forward before you think about going around them.
"Their forwards are so talented, they're really dangerous with and without the ball. A few of them have had a bit of public ridicule but there's some great footage of them proving people wrong.
"If Australia can go out there and really get their set piece right, play positive rugby and make sure they're going forward, they'll be in a good spot to play some exciting footie."
Simmons now plies his trade in the capital, at London Irish. His extensive career includes a near-decade stint at the Queensland Reds and some time with the Waratahs, in Sydney.
Brentford-based Irish have seen themselves draw six games in the last year, an astonishing feat.
"If we could have six more points, one in each game, that would be nice," said Simmons, who joined Irish in July 2020. "I have never seen anything like it in rugby, it's ridiculous.
"They'll [coaches] hate me for saying this but we get a good 40 minutes out of us, we just don't know when it's going to be.
"I am enjoying it though. Everybody is really nice and they have my best interests at heart.
"We look after each other and it's nice living in London, I am having some good experiences with my family."
Now in the Premiership, he's part of a London Irish squad that hasn't seen a starting England player for 83 Test matches, when Marland Yarde featured in 2014.
"Really?" the lock said, surprised. "Well we have a back three who are electric, they've come through together too so they work well together.
"Ben Loader, Ollie Hassell-Collins and Tom Parton all read the game well, they get themselves into space and always finish off good moves. I'd be surprised if one of them isn't involved in the next six months or so.
"They all bring something. Ollie is so hard to bring down, Ben has electric speed and Tom has the handling skills."
Irish do, however, have an uncapped Wallaby in the form of Ollie Hoskins in the Australian squad after his shock call-up this week.
"Mate, I love to say that I am so happy for him," Rob Simmons, the 29-year-old forward, said. "If he gets on this weekend, that would be even better.
"I've spoken to him about it and his dream as a kid was always to play for Australia. His time down there in Super Rugby may not have gone quite the way he wanted it to but he's sought something overseas.
"I wouldn't say he gave up that opportunity but he didn't know it was going to come.
"For this to happen for him, to come through, is amazing. He's played great rugby this year, he's been consistent. I couldn't be happier."
And the score? Well, in the last 10 fixtures (six in London, three in Australia and one in Japan) England have won nine, with an average score of 30.9 to 19.9 in favour of the Red Rose.
"The winner isn't really a question is it? It's by how much," Rob Simmons said confidently.
"It will be a hard match, it is a tough one. I'd have liked to have seen more of England.
"I'd love to say Australia are going to win by 12. Two tries in it. Let's say that."
Whatever the result on Saturday evening, the rivalry, one of sports greatest, could be adding pages, chapters and books to it's archive for centuries to come.