Poverty in the UK: Quarter of people at risk, which is higher than the European average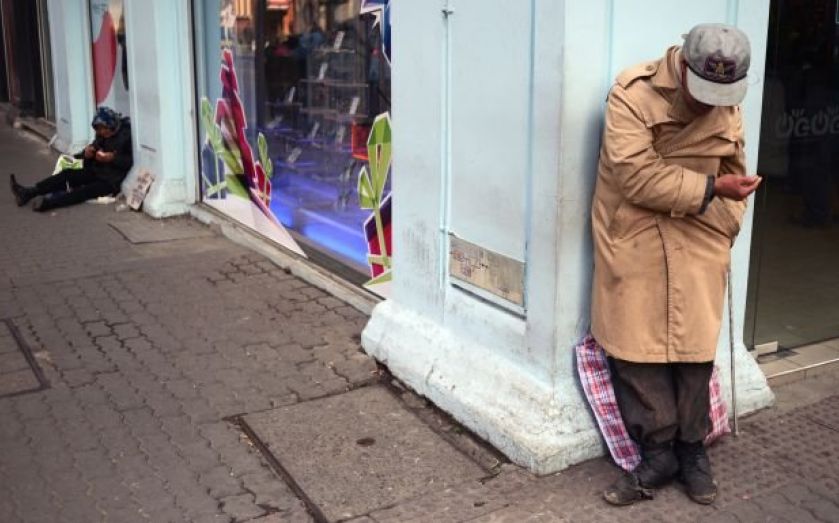 More than 120m people in the European Union (EU) were at risk of poverty last year – that's 24.5 per cent of the whole population, and the risk to UK citizens is even higher than the average.
Figures
released
by Eurostat
on Tuesday
– the statistical office for the European Union – showed that although the average proportion in 2013 was slightly lower than the 2012 figure of 24.8 per cent, there had been a rise in poverty since 2008, when 23.8 per cent of the EU was at risk.
In the UK, there were 15.6m people in danger of falling into poverty last year – the equivalent of 24.8 per cent of the population. This result shows that UK citizens were more at risk than the average citizen of the EU.
The number was higher than France's figure of 11.2m, despite the UK having a smaller population. Germany, meanwhile, had 16.2m people at risk – more than the UK, France or Spain. Of all the countries in the EU, Italy had the most people at risk.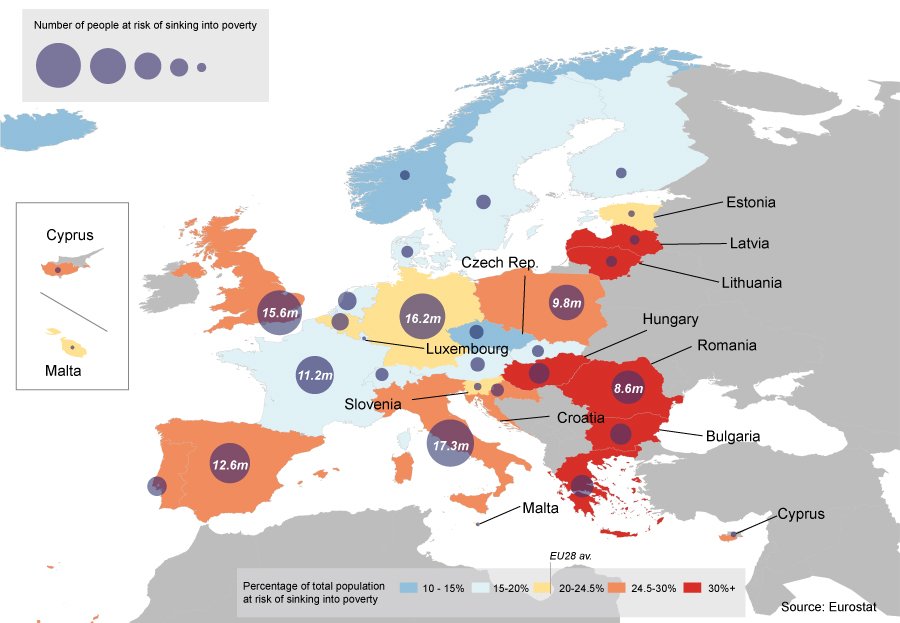 The Proportion of people at risk in the UK, as for the European average, increased over the five year period. In 2008, 23.2 per cent of the population was at risk.
Despite being above the European average, the UK was not one of the worst when it came to poverty risk. In five EU member states, over a third of the population was at risk of poverty. The highest was Bulgaria with 48 per cent, followed by Romania, Greece, Latvia and Hungary.
The country where poverty poses least threat was found to be the Czech Republic, where a comparatively small 14.6 per cent were at risk in 2013. The Netherlands, Finland and Sweden also came out with more promising results than most.
But all of these countries still went through a deterioration of the situation between 2008 and 2013. In fact, only eight countries in the bloc of 28 did not experience an increase in poverty risk. Most noticeable of these was Poland, where risk went down from 30.5% in 2008 to 25.8% in 2013. Others included Austria, Romania and Finland.
SLASHED FORECASTS
Yesterday, the European Commission (EC) slashed its 2014 and 2015 growth forecasts for the single currency zone.
Previously, it said it expected growth to be 1.2 per cent in 2014, but the revised figure stands at 0.8 per cent. For 2015, the growth forecast has been revised down from 1.7 per cent to just 1.1 per cent.
The body said diminishing confidence, weak investment and a poor outlook for the global economy had all contributed to the Eurozone's slowdown.