Pictures: Westminster has gone to the dogs
Take a paws from your day to have a look at these Westminster pooches. It's the day of the Westminster Dog of the Year competition (you can see the competitors here).
In aid of promoting responsible dog ownership, Clarissa Bladiwn, chief executive of Dogs Trust says that the contest is more than just a beauty pageant.
She says that the "judges will be looking for the dogs' good deeds and devotion to their owner – rather than policies, opinions or 'bottle'."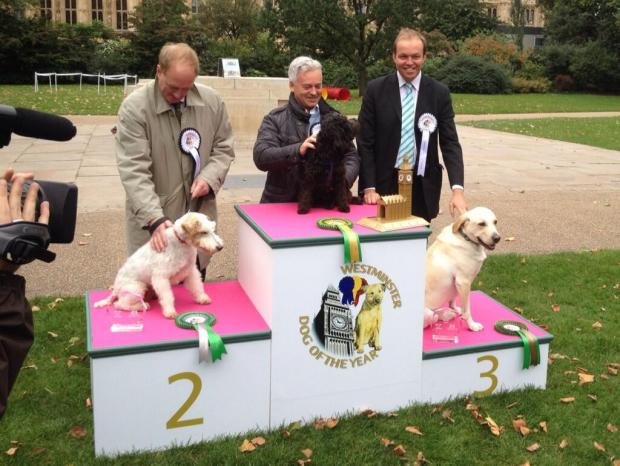 (James Waterson/City A.M.)
Alan Duncan MP with Noodle (1st Place)
(James Waterson/City A.M.)
Noodle has her own manifesto – supporting Yelp to Buy and an end to dog whistle politics. She's an 11 month old Cocker Spaniel/Poodle cross.
Duncan's team has printed off these manifestos, and one obtained by City A.M. shows Noodle ran with the slogan "No need to Google, just vote for Noodle".
The bitch is also a proponent of "ruff justice for criminals" and claims that she will be a "strong bark in Parliament" while "hounding the opposition on their paw record".
David Burrowes MP with Cholmeley (3rd Place)
(James Waterson/City A.M.)
Cholmeley is a yellow lab of two years and nine months, and if he was PM for the day would invest in more street lighting – lampposts especially.
Eric Joyce MP and Brodie
(James Waterson/City A.M.)
Brodie is a six month old Irish Wheaten Terrier. Apparently this pooch should be named dog of the year because he's "incredibly well behaved. Unlike some people."
David Amess MP, Lily and Bo
(James Waterson/City A.M.)
Pugs Lily and Bo are both rescue dogs, and would apparently both ban barking if they could take Cameron's job for the day. Pictured here with owner and some morning champagne.