Partner profits at top 10 UK law firms hit £1m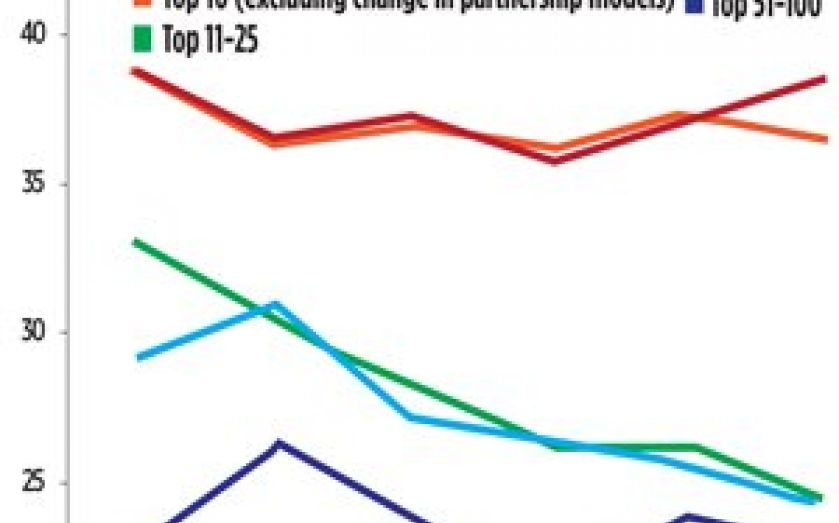 THE average profit per partner (PEP) across the UK's 10 largest law firms hit £1m this year, up 6.1 per cent on 2012 as the top tier of legal firms continue to outperform the sector.
Despite average UK fee income rising by just 0.8 per cent for the top 10 firms, cost cuts and reductions in headcount helped boost PEP to £1.064m, according to PwC's 2013 law firms' survey.
The results show an increasing gap in the profitability of so-called top and mid-tier firm – average PEP within the top 11-25 fell to £448,000 from £481,000, despite fee income rising by almost 9.7 per cent as smaller firms rushed to consolidate.
"Against a challenging backdrop, 2013 could be seen as a turning point for the legal sector with the gap between best and worst performing firms widening further – and clear blue water between the top 10 firms and the rest of the sector," said PwCs partner David Snell.
"Worryingly, with almost a third of law firms outside the Top 10 recording disappointing net profit margins, our view is that unless these firms can radically restructure their business, their short to medium term survival must be in doubt," he added.
Merger activity has also driven a rise in headcount across mid-tier firms, rising by almost 40 per cent in the top 11-25 firms while remaining all-but static across all other groups.
The research also proves how vital the UK market remains to most City firms, with UK profits per fee earner a full 52.3 per cent ahead of international profits. But it delivers a stark warning to firms, saying that fee earners in the UK's top 10 firms with more than five years of professional practice are not at full capacity, billing an average of 1,430 hours – 6.6 per cent lower than in 2008.
And gender diversity remains an issue, with women making up just 16 per cent of total headcount at partner levels among the top 10.