Fancy owning an 18th century Parisian palace? 140 Rue de Grenelle is up for sale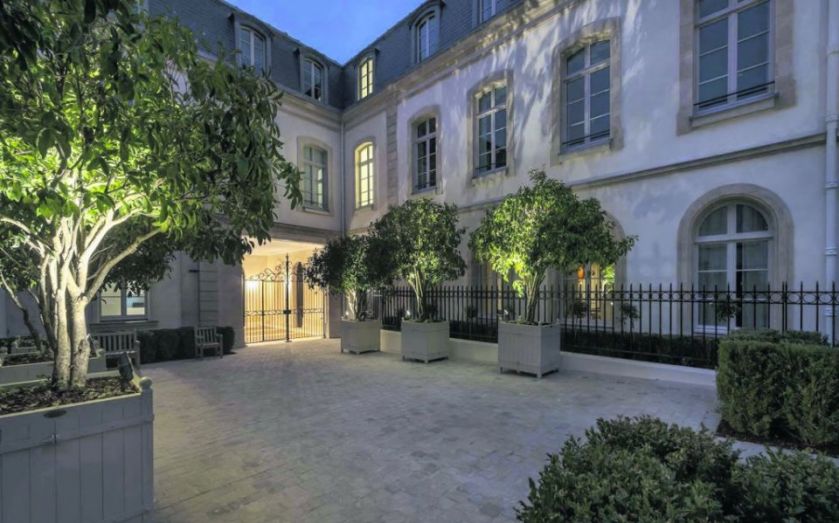 The 18th century palace you can actually buy at 140 Rue de Grenelle.
A rare opportunity to own one of the grandest homes in central Paris. The Rue de Grenelle has over 300 years of Parisian style, architecture and history written into its walls and, after 18 months of restoration and refurbishment, it's back on the market.
Situated in the 7th arrondissement, the Rue de Grenelle shares its affluent district with the Eiffel Tower, Les Invalides and the Musee d'Orsay. It's not only central, it's positively stately, surrounded as it is by government buildings and embassies.
Architect Jean-Jacque Ory – noted for the W and Four Seasons hotels in Paris and residences along the Champs-Elysees – was brought in to modernise while still preserving its je ne sais quoi. Hidden behind its gated entrance is now a collection of 17 properties, ranging from townhouses, apartments, duplex penthouses and one Mansion House.
One of the development's most distinctive features is its grounds, which are known as the largest private gardens in Paris, and the largest landscape project in the city for five years.
The grand building was built in the early 18th century for the Duke of Noirmoutier and it was purchased soon afterwards by the granddaughter of King Louis XIV, Elizabeth-Alexandrine de Bourbon. She once lived at the Palais de Versailles and the story goes that she substantially enlarged the grounds and gardens to remind her of her former abode.
In 1765, she bequeathed it to her nephew Louis Joseph who had been head of the royal household. With The Revolution and the fall of The Bastille, the home was reverted to a military barracks before it was returned to Louis Joseph following the restoration of King Louis XVIII in 1815. When he died, it was snapped up by the French government who used it as a military residence during both World Wars, until the Institut Geographique National occupied it (they were tasked with producing government-sanctioned maps of France there).
The residence transferred back into private ownership at the turn of the century before it was acquired by the present developers.
The period facade has been preserved, while the interiors, designed by Thierry Despont who is currently also working on the Paris Ritz Hotel, are contemporary but not incongruous with the rest of the building. The gardens have been extended even further by planners Neveux Rouyer, whose commissions include the grounds of the Mandarin Oriental Paris. The prime residence, the Mansion House, is 600sqm with its own staff quarters, a private garden and its own entrance on the Rue de Bourgogne.
The area is well served by the Paris Metro, with both the Ecole Militaire and La Tour Maubourg stations a short walk away.
For more information call Mark Harvey from Knight Frank on 020 7861 5034, email mark.harvey@knightfrank.com or visit
140grenelle.com