LIV Golf 2023: Year zero for LIV's league format promises new dimension to circuit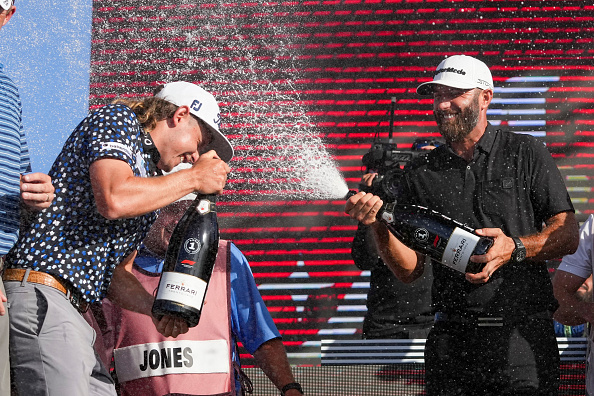 It is easy to forget amid the razzmatazz and rancour that characterised the first season of LIV Golf that its central tenet and primary point of difference to the game's legacy tours was always that it was to be a US sport-style league featuring permanent franchises battling out over the course of a season for team supremacy.
"Golf is a global game but there is no global league," Sean Bratches, then LIV's chief commercial officer, told City A.M in March last year. "We're having invitationals and then we see that evolving into a proper league where you will have players on teams that will participate in every event across every country and continent on an annual basis."
The league element was intended not just to be a point of difference but to drive a different type of fandom, with the hope that a new generation of viewers would be drawn into the sport by rooting for the teams as well as the stars such as Dustin Johnson, Phil Mickelson and Sergio Garcia captaining or playing for them.
"When you look into the future and see the franchise team model that is going to evolve out of this, the fans are going to go 'oh yeah'," LIV Golf commissioner and CEO Greg Norman told City A.M. in May. "The notion of taking virgin space in golf and delivering a mechanism that is going to open up a massive opportunity for players, fans and stakeholders is rewarding."
But a league dynamic never had the chance to take hold last year, mostly because the evolving player pool did not allow for settled teams. Instead, some line-ups stayed the same and others fluctuated as the likes of Brooks Koepka and Cameron Smith joined the ranks. The result was that the team aspect was overshadowed by who won the individual title at each event.
In that sense 2023 is year zero for LIV Golf. Its first season as a full-fledged league containing 12 franchises with fixed line-ups playing a circuit that has almost doubled in size, from eight tournaments to 14, beginning on Friday with LIV Golf Mayakoba in Mexico, offers the first true iteration of what Saudi Arabia has backed to the tune of $2bn.
It promises to be bigger. The prize money has only increased, with $405m on offer across the season, and new venues joining the calendar, such as the former Ryder Cup course Valderrama in Spain. After streaming the first season on its own platform and YouTube, LIV Golf now has a network TV deal in the US and, in logistics brand Easypost, a first major commercial partner.
And the 48-man field has been strengthened, albeit not with the clutch of top-20 players that Norman had spoken of targeting. World No35 Thomas Pieters is the most significant new signing for 2023, the Belgian joining a pool that features 13 men boasting 24 major titles between them and four former world No1s. 
What LIV Golf has in its favour is the guarantee that its big names will go up against each other for the duration of every single one of its 54-hole, no-cut tournaments. It's something that arch-critic Rory McIlroy acknowledged the PGA Tour needed to do better at, and it has since responded by creating more "elevated" events designed to achieve just that.
Some golf fans have taken to LIV. Others haven't. But like cricket's the Hundred, existing golf fans weren't the target. "I want to get down to these 15-year-olds, 12-year-olds, bring them in through our production and get them going 'Daddy, Mummy I want to go to this'," Norman said last year. Has it reached new audiences? Probably, but it is hard to be sure.
It has not been helped by turbulence off the course. Bratches has since departed, while legal rows rumble on over whether LIV players can also compete on PGA Tour and its European counterpart, the DP World Tour. That has ramifications for this year's Ryder Cup but there is no guarantee it will have been resolved when the contest takes place in September.
Johnson made headlines last year by banking more than $35m in prize money from playing seven LIV Golf events, most of which came from his individual success. If the team and league element of the circuit is to take prominence then, in time, it may be that organisers will have to reflect that in the way prize money is allocated.
Money and squabbling over players' eligibility for other tours or ranking points at times drowned out discussion of the sport last year – to some degree understandable, given that its debut season was a "beta test", not the finished article. Those distractions aren't about to disappear, but this is the time for LIV Golf's league format to take centre stage and show what it can do.