Lionel Messi tipped to make Inter Miami worth $1bn and be MLS 'game-changer'
Lionel Messi's impending transfer to Inter Miami has been hailed as "a game-changer for Major League Soccer" that will make the US franchise worth more than $1bn.
Messi announced on Wednesday night that he has chosen to join Miami over offers from Saudi Arabia and former club Barcelona after leaving Paris Saint-Germain.
His superstar power is set to transform the commercial appeal of Inter Miami, who are co-owned by David Beckham, and turbo-charge the growth of MLS as the US prepares to co-host the next men's World Cup in 2026.
"Lionel Messi's move to Inter Miami is a game changer for MLS and draws comparison to David Beckham joining LA Galaxy and Pele playing for the New York Cosmos, although the Argentine's arrival is more significant given how football and sport in general has shifted and is now consumed," said Ben Peppi, sports commercial expert at JMW Solicitors.
"The younger demographic of fans now follow the individual as opposed to the team – Messi's move to MLS will shift his followers' attention from Paris to Miami."
The 35-year-old's arrival has also been tipped to catapult Inter Miami into the top 20 most valuable clubs in world football, where valuations top $1bn.    
"This adds to Inter Miami becoming a truly global brand overnight with the presence of both Beckham and Messi, two stars who transcend the sport itself and are recognisable names to those with even the slightest interest in football," added Peppi.
"As a result of Messi's move, the club's valuation is likely to skyrocket past the $1bn [£800m] mark pretty quickly – tickets for what could be the forward's debut are selling for over $500 [£400] already."
The seven-time Ballon d'Or winner is likely to attract new sponsors to Inter Miami, hugely increase merchandise sales and attract more fans both domestically and worldwide.
It is also a major boost for MLS, which last year signed a new $2.5bn (£2bn), 10-year broadcast deal with Apple and is benefiting from steadily growing football interest in the US.
"The arrival of Lionel Messi to Inter Miami signifies a turning point in the sport's landscape, unlocking immense potential for growth across the US," said Hugo Hensley, head of sports services at consultancy Brand Finance.
"With his iconic status and exceptional skills, Messi's addition presents a unique opportunity to elevate commercial revenue, attracting sponsors and driving merchandise sales. Moreover, his impact on the field is expected to broaden the fan base, boosting broadcasting and matchday income.
"With Messi joining the club, it aims to redefine its brand, forging valuable partnerships that extend beyond his playing days. The power of this superstar endorsement cannot be underestimated."
While Messi's agreement with Inter Miami and MLS is yet to be formalised, it is reported to include a share of revenue from new subscribers to Apple's MLS package and a slice of profits from the club's apparel partner – and his long-time sponsor – Adidas.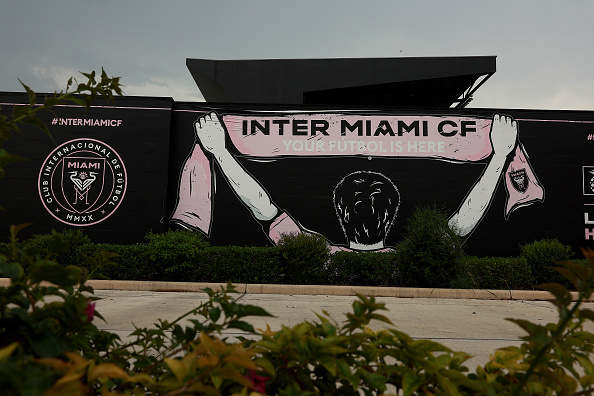 The Argentinian, who led his country to World Cup glory in Qatar last year, is also tipped to be given an option to own a new MLS franchise, as former England captain Beckham was when he moved to the US in 2007.
"While Saudi Arabia could offer a more appealing financial package due to its economic might and the salary cap regulations which exist in MLS, a creative deal including revenue share agreements has been implemented to ensure Messi puts pen to paper," said Peppi.
"Interestingly, Messi will also have the option to acquire a franchise upon his retirement as part of his deal – should life in the US suit him, don't be surprised to see the forward swap the pitch for the boardroom further down the line.
"This is all part of the wider trend of athletes taking ownership stakes and clubs having to become more innovative with their contract offers to attract superstars."