Let's take a look at the world of crypto exchanges
"In terms of adoption, Bitcoin has roughly the same users as the Internet had in 1997. But Bitcoin is growing faster. The next four years on this current path will bring the Bitcoin user base to 1 billion people, which is the equivalent user base of 2005 for the Internet."
"Everyone gets Bitcoin at the price they deserve."

― Olawale Daniel
Brief history of crypto exchanges
Following the launch of Bitcoin in 2008, various virtual platforms emerged. Initially, there were no crypto exchanges, and users could only buy Bitcoin via peer-to-peer exchanges. Buyers and sellers would meet on public forums and agree on a purchase, the buyer sending money to the seller via an electronic payment service such as PayPal.
In 2010 various exchange services were launched. These services would hold the seller's Bitcoin in escrow until the buyer sent funds. One of the most famous to emerge at the time was Mt. Gox, which quickly became one of the biggest crypto exchanges in the world before it collapsed in 2014, following a massive theft of Bitcoin from its hot wallet.
Since then, many crypto exchanges have emerged, with a few dominating the crypto space. Binance is currently the biggest by volume, with a 24-hour turnover of around $18 billion. Other contenders for the top spot are Coinbase and Huobi Global. However, no single crypto exchange controls a significant enough chunk of the crypto market to monopolize trading.
Crypto exchanges as gateways
Before the launch of centralised exchanges, entering the crypto market was difficult. Those who were not tech-savvy often found it hard to comprehend how the crypto sector works. The centralised crypto exchanges of today offer users a friendly interface and numerous guides, often posting video tutorials and adding payment gateways that make it easy for users to purchase crypto using fiat.
There are two main types of crypto exchanges. These are:
Centralised Exchanges
Decentralised Exchanges
Centralised exchanges
A centralised exchange is owned and operated by a single entity. Some centralised exchanges will only allow users to buy crypto using fiat while others only accept crypto-for-crypto trades. Some allow users to purchase and trade crypto in both crypto and fiat.
Decentralised exchanges
A decentralised exchange (DEX) is an alternative to centralised exchanges. These exchanges are not centrally managed. They have a governance mechanism built into the exchange, with all transactions automated through smart contracts.
Decentralised exchanges run on a blockchain, ensuring that transactions are highly secure and transparent. Currently, one of the most popular platforms for building decentralised exchanges is Ethereum. One of the most popular decentralized exchanges is Uniswap.
Uniswap – a brief overview
Uniswap is a completely open-source platform created in 2018. It operates as a decentralised exchange on the Ethereum blockchain. The platform uses a relatively new model that is known as automated liquidity protocol.
Uniswap allows anyone to list tokens at no charge, unlike centralized exchanges where token creators have to pay a fee to have their coins or tokens listed. Notably, Uniswap gives token owners control of their private keys at all times. According to data from Defipulse, Uniswap is currently the sixth biggest Decentralised Finance (DeFi) platform, with around $5 billion worth of locked crypto assets.  
What is DeFi?
The decentralised finance (DeFi) sector is an industry that was made possible by blockchain. It allows financial products to be made available to the masses via a decentralised, automated network with no need for a middleman.
Some of the financial products offered in the DeFi sector include loans, insurance, crowdfunding, decentralised exchanges, wrapped tokens, and more. Various concepts such as yield farming and liquidity mining have also sprung up within the DeFi sector.
The top centralized exchanges – a brief overview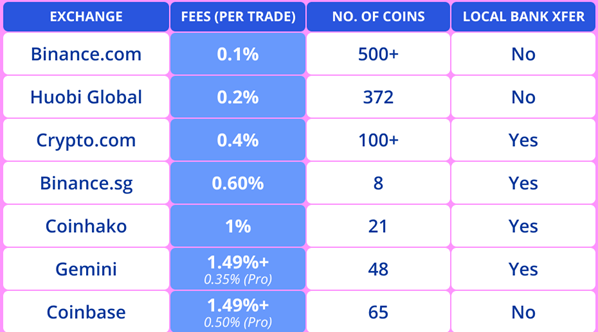 Binance
Binance is the biggest crypto exchange in the world by volume. The exchange offers a 0.1 per cent fee for both takers and makers, dropping to 0.02 per cent as trade volumes increase. Users can obtain BNB, Binance's native crypto coin, to enjoy a 25 per cent discount on fees. The exchange is host to over 100 trading pairs, including  numerous fiat-crypto pairs. The platform is currently banned in the UK.
Coinbase
Coinbase is considered one of the most user-friendly exchanges in the world. It is the most widely used crypto exchange in the US. Fees on the platform range from $0.99 to $2.99 depending on the dollar value of a purchase. Coinbase was launched in 2012 and is fully licensed and regulated in the US. It currently has approval to operate in 42 US states, Puerto Rico, and Washington DC Coinbase has managed to avoid the controversy that has plagued the crypto market in recent years. It has a thorough vetting process for all coins listed on the platform. For newcomers to the crypto industry, Coinbase is extremely easy to use.
Huobi Global
Huobi Global is a crypto exchange based in Hong Kong. The platform offers a maker/taker flat fee of 0.2 per cent, which can drop as low as 0.1 per cent based on trading volume. Accepted payment methods on the platform are crypto-to-crypto and crypto-to-fiat. The platform currently supports over 300 crypto coins, with new altcoins being voted onto the platform regularly. Huobi Global is a great platform for Asia-based traders.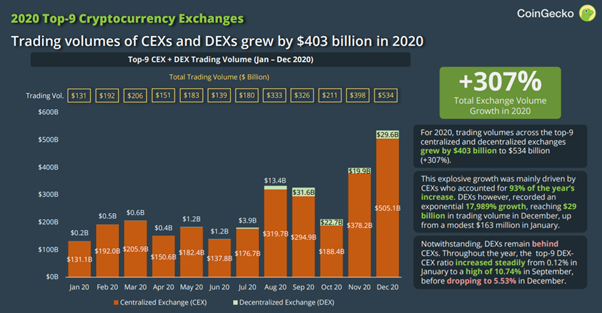 source: https://assets.coingecko.com/reports/2020-Year-End-Report/CoinGecko-2020-Report.pdf
Opportunities for introducing new exchanges
While the crypto exchange market may seem crowded, there are still numerous opportunities that exist in the space. For instance, the DeFi industry, which is the youngest sector in the crypto world, has helped to launch numerous services and products. It is also worth noting that while the crypto market might seem huge, it pales in comparison to the traditional financial world.
The crypto space has massive potential for growth since less than four per cent of the global population uses crypto. As the number of users grows, the crypto market will undoubtedly explode. It will present numerous business opportunities for new exchanges to launch new services that will develop with time. While a lot has been achieved thus far, the crypto market is only around a decade old. In its next decade, numerous new services and use cases will launch, which will present new opportunities for new types of exchanges to launch.
The role of regulators in the crypto space
While crypto was invented as an alternative to the mainstream financial sector, regulators do have a role to play if the crypto industry is to thrive. An important part of that role is investor protection. Like any other financial market, criminals have found their way into the sector, stealing funds through market manipulation, confidence tricks, and many other illegal activities. Regulators can also help to boost investor confidence in the sector.
Giving legal approval and regulating crypto could help to ensure mainstream crypto adoption. Doing so encourages mainstream investors and helps to ensure that the crypto sector more closely interacts with legacy financial systems. That could lead to the launch of newer and more efficient financial services that benefit the masses.
Conclusion
While the crypto market has experienced major growth in the past decade, there is plenty of room for more growth. Today, major crypto exchanges like Binance and Coinbase are emerging as favorites to become the dominating forces in the crypto world. Although there is currently no single entity with a majority stake, any of the leading exchanges could take the top spot, in the same way that Google and Facebook dominate the digital advertising market. However, it is also possible that new, unique concepts could launch and relegate the current big-name sites to the dustbin of history – as was the case with MySpace, which once dominated the social media landscape.
Alex Lightman is the founder and CEO of Keemoji and KeePay, makers of digital privacy keyboards and a new platform for payments, tokens and digital collectibles. He is the author of Brave New Unwired World and Reconciliation, the co-author of Augmented: Life In The Smart Lane, and recipient of four global awards, including the first Economist magazine Readers' Award for innovation, beating Elon Musk in a global vote.
This article does not provide any personal financial advice, please do your own research before registering at and using any decentralized or centralized crypto exchange.