Japan market hits seven-year high on back of Bank stimulus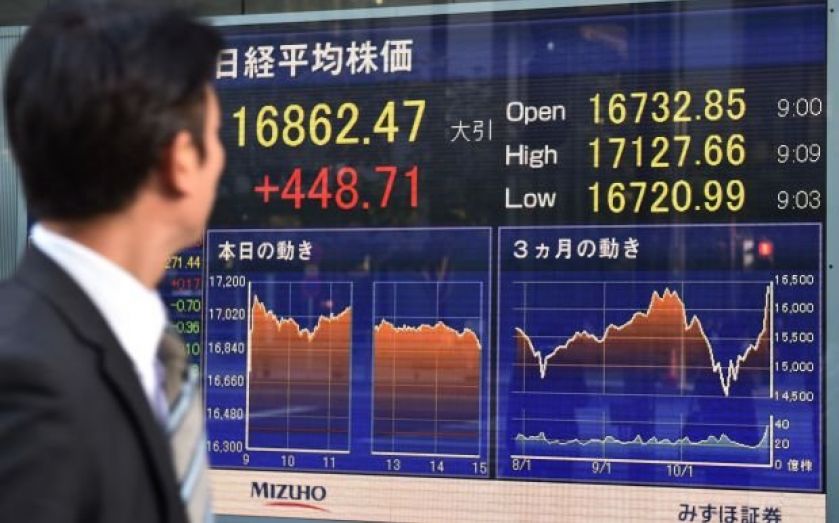 Japanese shares yesterday jumped to a seven-year high after last week's surprise stimulus move by the country's central bank.
In a rally that started last Friday, the Nikkei 225 index closed up 2.7 per cent at 16,862.47 after being shut for a holiday on Monday.
The rally was not interrupted by a fall in Japan's manufacturing purchasing managers' index – a survey of private sector companies – and a decline in vehicle sales.
The rally helped to push the FTSE 100 up at the start of trading yesterday. However, the London blue chip index fell back in later trading.
The yield on the 10-year govern­ment bond fell slightly to 0.446 per cent, not far from a record low, suggesting investors weren't worried about Japan's fiscal sol­ven­cy, despite a fast-growing public debt and the Bank of Japan's role as its main buyer.
Still, some observers were concerned about the bank's role in the markets. Its monthly purchases of Japanese government bonds under the new policy ­– ¥8 trillion (£44bn) to ¥12 trillion—will be roughly equivalent to the government's monthly issuance of those bonds.
Yasuyoshi Masuda, an economics professor at Toyo University, said any rises in share prices that were out of line with the state of the economy could lead to a backlash later.
"In the next few months or so, we must be on alert over fading euphoria in the stock market," professor Masuda said. "History shows the bubble is bound to collapse."