Insulate Britain protestors return to M25 for third time this week
Climate activists from Insulate Britain have been removed by police after blocking the M25 for the third time this week.
This morning 79 campaigners, arrested for participating in demonstrations earlier in the week, arrived at sites along the M25 and once again glued themselves to the road.
Activists arrived at Junction 28 in Essex, where police were ready and waiting for the campaigners and led 12 away in handcuffs. Elsewhere, blue paint was poured onto the road, which will lead to further disruption.
The group is calling on Prime Minister Boris Johnson to urgently insulate Britain's homes which are amongst the least fuel efficient in Europe.
Harry, 25, a Solar Engineer from Cornwall who took part in the protests said, "I don't believe the government is doing enough."
"Insulating homes is not only in line with the government's promises but is an easy win in the battle to reduce emissions. Home insulation gives the biggest reduction in carbon emissions for each pound spent – it's time to get started," he added.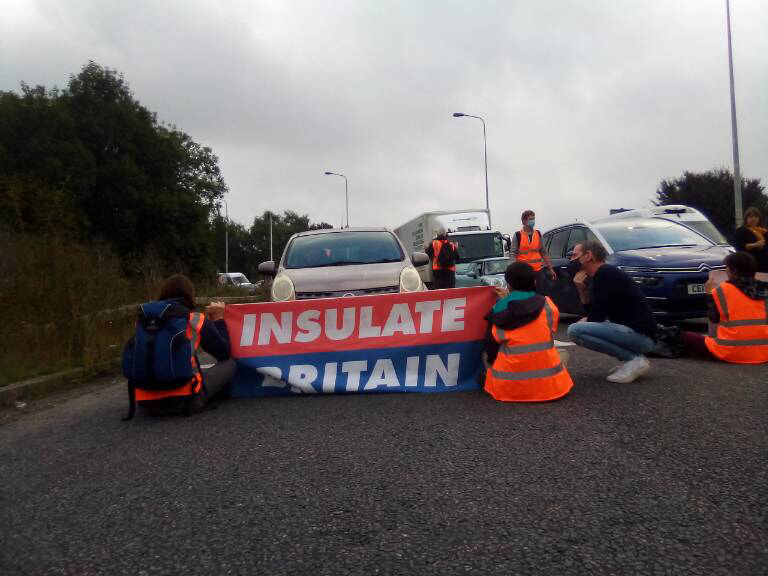 Demonstrations began on Monday when tens of thousands of motorists trying to use the UK's busiest motorway were delayed by activists who sat in the road holding banners.
Furious motorists were seen dragging protestors along the ground and shouting at them to "get out the f***ing way."
Protestors blocked roads for a second time this week on Wednesday with over 80 campaigners arriving to block roundabouts and a carriageway on Britain's busiest motorway.
Priti Patel called on police to take "decisive action" against the protestors after footage emerged of police facilitating the demonstrations.
Activists say they will continue to block the motorway until the government makes a meaningful commitment to insulate all of Britain's 29 million leaky homes by 2030.
Read more: Over 80 campaigners block motorway for a second time demanding the government insulate Britain