Ian Poulter interview: Englishman confident the Italian Open can spark a strong end to the season
Ian Poulter does not have to look far for inspiration as he aims to launch a late-season charge at the Italian Open.
The English Ryder Cup hero, 43, won his first European Tour title at the event in 2000 and two years later repeated the feat at Olgiata, near Rome – where he returns this week.
"In my house I've actually got the scorecard from that week with a photograph of the trophy, so I've walked past it daily for a long time," he tells City A.M.
Read more: How the NFL put down its roots in London
"I remember getting a hole in one I think on the 16th hole, a par three. I'll have to familiarise myself with the course again but it's very exciting to go back.
"To win my second Italian Open on my third year on tour was an extremely special moment. To be able to draw upon that past excitement, rekindle some of those moments, will be a lot of fun."
The Italian Open is by no means the only familiar haunt on Poulter's schedule for the rest of 2019; his itinerary is littered with destinations that have served him well in the past.
Before the year is out he will play in Japan, where he won in 2007, then the WGC-Champions in China, which he won in 2012, and finally Dubai, another happy hunting ground, for the DP World Tour Championship.
It is an intensive period of six events in seven weeks that he hopes will deliver the title that has eluded him, despite four consecutive top-10 finishes – three in the Middle East – at the start of the year, and three more since.
Striking distance
"It has been a good year," he says. "Started off extremely strong, then moved over to the States and had an opportunity at the Masters, which was exciting to be in position with nine holes to go. It's been a very consistent season, which is very pleasing.
"I've got a lot of golf to play between now and the end of the year and it's all building up quite nicely. If we can grab a win beforehand or even win the DP World Tour Championship that would top off what has been a great year and make it an absolutely amazing year."
A strong finish to 2019 would earn Poulter his best European Tour season since 2013. He is currently just outside the Race To Dubai top 10 in 15th place but is looking up and, in characteristically bullish fashion, has not given up hope of topping the order of merit.
"They're all big events leading up to the last event. If I'm within striking distance and able to do that in Dubai it would be amazing," he says.
"It's always been a goal to win the order of merit and we've got a chance to do that, win the DP World Tour Championship and win the Race To Dubai, that would mean an awful lot."
Age no barrier
Although the season is not yet up, Ryder Cup points have already begun to accrue. And while Poulter is desperate to continue his long association with the competition by qualifying for Team Europe, he hopes to make it by ticking off other items on his to-do list.
"There are a number of goals which come way before the end of September. We've got a tournament in Augusta, Georgia in April which would be quite nice, to be honest," he says.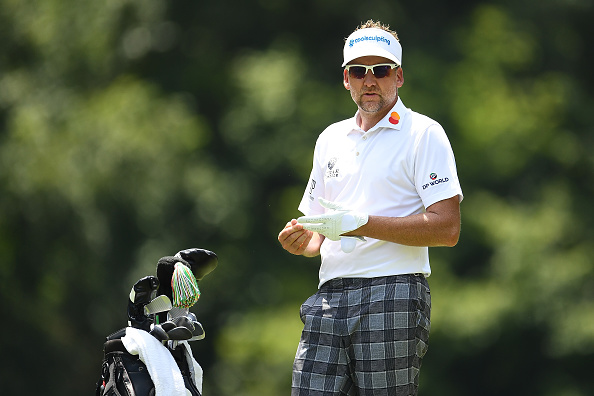 "It's very easy to get too far ahead of yourself. There are a lot of points to earn, there are no guarantees of getting in the team. I need to prove myself this season and focus on the job in hand.
"If I can play well in all the Majors, WGC and big events that we have in Europe, then that's where I'm going to pick up my points. I really need to focus hard on those events.
"Let's see if we can win one of these Majors. Certainly if I did that in the early part of 2020 then surely that's going to put me in a good position to join the team next September."
Neatly, given Poulter's success in Italy, the Ryder Cup is being held there for the first time in 2022. He is reluctant to look that far ahead but admits age currently feels like no barrier.
"I'm 43, about to go 44, but I've never felt younger," he says. "We've seen it before with team players deep into their 40s playing Ryder Cups.
"I would love to be a part of every one I could. I know that will come to an end but let's try and draw it out as long as possible."