Film review: Straight Outta Compton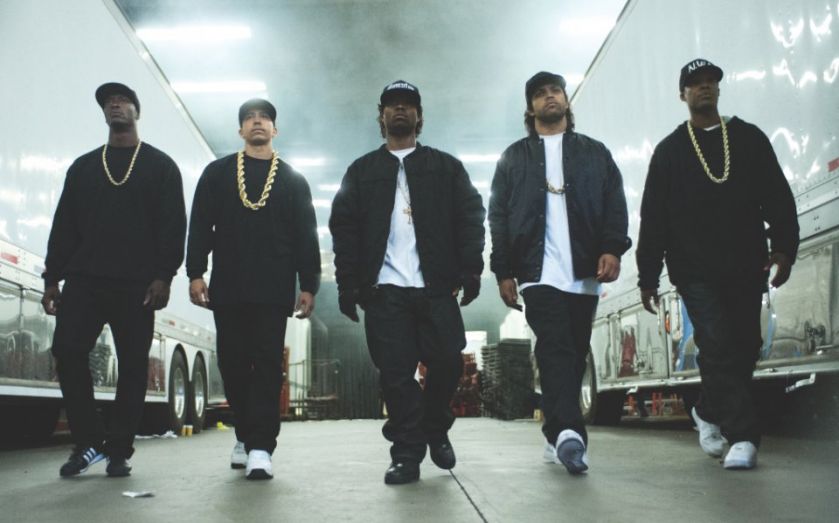 Cert 15 | ★★★★☆
Ice Cube spitting F**k Tha Police in front of a jumping Detroit crowd, and the subsequent stage invasion by armed cops, is one of the most exhilarating moments in film this year. That it never actually happened – the band were calmly arrested at their hotel later that night – is largely irrelevant. As Tony Wilson says in Michael Winterbottom's 24 Hour Party People: "When you have to choose between the truth and the legend, choose the legend."
And what a legend it is: Straight Outta Compton charts the rise of NWA, the rap group fronted by Eric "Eazy-E" Wright, O'Shea "Ice Cube" Jackson and Andre "Dr Dre" Young. With Eazy's street hustler mentality – we meet him escaping from a drugs bust – Cube's potent lyrics and Dre's unrivalled production skills, NWA rose from the streets to become the most notorious group in the world.
Director F Gary Gary's film is a fine balance of bravado and tenderness, of high production values and scuzzy documentary-style footage. The sound production – courtesy of the actual Dr Dre – is impeccable, especially on the concert scenes, which perfectly capture the raw, bassy energy of live hip hop.
There are strong performances across the board, especially by O'Shea Jackson Jr, Cube's real life son, who looks the spit of his father in his heyday. You believe Cube's anger over the police's treatment of the people on his estate, and feel Eazy's anguish when he realises too late that he allowed the band to crumble around him. R Marcus Taylor's chilling portrayal of Suge Knight, owner of Death Row Records and all-round scary bastard, is also worthy of mention (in a slightly meta turn of events, Knight was arrested on hit-and-run murder charges during a promo shoot for the movie).
The action is punctuated with newsreel footage of police brutality against black people, culminating in the infamous Rodney King beating, serving to both ground the film in the 1980s and remind us how relevant NWA's fierce poetry remains today.
The third act, charting the downfall of Eazy and the evolution of Dre and Cube into global megabrands, feels anticlimactic by comparison. Overlong and sugarcoated, it's too preoccupied with trying to neatly tie up the story and reunite the three protagonists in the lead-up to Eazy's AIDS death aged just 31. It feels mawkish and a little insincere, suggesting a far closer reconciliation than the evidence points to (only DJ Yella turned up at Eazy's funeral).
Straight Outta Compton is an undeniably sanctified version of the NWA story, perhaps unsurprisingly given the main players' involvement in its production. It glosses over issues of misogyny (both lyrical and physical, including accusations of violence against women), and casts a very sympathetic eye over their latter years. But history is written by the victors, and NWA – five angry kids from the hood – changed the face of global music. Watching their frenetic rise to fame, and hearing afresh just how great their hits were, reminds you exactly why.