Extinction Rebellion protesters flout ban to march on Trafalgar Square
Extinction Rebellion protesters are set to march to Trafalgar Square today despite a ban on any demonstrations inside London.
The Metropolitan Police had initially ordered protesters to confine action to the London landmark but late on Monday night evicted protesters camped there and banned XR protests from the capital.
Read more: Extinction Rebellion protesters target City of London institutions
Extinction Rebellion is set to seek a judicial review at the High Court as early as tomorrow to challenge the London-wide ban.
Meanwhile mayor of London Sadiq Khan has contacted the Met to ask whether the activists' "autumn uprising" can continue "legally and peacefully".
The climate change protest group called on members to oppose the ban by marching to Trafalgar Square and meet together there at 1.30pm.
"Following the decision to ban peaceful protest in London, we are calling on everyone to assemble in Trafalgar Square to defend our civil liberties," the group said in a statement.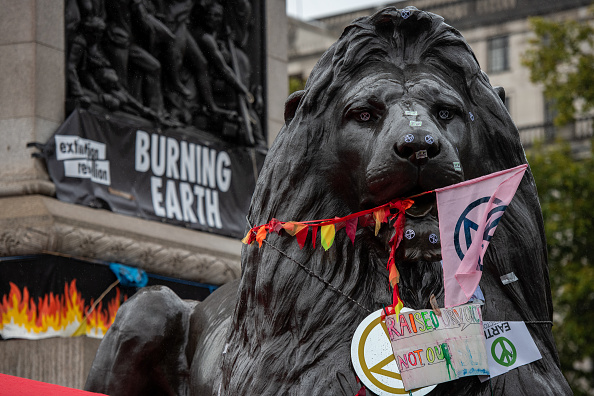 Julian Thompson of Extinction Rebellion said: "This is a call to all people who want to protect our environment and our basic human right to protest. We have been on the streets to demand that the government produces a plan to deal with the climate and ecological emergency.
"The government's silence is deafening; with no mention of it in the Queen's Speech, which is their programme for government for the year. At a time when it's more important than ever to peacefully assemble and protest on these emergencies, we are now at risk of being silenced by the authorities. This is a dangerous precedent; we need more democracy, not less."

The Met has so far arrested 1,489 people in connection with the Extinction Rebellion protests.
Read more: Police ban Extinction Rebellion protesters from London
London's police force has also charged 92 people on suspicion of criminal damage, obstructing a highway, and flouting its ban on protesting.
Baroness Jenny Jones, Caroline Lucas MP, Clive Lewis MP, David Drew MP, Ellie Chowns MEP, George Monbiot, and Adam Allnut will bring the High Court action on behalf of XR to challenge the blanket ban.