Ed Balls asks for audit of Labour spending plans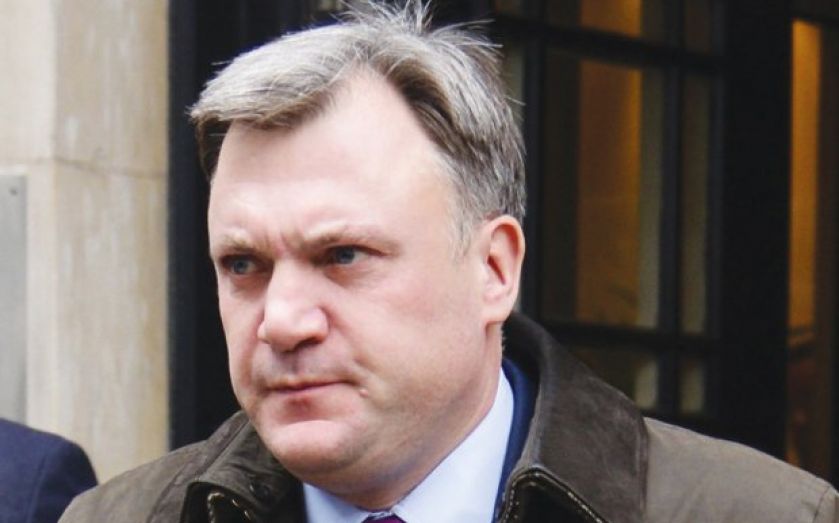 ED BALLS yesterday asked the government's budget watchdog to assess Labour's spending plans – as the party hinted that it will shift the tax burden onto high earners if it wins the next election.
The shadow chancellor has asked Robert Chote, head of the Office for Budget Responsibility (OBR) to audit all of the party's spending commitments, in an attempt to dismiss claims that Labour is making unfunded spending pledges.
The move came after Labour's Rachel Reeves said the party would look to increase taxes on the "privileged few right at the top" rather than people earning less than £50,000 a year.
At the moment the OBR is only tasked with scrutinising the costs of government policies. But sources close to Balls said they believed the organisation could expand its remit to cover the spending plans of potential future governments without making "fundamental changes" to its remit.
Chote gave a cautious welcome to Balls' proposal but said he would want to see cross-party agreement on the idea before agreeing to undertake the work. "We would need to ensure that we had adequate internal resources to do the job, as well as guaranteed access to the necessary data and analytical expertise within Whitehall," he added.
It is understood that Chote was only made aware of the proposal yesterday afternoon.
Conservative activists outside the Labour party conference in Brighton yesterday distributed documents detailing their claim that Labour has already racked up £27.9bn of unfunded spending commitments, including Ed Miliband's new commitment to scrap the so-called "bedroom tax" on additional rooms for social housing tenants.
Miliband dismissed the Tory sums and told the BBC's Andrew Marr Show that a Labour government would not increase borrowing in order to boost day-to-day spending.
LABOUR'S KEY POLICIES
TAX HIGH EARNERS
What?
■ Labour yesterday ruled out tax hikes on those earning less than £60,000 a year – so those on more will worry. It also gave a strong hint that it wants to hit the "privileged few" – what they call high earners taking home more than £150,00 a year.
Why?
■ Labour are desperate to regain constituencies in the London commuter belt that were lost to the Conservatives in the 2010 election. As shadow Treasury secretary Rachel Reeves said yesterday: "If you're a single-earner family in the south east on [£50,000-60,000], you don't feel particularly rich".
Reaction
■ Tory justice secretary Chris Grayling said it was wrong to tax "wealth creators" who are responsibility for Britain's economic prosperity.
MINIMUM WAGE
What?
■ Ed Miliband has said he wants the increase the minimum wage. More interestingly, he announced that he wants the Low Pay Commission to investigate whether it is possible to set the minimum wage on an industry-by-industry basis. This raises the prospect of all large IT firms, banks, law firms and consultants having to pay higher wages because their sectors are judged to be unusually profitable.
Why?
■ Labour is planning to fight the 2015 general election with a range of promises designed to boost living standards. Raising wages is a populist move.
Reaction
■ Business organisations have strongly attacked the announcement, saying varying the wage by sector is completely unworkable and could push firms over the edge.
SPENDING PLANS
What?
■ Labour has announced several policies that come with chunky price tags: building far more council homes and repealing the government's "bedroom tax" on spare rooms for social housing tenants, which was meant to save taxpayers £460m a year. The party also says all schools will be required to offer free childcare from 8am until 6pm every day – but insist no extra funding will be made available.
Why?
■ Ed Miliband wants to please ordinary Labour party members who oppose many of the government's spending cuts. But he knows every reversal will need funding – either from tax rises or cuts elsewhere.
Reaction
■ Conservatives insist the new proposals represent a return to profligate Labour spending and welfarism.
IMMIGRATION
What?
■ Ed Miliband yesterday said he would seek to increase the fines on companies that pay less than the minimum wage and ban recruitment agencies from only hiring from overseas. He will also force large UK firms who hire non-EU nationals to take on apprenticeships.
Why?
■ Labour have a problem on immigration: most of their activist base is instinctively in favour but swathes of their working class support base believe new arrivals take jobs from British workers. These policies are an attempt to square the two groups.
Reaction
■ Opposition parties pointed out that – due to EU legislation – the apprenticeships will have to be open to all European citizens, defeating the exercise.