Chef Ana Morris of Islington restaurant LeCoq presents her recipe for burnt chicken and chilli spatchcock chicken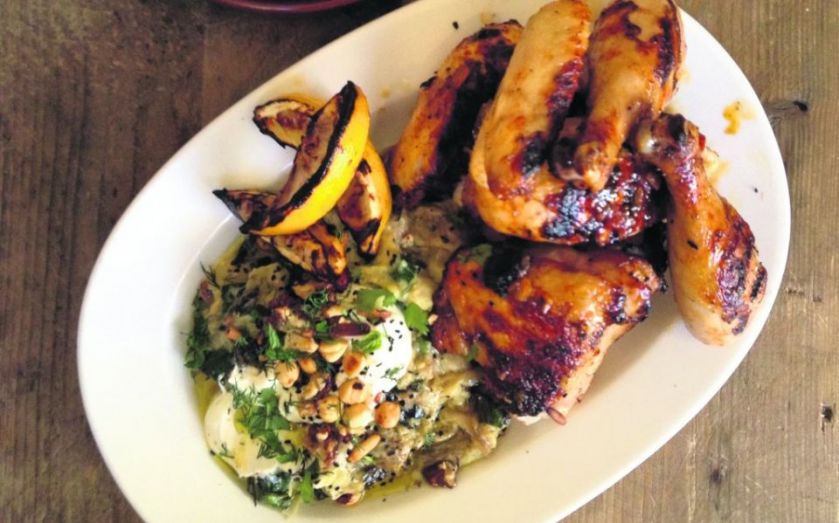 Ana Morris, the chef of Islington's favourite rotisserie chicken restaurant LeCoq, on how to unite a community using only a spit and some good quality birds from Suffolk.
Sisters Ana and Sanja Morris opened LeCoq last year in Islington. Since, the restaurant has flourished and become a firm local fixture. We speak to chef Ana to see how she turned the humble chicken into a gourmet treat.
What was the original concept behind LeCoq?
The inspiration was those rotisseries you get on every street corner in France – nothing fussy, but so delicious and comforting. Chicken is so versatile, so it made sense to create a small chicken-focused menu in which everything around it changed each week, but the star, the rotisserie chicken, always remained simple, juicy and delicious.
As you set up the restaurant with your sister, do you have any tips for working with family members?
There is no room for petty rivalries or competitiveness. Sanja and I have a great relationship as business partners and as sisters. We both have our separate skill set that we bring to LeCoq – I am a chef and Sanja is the founder of Salt Yard Group restaurants so has a wealth of business experience. I guess our different expertise means that we have a clear idea about who focuses on what, so maybe that helps.
You have a "no bookings" policy and this seems to be a growing trend among London restaurants. Why did you decide the policy was right for LeCoq?
We opened as "no bookings" but since 2014 we have booked out half of the restaurant and left the other half for walk-ins – the best of both worlds and it works perfectly for us. LeCoq is the type of place that you could celebrate a special occasion, or come on a date or just quickly pop in on your way home from work – doing both booking styles keeps us versatile. We only have 40 covers so by keeping tables available for walk-ins we are favouring our locals which we think is essential for a neighbourhood restaurant.
What does the term "neighbourhood restaurant" mean to you?
With 80 per cent of our customers being returning regulars coming each week to see our new menu, I think we have become part of the neighbourhood. People genuinely seem to love not only the food but the warm welcome they get at LeCoq – we have been told that we have "enhanced" the neighbourhood. That means everything to us.
Why did you choose the spatchcock chicken and what does the term "spatchcock" mean?
I couldn't expect people to have access to a spit, so I figured that spatchcocking it would be the best way to cook your whole bird on a BBQ. You cut out it's spine and flatten it – it also means that the marinade can really cover the whole bird and soak in – delicious.
What's the key, in your opinion, to a perfectly cooked rotisserie chicken?
The chicken itself is the most important part. Our Sutton Hoo chickens from Suffolk are truly free-range – their depth of flavour is incomparable to other chickens. We do not do anything to them, just a splash of oil, a squeeze of lemon and a sprinkle of salt – the chicken then shines.
Why did you choose Sutton Hoo to supply your chickens?
I used to work with their birds at Rochelle Canteen and loved them – we did some research into other poultry farms, but nothing compared. It is also beautiful up there, so the occasional trip is always a treat.
You're buying a mobile rotisserie. Do you plan to park up at street food festivals in the future, or are you keeping it for private events?
Our mobile rotisserie is going to be for private events. We are focusing on office delivery at the moment, so this is adding another level to our offering. Soon a mobile LeCoq, with Sfuso on tap and Gelupo's ice cream cart in tow, will be able to pitch up in your office car park and give you the LeCoq experience. We can then also use it for weddings in the summer and maybe a few foodie events. It's very exciting, watch this space.
DISH OF THE DAY
Le Coq's burnt lemon and chilli spatchcock chicken
INGREDIENTS
■ 1 x 1.8kg Sutton Hoo Chicken (or any free-range chicken)
■ 2 lemons
■ 4 red chillies
■ 1 clove of garlic
■ ½ tsp paprika, sweet
■ 1tbsp Honey
■ olive oil
■ 6-8 courgettes
■ 3 aubergines
■ 2-3 tbs tahini
■ 1 clove of garlic, finely grated
■ 1 lemon
■ Chilli flakes
■ Greek yoghurt (seasoned with a smidge of grated garlic and some salt)
a handful of nuts/seeds (pine nuts, sesame seeds, poppy seeds hazelnuts, hazelnuts, pistachios, walnuts – whatever you have)
■ Turkish flatbread (pitta is a suitable flatbread for this, too)
■ Sweet herbs (dill, mint and parsley)
METHOD
Get your chosen burning equipment (BBQ or grill) hot.
Spatchcock your chicken (or ask the butcher to do it) – this means cutting away the back bone, with some strong scissors, and then flattening the bird by turning it the right way up and pushing the two halves down flat – there will be some cracking of bones as it is forced to realign.
Cut the ends of your lemon then carefully cut round them, taking off all the peel and pith. Cut into 1cm slices and toss on to the grill to burn. Also chuck on the red chillies to burn.
Once blackened take the skin off the chilli as this will be leathery and not nice to eat, but the smokiness will have infused the flesh of the chilli – de-seed three chillies and keep the seeds in the last one.
Put the lemon, chillies and garlic into a pestle and mortar or a blender and roughly pulp. Add the honey, paprika, a good pinch of salt and some oil to loosen.
Slather your disgraced/spatchcocked chicken in this sweet smokey gunk and refrigerate for 3-12 hours.
When ready, cook the chicken on the flat side first, breasts in the air for about 20-30 mins. Adjusting the flames/heat as necessary, you will want quite a low heat, you don't want to burn your chicken here, the 'burnt' marinade will impart the charred flavour. Then turn over and cook for another 15-25 mins until the chicken is cooked and the juices run clear.
THE "BABA GANOUSH"
Blacken your aubergines and courgettes by putting them on your BBQ or on/under your grill. Turn as necessary until entirely black. Then put aside to rest, the flesh will be boiling.
Split the burnt skin and scoop out the flesh of both veggies into a bowl – add the tahini, a good glug of olive oil, the garlic and lemon juice and salt to taste.
Beat it a bit with a wooden spoon, so it keeps some texture but it is a unified sloppy, delicious mess. Keep warm.
Toast your nut/seed selection in some butter until golden.
Pop the ganoush onto a platter and smear a good dollop of your seasoned yoghurt onto of the smoosh and adorn with your nut/seed collection and a sprinkle of chopped sweet herbs.