Deutsche Bank share price dips as it posts €6bn loss and announces plans to cut jobs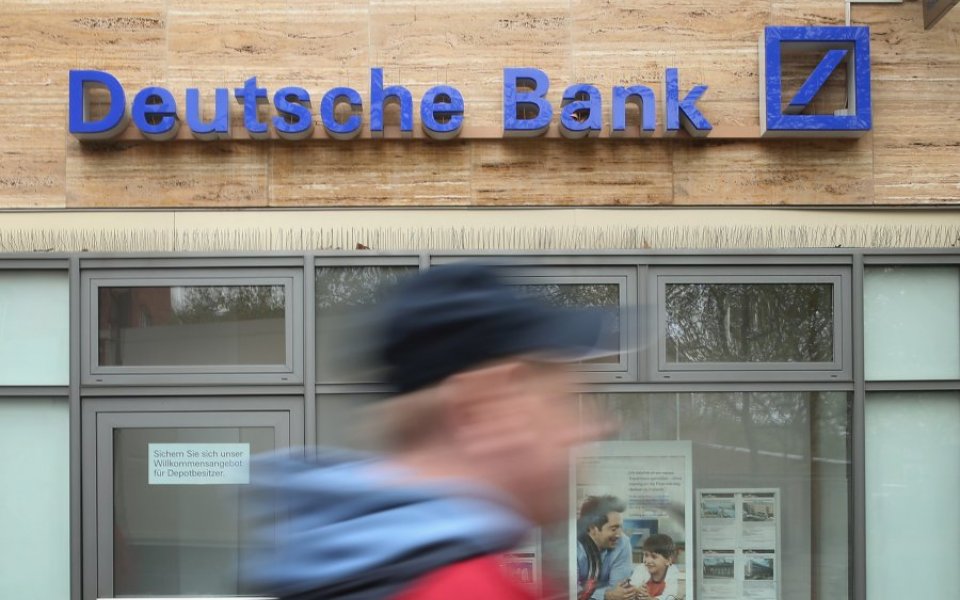 Embattled lender Deutsche Bank posted a €6bn (£4.3bn) loss for its third quarter, adding it will cut thousands of jobs as part of its turnaround plan. Still, that loss isn't as bad as the €6.2bn loss it warned of in October…
Read more: Deutsche Bank's big shake-up – here's everything you need to know
The figures
That €6bn loss may not have been as bad as expected – but it was still a massive jump from the €92bn loss posted in the same period last year.
Revenues fell seven per cent to €7.3bn – the bank said that figure was dragged down by exceptional charges of €7.6bn, including a €649m impairment on its 20 per cent stake in Hua Xia Bank, litigation charges of €1.2bn, and a non-interest expense impact of €7bn.
Common equity tier one capital (CET1) ratio rose 1.2 percentage points to 11.5 per cent from the previous quarter. Leverage ratio remained at 3.6 per cent quarter-on-quarter.
At a press conference this morning, chief executive John Cryan added the bank will cut 9,000 jobs as part of its Strategy 2020 turnaround plan, shedding another 15,000 staff through its sale of Postbank.
The bank's shares fell 1.5 per cent to €27.08 in early trading.
Why it's interesting
It's been a torrid few months for one of Germany's biggest lenders, which was not only hit by the Chinese stock market crash, but has also been the subject of a massive shake-up at management level.
Yesterday the bank trailed Strategy2020, which included scrapping its dividend for 2015 and 2016.
This morning Cryan, who replaced co-chief executives Juergen Fitschen and Anshu Jain in June, added that as part of the strategy he will sell off the lender's Postbank brand and exit "higher operating risk countries", halving the number of clients in its global markets and investment banking businesses.
It's been a long time coming: the bank was hit by $2.5bn (£1.7bn) of fines by the Libor-rigging scandal. As a result, Cryan wasted no time in "fundamentally reorganising" the bank, splitting its investment arm into two.
As if that wasn't enough, this month it admitted one of its junior traders had had a "fat finger moment" over the summer, accidentally sending $6bn to one of its clients. Fortunately, that particular incident was resolved amicably.
What Deutsche said
Cryan said:
In the third quarter 2015 we reported a record net loss – a highly disappointing result that was largely driven by items we had already flagged earlier in October.

recently announced a reorganisation of our business structure and a new management team. Later today, we will announce details of our implementation plans for Strategy 2020, including updated financial targets to which the new team is committed.
In short
Not an easy year for Deutsche – but thousands of job cuts and a second fundamental shake-up are the start of a difficult turnaround.