Dan Azeez interview: Britain's next boxing superstar on swapping financial services for the fight game
Dan Azeez was planning for a career in the City when an encounter with Anthony Joshua in 2011 changed his life.
The south Londoner's parents, first generation Nigerian immigrants, impressed upon him the importance of education and a profession, so Azeez took a degree in accounting and finance at Essex University and set his sights on a job in the Square Mile.
But on a night off from his studies he accepted an invitation to attend the English amateur boxing championships in Colchester, where future Olympic and world heavyweight champion Joshua was starting to make his name.
"I watched him win the national title and I was inspired," Azeez tells City A.M.
"I thought: 'This is cool, I'm going to try this amateur boxing stuff'. So I joined a club in Colchester and I haven't looked back.
"It wasn't the first time I'd been in a boxing ring but it was then when I thought I wanted to start boxing competitively.
"I didn't think I was going to do it professionally or anything like that. I thought I'd do it on the side while I study, but I got addicted to getting punched in the face."
Still, Azeez finished his studies and moved back to London to work in wealth management while he climbed the amateur rankings.
After reaching the national top 10 for his weight division, the light heavyweight turned pro in 2017 and quickly began to accumulate titles.
By 2019 he was English champion, a year later he had the British belt, and in his last fight, which took his record to 18 wins and no defeats with 12 stoppages, he added the Commonwealth title.
On Saturday in Paris, the 33-year-old will attempt to win Thomas Faure's European belt and take another step towards a world title shot.
"That is automatically one of your goals, but I'm about legacy as well," adds Azeez, who was 27 when he turned pro.
"I want to say I won every kind of belt – Southern Area, English, British, Commonwealth, World – and be an inspiration for people who might not be from a boxing background or might think it's too late.
"I'm sure there was a stigma that most boxers were dumb. It wasn't a sport that educated people went into. I'm happy to be someone who's broken that narrative."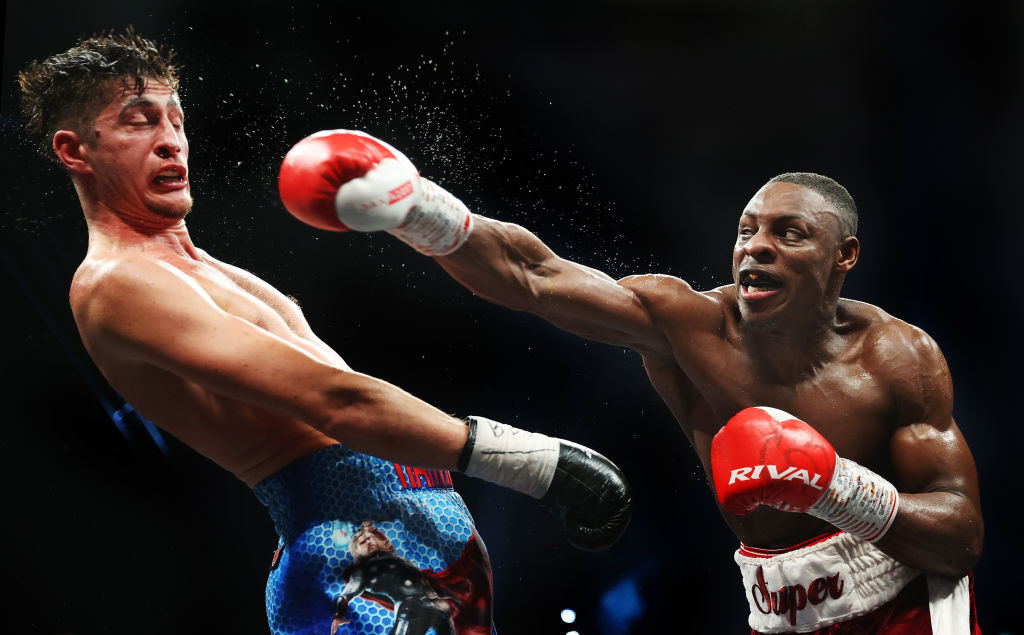 Azeez namechecks Marvin Hagler as his sporting idol and rapper 50 Cent as someone whose business sense he admires.
He wants to be known as something of a performer himself in a division that has become among the most exciting in boxing – and has a distinctly English flavour.
Azeez and compatriots Anthony Yarde, Callum Smith, Joshua Buatsi and Craig Richards are all in the top 10 of the prestigious Ring Magazine rankings.
"You don't want to be boring. I want to be remembered as a guy who was in exciting fights," he says.
"I'm a huge fan of Marvin Hagler. As well as his boxing, I really like his story. People talk about me doing it the hard way – compared to people like that, this is a walk in the park."
Azeez admits his accountancy training comes in handy when filing his tax returns and doesn't rule out a second career in finance after he hangs up his gloves.
But for now he is mainly drawing on that expertise to make sure he has a nest egg to show for his attempts to emulate the likes of Hagler and Joshua.
"There's so many stories of boxers before me who earned millions and then at the end of their career went broke," he says.
"I'm quite clued up about my finances and know there's life after boxing so I've got to be smart."
Joshua remains the benchmark for this generation of British fighters, despite more recent wobbles, for success in and out of the ring.
And the Watford fighter has been happy to offer career advice to Azeez when their paths have crossed in boxing gyms.
"The one thing he said that stuck with me was 'the higher you go up, it doesn't get any easier'," he recalls. "As I'm climbing the ladder it resonates more with me now."
BOXXER's Dan Azeez fights Thomas Faure for the vacant European Light-Heavyweight title in Paris on March 11, live on Sky Sports.