Culture Corner: Your guide to summer in the City
Culture in the City this month kicks off with Alexander Sitkovetsky performing on 1 July with the London Concertante Orchestra in Southwark Cathedral. The London Concertante have a full and varied programme which you can watch and stream at your leisure too.
Alexander and his world renowned trio, the Sitkovetsky Trio, have a new album out here, which is available to buy from 2 July. "The importance of the group outweighs that of the individual… It doesn't sound like three instruments but a hundred," he says.
Live from the Barbican: Nadine Shah
The Barbican's Live From… series continues with some post-punk noir pop from Nadine Shah, performing her latest record Kitchen Sink in its entirety. Tickets are available to watch live, in person, at the Barbican Hall or to stream from the comfort of your own home.
Eleven
To celebrate the UEFA EURO 2020 championship, the Museum of London has created a short film celebrating the importance of grassroots football in London. Book your free ticket to the museum to enjoy daily drop-in screenings of the film in the museum's Ellipse Hall until 11 July.
Shubbak Festival is the UK's premier festival of contemporary Arab arts and culture.
This year features new perspectives, fresh collaborations and unexpected voices alongside distinguished names in an ambitious programme of premieres and new commissions.
With a vibrant mix of visual arts, film, music, theatre, dance, literature, workshops and debates, both live and online, Shubbak Festival 2021 invites you to witness the creativity and imaginative power of Arab artists to speak of our times.
Check out this lively karaoke experience on 8 July with the subversive Syrian artist trio Fehras Publishing Practices, bringing high art and popular culture together.
July at the Fidelio Orchestra Cafe sees the return of Steven Isserlis and Imogen Cooper and debuts by Paul Lewis as well as the talented violinist Benjamin Baker who visits the Cafe with two performances, the first with 'Sei Solo' which sees Benjamin combine solo Bach with contemporary works (8-10 July) and later in the month when he is joined by pianist Daniel Lebhardt (30-31 July). Pavel Kolesnikov and Samson Tsoy join forces for Schubertiade: five nights of Schubert for piano solo and piano duet (20-24 July) Four hands at the piano is my favourite thing to play and always fun to watch!
City Music Foundation which supports professional musicians to help them build sustainable careers has a new concert series from Bart's Hall. One not to miss for culture fans is Mexican Scholar and flautist Marco Nicolas Sos who will perform an enchanting programme in a lunchtime concert at 1pm on 14 July at the Great Hall, Barts Heritage. Tickets available here:
Live from London Summer Series at the Voces 8 Foundation, on Gresham Street, launches in July with a festival celebrating cycles of renewal and regeneration in nature and spirit. Highlights this month are Voces8 performing on 4 July. On 17 July, meanwhile, four of the UK's most renowned solo and chamber musicians Julian Bliss, Katya Apekisheva, Jack Liebeck and Sheku Kanneh-Mason perform Messiaen's masterpiece, Quartet for the End of Time, and on 24 July The King's Singers perform a wide variety of tunes from the Beatles to Bob Chilcott.
Up Close and Musical present a Saturday series of great musicians including the Artistic Director Shiry Rashkovsky performing with Gabriel Prokofiev on Saturday 17 July, also at Fidelio Orchestra Cafe, in a boundary-defying live electronic performance followed by a live classical remix DJ set.
On 29 July Abel Selaocoe, virtuoso cellist, will perform his own compositions in a bold exploration of Baroque and contemporary African music. Tickets available here.
On 25 July, Singer Tavern presents a fun and inclusive music session at 1 City Road, EC1Y 1AG at 12pm-10pm. It features Eddie Piller, an English DJ and record label entrepreneur who, along with Giles Peterson, started the Acid Jazz label. He also hosts a BBC 6Music show. More info here.
And if you want to participate in some music making, remember the Lovin' Spoonfuls' Classic, 'Summer in the City'? Now's your chance to perform WITH Mike Arturi and us at Music in Offices! Sign up here for a band session on 15 July – any instrument/style/standard welcome!
ART
Over at the Guildhall Art Gallery is an exhibition about Noël Coward: Art & Style. This is free but booking is required. This exhibition celebrates the dazzling visual side of Coward's life and work by taking a fresh and vibrant look at the glittering world that Coward created. If you're a fan of theatre, fashion or heritage you'll love it!
Opening on 23 July is a touring exhibition Wampum: Stories from the Shells of Native America exploring the history, art and culture of the Native Americans who met the passengers of the Mayflower.
Other Art Exhibitions in the Square Mile in July include Sophie Smallhorn's exhibition at 100 Bishopsgate. This exhibition is of large, geometric, sculptural works which are free and available to view by the public, as well as visitors and workers in the building.
Artist Emily Forgot has been commissioned by Brookfield Properties to create two large public meeting spaces. These colourful installations are inspired by children's building blocks. The one at CityPoint looks like kiosks – suitable for up to six people to meet in a socially-distanced manner – enabling visitors and workers returning to the city to enjoy the outdoors, socialise and collaborate while feeling safe and keeping socially-distanced.
'Bricolage' by Emily Forgot is at Principal Place over the summer and her CityPoint installation will be in until August 2021.
Textile artist Anna Ray, the winner of the Brookfield Properties Crafts Council Collection Award 2021, has an exhibition spread across 99 Bishopsgate and Aldgate Tower. This exhibition, called 'On Tenterhooks' is inspired by the artist's Huguenot ancestors who settles in Spitalfields as textile makers in the 17thcentury. This exhibition will explore the past and present of textile making. Central to the exhibition will be Ray's award-winning artworks 'Capture' and 'Weave', which will be shown in public for the first time. They were acquired by Brookfield Properties as a gift for the Crafts Council Primary Collection as part of the Brookfield Properties Crafts Council Collection Award 2021.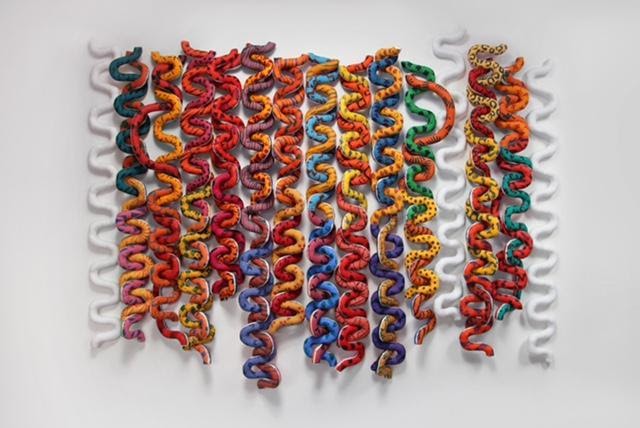 And finally, if you're not heading into the City this month but still want to get your culture fix from your sofa, British contemporary artist Philip Colbert reveals LOBSTEROPOLIS CITY, a huge and phenomenally ambitious project set within Decentraland, an open-source Virtual Reality world built on the Ethereum Blockchain, accessible via your computer or phone. Create your avatar and visit the Lobster Land Museum, where globally renowned art auctioneer and dealer Simon de Pury has curated a show and auction of NFT artworks available to buy on the Super Rare platform. Artworks for sale include a collaborative piece by Colbert and legendary American New Wave band DEVO.