Coin Bureau heading to London for live event this Saturday – win VIP tickets
One of world's most popular crypto YouTube channels will be hosting a live event in London this Saturday.
Led by Guy Turner, the Coin Bureau channel will welcome an impressive array of industry experts to the De Vere Grand Connaught Rooms in Great Queen Street from 8am to 8pm.
The day's schedule will include discussions on the past, present and future of crypto exchanges; the cryptocurrency endgame; top countries for crypto enthusiasts; CBDCs and more.
Speakers and panellists will include Gracy Chen, CEO of Bitget; author and Bitcoin OG Simon Dixon; Michael Tabone, Cointelegraph's head of research; YouTubers Altcoin Daily, Digital Asset News and CryptoBusy; and Coin Bureau's own Guy Turner.
As well as panel discussions and fireside chats, there will be networking opportunities and the chance to meet and chat with some of the leading influencers and builders in the space.
"But most of all, this is an opportunity for crypto enthusiasts to come together and meet other members of the community," said Guy.
"Unlike many crypto conferences, this is aimed squarely at ordinary people who love the space and want to learn more about it."
Tickets are now sold out, but two lucky Crypto AM readers can win exclusive tickets that will get them access to the event and to the VIP area backstage. All you have to do is retweet our tweet about the event, and add your own comment. Best two comments received before 1pm on Friday June 9 will be named the winners.
Here's the tweet…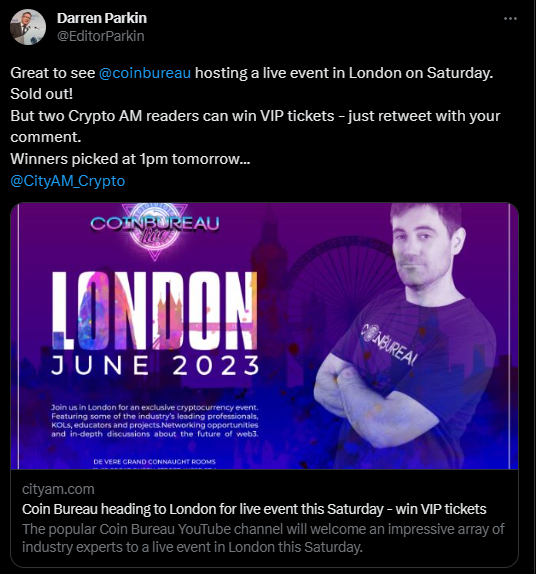 The event is sponsored by Bitget; Caduceus; Galeon, Intothecryptoverse; Near Protocol and CB Recruitment. Representatives from each of the partners will be at the event and appearing in a number of the discussions.
The event will also be broadcast live on Coin Bureau Clips – https://www.youtube.com/@coinbureauclips
When: Saturday 10th June
Where: De Vere Grand Connaught Rooms, 61-65 Great Queen St, London WC2B 5DA
Doors open from 8am for registration. Event runs from 10am – 6pm. Networking space and venue open until 8pm.
More information: https://live.coinbureau.com/