Boris Johnson gives revised Crossrail for Bikes the green light – now it's just up to Transport for London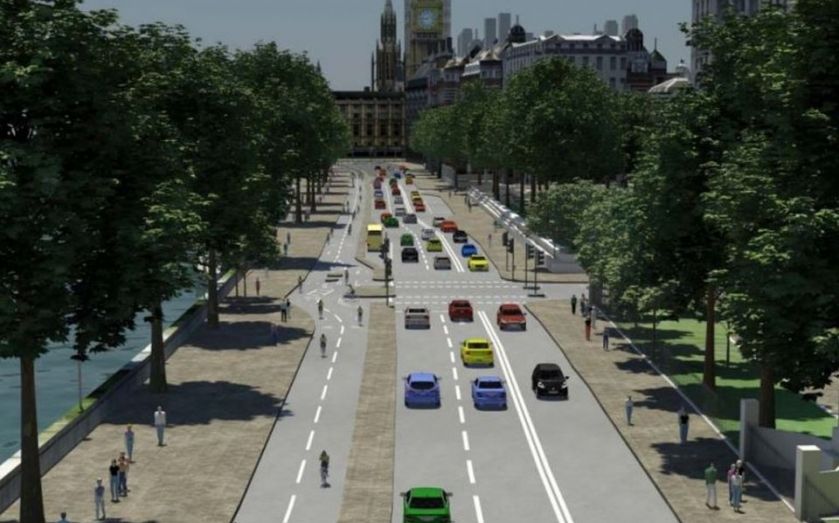 A revised version of the heavily anticipated 'Crossrail for Bikes' has been given the green-light by London mayor Boris Johnson, as part of a £913m policy to get more Londoners cycling.
The latest version of the plans for Europe's longest "substantially segregated" cycle path, which cut delays by 60 per cent on the route previously proposed, will go in front of the Transport for London board next week. If approved, construction will begin in March.
There are two routes, which will cross central London from east to west and south to north, which will be almost completely separated from traffic. The revised proposals keep two westbound lands on Upper and Lower Thames Street and Victoria Embankment while retaining the continuous, kerb-segregated cycle lanes and junctions.
Some 21,500 people responded to TfL's nine-week consultation on the project – the biggest in London's history.
The mayor's office said the new plans would reduce traffic delays during the morning rush hour by up to 60 per cent.
Drivers were concerned that the cycle path would increase their travel time between Limehouse Link and Hyde Park Corner by 16 minutes. The changes reduce that delay to just over six minutes at most. Potential delays on other routes have also been reduced.
Boris Johnson said: "Overwhelmingly, Londoners wanted these routes, and wanted them delivered to the high standard we promised. I intend to keep that promise. Thanks to the skill of TfL's engineers and traffic managers, we have made changes to our original plans which keep the segregated cycle track and junctions, while taking out much less of the route's motor traffic capacity – and so causing much shorter delays.
"I now look forward to the transformation that these planned routes will bring – not just for people who cycle now, but for the thousands of new cyclists they will attract. Getting more people on their bikes will reduce pressure on the road, bus and rail networks, cut pollution, and improve life for everyone, whether or not they cycle themselves."
The east to west route will start at Tower Hill, where it will connect to the Cycle Superhighway Three out as far as Barking. From Tower Hill, the new path will run along Lower and Upper Thames Street, Victoria Embankment, across Parliament Square, to Hyde Park Corner and through Hyde Park, across Lancaster Gate and up Westbourne Terrace.
The section through Hyde Park will be consulted on next month and the second phase of the scheme, on the Westway flyover to Acton, will be consulted on later this year.
The mayor's office said "relatively small changes" had been made "which will remove key pinchpoints" around Tower Hill, Blackfriars and Temple.
The planned north-south route will run from Elephant & Castle to King's Cross, with full segregation on St George's Road, across St George's Circus, Blackfriars Road, Blackfriars Bridge, New Bridge street and Farringdon Street to Stonecutter Street.
The east-west and north-south routes interchange with each other at Blackfriars.
Pedestrians will also benefit, with thousands of metres of walkways, 22 new crossings, 35 shortened crossings and 41 crossings fitted with pedestrian countdowns.
Sir Peter Hendy CBE, transport commissioner for London, said: "These projects will help transform cycling in London – making it safer and an option that more and more people can enjoy… Our task now is to work in concert with businesses and local boroughs to ensure these plans are introduced smoothly with the minimum disruption possible."