Boris Bikes see red: Santander is the next sponsor of Boris Johnson's cycle hire scheme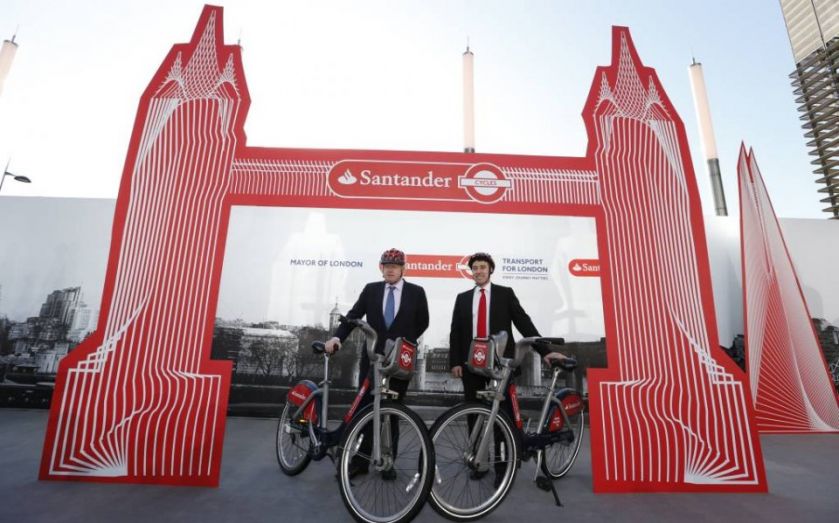 Say goodbye to the blue Boris bikes: Santander about to paint the town red as the new sponsor of London's cycle hire scheme. They're even renaming them "Santander Cycles".
Under a seven-year sponsorship deal worth a cool £6.25m a year, Santander will pay £6.25m a year for the rights to naming the bikes, then add another £1m for promotion and to "reach new customers through rewards, offers and incentives".
There are about 11,500 bikes shared over 748 docking stations in the capital. Since its launch in 2010, there have been almost 40 million journeys on the network. Usage rose by a quarter last year, Transport for London said today.
Either way, the bikes were going to go red: earlier this month it was reported that Santander and Coca-Cola were the last names left in the hat for sponsorship of the scheme, although drinks giant Diageo – which previously sponsored free Tube travel on New Year's Eve – had also been named.
Originally, Boris Johnson had said Barclays would carry on its current deal, worth £5m a year, until 2018. But in 2013, the bank pulled out following a "strategic review".
Today Johnson said:
As everyone knows, London buses, phone kiosks and post boxes are red. In Santander Cycles, we have a new red icon symbolising the Capital to Londoners, and the world. Santander's marketing expertise will help us take the Cycle Hire scheme to a new level, and I am thrilled to welcome them.
Just in case there was any question in your mind about what's happening, here's Boris, on a red Santander bike, wobbling past some cardboard cut-outs of London landmarks. Enjoy.