Bitcoin's usual September slump is still catching the odd wave of positivity
The Week in Review
with Jason Deane
Funny how different we can feel in a week, isn't it?
Just seven days ago the markets had a very negative 'feel' about them and doom and gloom was the prevailing sentiment. After all, September is traditionally Bitcoin's worst performing month and there's no reason to think this year would be any different.
However, in the last few days we have noticed a marked uptick in activity and price movement. This was probably sparked by the news that yet another ETF has been filed in the USA, this time from Franklin Templeton, with an eyebrow raising $1.5 trillion (that's a "T") assets under management.
What's interesting to note is that the price retraction that happened after the last round of positive ETF news has not materialised – at least so far – so are we entering a new era of expectation and creating a new "base level" price?
It's far too early to say, but there's no denying things continue to move fast.
In the UK, the FCA's latest set of rules about allowing retail crypto access only to "assessed customers" who understand risks as well as various other limitations on promotional activities comes into effect in a few weeks. There are still only a handful of registered exchanges in this country, mostly smaller entities with very simple operations, but many of the larger operations, despite working the FCA, have found it very difficult to get anywhere close to registration.
This is partly due to constantly moving goalposts, but, if we're totally honest, the overriding reason does seem to be a lack of desire on behalf of the FCA to make this happen easily. Or at least that's how many in the industry interpret their actions.
Add this piece of news to the increased stream of anecdotal stories I've been getting in my Twitter feed recently about people having their bank accounts closed without explanation shortly after engaging in any sort of crypto activity and you'd be forgiven for thinking that the walls are closing in. But, as ever, that's not quite the case.
As fast as traditional finance seems to be trying to pull up the drawbridge as much as it can, the commercial sector is moving forwards regardless. David Marcus, for example, CEO of Lightspark and former head of Facebook payments and Chairman of Paypal, is working on Lightning solutions which he explains succinctly in this clip. It's just one of many layer 2 and layer 3 solutions that are in development and these stories are everywhere.
For example, while meeting one of my fellow Bitcoiners for a quick beer in the week he brought my attention to a recent story I'd missed. It seems the UK POS provider, Lolly, announced a software rollout to all its installed terminals via a new partnership with CoinCorner last month. This means that anyone using those POS systems in their retail outlets (and there are many) can now simply switch on Bitcoin payments via the lighting network natively without any requirement for any additional hardware. The system takes care of literally everything else. That's big, and as it rolls out over the next month or two we're likely to see more coverage of this.
Meanwhile, behind the scenes, state sanctioned mining is undoubtedly increasing, reflecting different approaches to the "Bitcoin question" in different jurisdictions, something I wrote about in this article some years ago, but has taken all of this time to even begin to come to fruition.
We are in a rapidly changing world, my friends, make no mistake. But one thing's for sure, it's not going to be boring.
Have a great weekend!
JD
Don't forget that BitcoinHODLers, a UK based Bitcoin Telegram group designed for industry enthusiasts of all levels, is giving away three sets of VIP tickets, worth £5000, over the next couple of weeks for the upcoming Zebu conference in October. Find out how to join and enter here – it's free! 
Yesterday's Crypto AM Daily
In the Markets
The Bitcoin Economy
*Data can be found at https://terminal.bytetree.com/
🌅Total crypto market cap
🔵 $1.05 trillion
🔺 1.01%
What Bitcoin did yesterday
🔺 Daily high $26,760
🔻 Daily low $26,148
Bitcoin market capitalisation
🟠 BTC $517,609 billion
🟡 Gold $12.79 trillion
💳 Visa $502.27 billion
Bitcoin volume
🪣 Total spot trading volume $12.729 billion
🔻 6.32%
SP500
🔺 0.84%
FTSE/JSE Top 40
🔺 0.51%
Fear and Greed Index
Bitcoin's market dominance
📊 50.05
Relative Strength Index (RSI)
💪 54.54
Values of 70 or above indicate that an asset is becoming overbought and may be primed for a trend reversal or experience a correction in price, while 30 or below indicates an oversold or undervalued condition.
📣 What they said yesterday
Crypto AM: Editor's picks
FCA's new crypto advertising rules met with mixed industry response
ChatGPT urges crypto conference panel not to become over-reliant on AI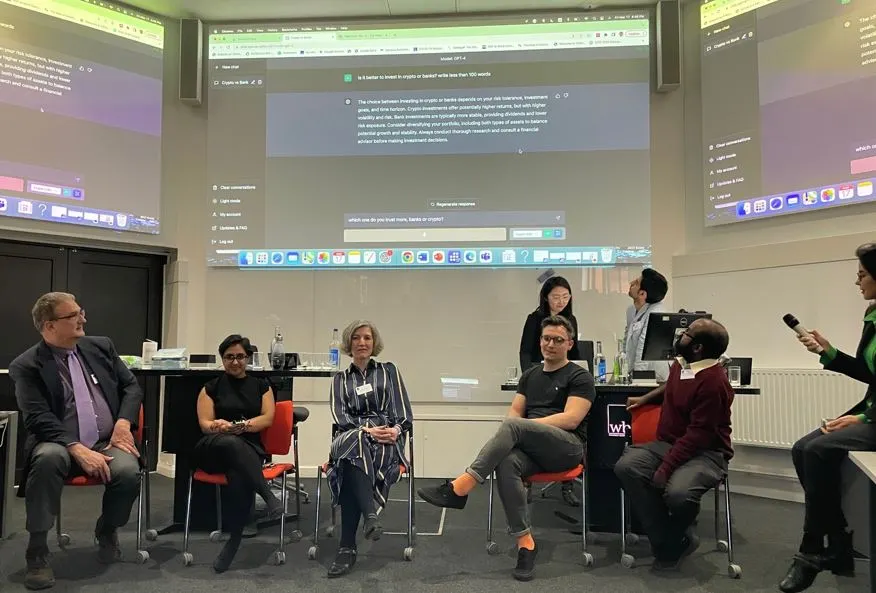 Mt. Gox customers will have to wait until November to recover lost Bitcoin funds
Sam Bankman-Fried: A tissue of lies soaked with fake tears?
Three-in-four wealth managers are gearing up for more cryptocurrency exposure
Crypto.com granted FCA licence to operate in UK
Q&A with Duncan Coutts, Principal Technical Architect at IO Global
Jamie Bartlett – on the trail of the missing 'Cryptoqueen'
MPs are falling silent over potential of cryptocurrency
Erica's 'Crypto Wars' handed honours in Business Book Awards
Crypto AM: Features
Crypto AM: Founders Series
Crypto AM: Industry Voices
Crypto AM: Contributors
Crypto AM: In Conversation with James Bowater
Crypto AM: Tomorrow's Money with Gavin S Brown
Crypto AM: Mixing in the Metaverse with Dr Chris Kacher
Crypto AM: Visions of the Future, Past & Present with Alex Lightman
Crypto AM: Tiptoe through the Crypto with Monty Munford
Crypto AM: Taking a Byte out of Digital Assets with Jonny Fry
Crypto on the catwalk
Crypto AM: Events
Cautionary Notes
It's definitely tempting to get swept up in the excitement, but please heed these words of caution: Do your own research, only invest what you can afford, and make good decisions. The indicators contained in this article will hopefully help in this. Remember though, the content of this article is for information purposes only and is not investment advice or any form of recommendation or invitation. City AM, Crypto AM and Luno always advise you to obtain your own independent financial advice before investing or trading in cryptocurrency.