Four years ago, Karne Hesketh propelled himself into the corner of the Amex Stadium in Brighton.
His 84th-minute try that gave Japan a World Cup victory over two-time winners South Africa, and the rugby world came to a standstill unlike ever before.
The result is, and is likely to stay for some time, the biggest shock the sport has ever seen. Now, with the next World Cup beginning next week, Japan are preparing to play hosts, rather than plucky underdogs. 
Read more: Do England have enough experience to win World Cup?
Hesketh would only play for Japan twice more after that World Cup.
But in crossing the try line he not only upset the long-established order of Tier One and Tier Two nations but made rugby's biggest statement to date in its efforts to expand the game beyond its historic strongholds.
World Rugby's intentions to globalise the game were most recently demonstrated by their proposed Nations Championship, an annual round-robin league with the world's top 12 teams. 
Tellingly, one leaked proposal suggested that Japan and the USA would join the 10 Tier One nations  – participants of the Six Nations and Rugby Championship – in a ring-fenced division at the expense of the more established Pacific Islands, which includes ninth-ranked Fiji.
However, concerns over player welfare and promotion and relegation structures saw the plans shelved.
Still, their intention to shoehorn Japan and USA alongside the big boys offers an insight into how World Rugby is prioritising spreading the game to large, untapped Asian and American markets.
USA reap rewards
Results from the last two years show that this is working. As they prepare to play hosts, Japan have convincingly beaten Fiji, Tonga, and Italy as well as drawing away to France.
The USA Eagles are reaping the rewards of an improved domestic system; a record 10-match winning streak coinciding with the launch of Major League Rugby, the country's first professional competition.
The streak, which included victory over Scotland, the Eagles' first win against a Tier One side since 1924, is largely down to the fact that coach Gary Gold can pick from a large pool of professionals for the first time.
Read more: Richmond, Cornish Pirates and how the growing gap between Premiership and Championship rugby is threatening clubs' finances and professional status
Still, this is not to say the two teams – who met last month in the Pacific Nations Cup, when eventual winners Japan won 34-20 – are in a similar position.
Watershed for Japan
While the USA are in the advent of their professional era, Japanese rugby is about to reach what should be its watershed moment. 
In 2015, in the wake of conquering South Africa, 25m people in Japan watched their side beat Samoa, the biggest national audience in the game's history.
If the 2019 edition is to have the desired effect, that figure will be comfortably surpassed.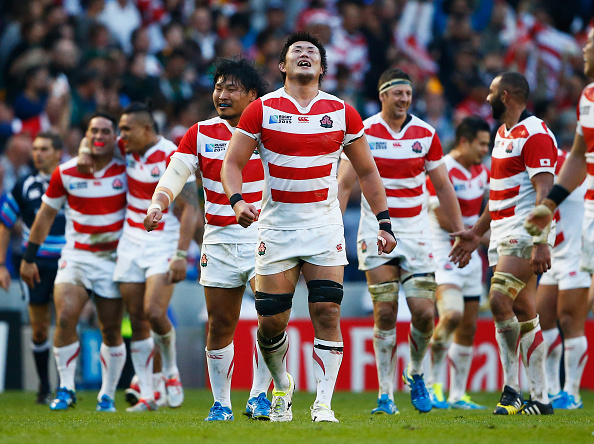 However, there is an argument that Japanese rugby lacks the infrastructure to achieve sustainable success.
Although they have a large pool of players, the industrial nature of their top division, where each club is owned by a large company, means that there is a massive disparity in pay between foreign and Japanese players.
In its current form, the league does not work to improve its national team.
The fact that it does not work in conjunction with university rugby means that most players do not play professionally until they are 23.
Loose restrictions on foreigners mean that teams rarely have Japanese players in crucial positions – Japan's first-choice fly-half, for example, is not a starter at his club.  
Perhaps the most good the World Cup can do for Japan, therefore, is to encourage national chiefs to develop a new professional league.
USA to host in 2027?
The USA must learn from Japan's progress but also avoid their mistakes.
Major League Rugby has had a resoundingly positive start, already expanding to 12 teams having started as seven only two years ago.
In French centre Mathieu Bastareaud, who is joining Rugby United New York next season, they have recruited a bona fide star who played in the most recent Six Nations. 
But to see a marked growth in the sport, the rugby team would need to capture the public's imagination, as the women's football team, the reigning world champions, have done.
They may have to wait for this to happen; at this tournament they are in the fabled group of death with England, France, Argentina, and Tonga.
Their best chance of rapid growth may be by following Japan's example and hosting a World Cup.
World chief Bill Beaumont has said that he wants the 2027 edition to take place in an emerging rugby nation.
With an abundance of big stadiums and iconic cities, the United States has as much chance as anyone.
Read more: Shane Williams interview: 'This is the strongest Wales squad I've ever seen. They need this World Cup.'
Both the 2019 and 2023 World Cups are being held in the same country as the following Olympic Games.
With the 2028 Olympics held in Los Angeles, the omens look good for World Rugby to take their flagship event stateside, as they continue to strive to awaken the game's sleeping giants.
Main image credit: Getty