This analyst thinks consensus is wrong when it comes to US bond yields in 2014
Consensus view for growth in the US economy is nothing to shout about, says Societe Generale's Kit Juckes: 2.6 per cent, with CPI inflation coming in at a modest 1.7 per cent.
Whilst there's nothing alarming about this, the economics community is looking for a 0.84 per cent two-year Note yield – the highest since early 2014.
The risk to the consensus view of US growth is skewed to the upside because fiscal headwinds are, but I suspect that the GDP data need to be 'better than expected' to justify the market's Treasury forecast.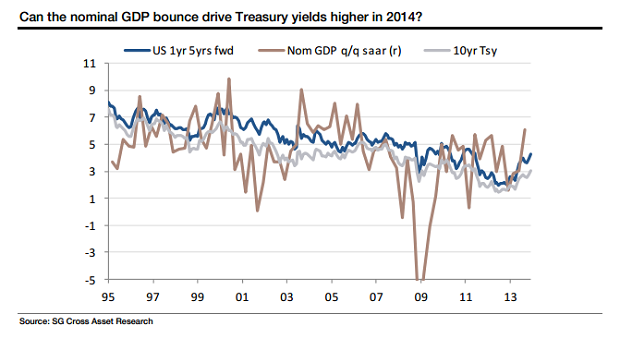 Juckes goes onto explain what the bullish and bearish arguments should be when it comes to 10-year Treasuries:
'Risk bull'
1. There isn't any inflationary pressure to make the Fed digress from its familiar 'tapering isn't tightening' message
2. The forward curve in the US is a lot higher than the spot curve.
Bearish
1. The front end of the curve is still a long way off where it was in September.
2. Bond investors have continued to sell into rallies in recent weeks: "As a group, they are looking further ahead and remain unimpressed with the level for returns available on government debt."
When it comes to whether upside economic data surprises, and the asset allocation shift out of bonds and into 'growth' will mean bond yields rise by more than is forecast – and, in the process, cause more dollar strength – Juckes says: "My answer? 'Yes.'"