World's biggest crypto influencers revealed, with a surprise at number one
The list of the world's most influential people in cryptocurrency has been revealed – with a surprise in the top slot, thanks to the medium of TikTok.
Some familiar names are dotted throughout the extensive list compiled by learning platform CryptoHead.
The company examined the influencers' various social media platforms and totted up their followers across established sites such as Twitter, Facebook and Instagram. However, the recent rise of TikTok has had a massive part to play in the final results.
Tron founder Justin Sun, Ethereum mastermind Vitalik Buterin, veteran renegade John McAfee and podcast-hosting investor Anthony Pompliano are all firmly established in the top five, but topping them all in number one spot is Ben Armstrong with Bitboy Crypto.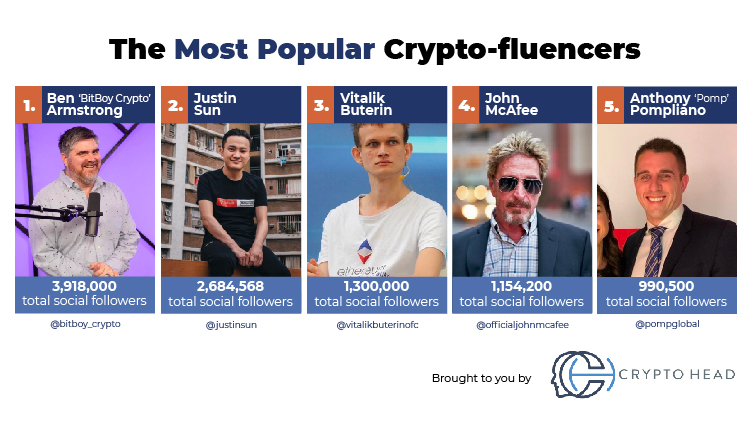 Armstrong only started the hugely successful BitBoy movement up three years ago but, thanks to his use of TikTok, he has taken his total number of social media followers close to four million – giving him a clear lead over second-placed Justin Sun's 2.7m.
Twitter, though, appears to have the greatest hold over cryptocurrency enthusiasts, with a combined following of more than 21 million among the top 20 influencers in the 50-strong list. Justin Sun has the majority share of the lot, though, with 2.5 million Twitter followers.
Sun is also leading on Instagram where he boasts 163,000 loyal fans.
However, BitBoy's success comes with videos and clips as his presence here – with 877,000 followers on YouTube and 2.6 million subscribers on TikTok eclipsing anyone else on the list.
The researchers also note that while Elon Musk may be able to affect the price of cryptocurrency, he does not make it into the category of being a 'crypto influencer' as he is the CEO of Tesla, rather than being someone who works in the crypto space.
Here's the top five, according to CryptoHead…
5: Anthony 'Pomp' Pompliano (936,352 total social followers)
The fifth highest-ranking crypto influencer is the first on the list to have fewer than one million followers, but at this rate, he is well on his way to cracking seven figures in the near future. Anthony Pompliano is an American investor in cryptocurrency and hosts a successful podcast based around the subject which has had more than 20 million downloads. He has a large social media presence with most of his followers coming from Twitter, but also boasting 175,000 YouTube subscribers.
4: John McAfee (1,154,200 total social followers)
In fourth place in the rankings comes a man who perhaps has had too keen of an involvement in cryptocurrency – computer programming veteran John McAfee. Although currently close to bankruptcy in a Spanish jail, McAfee has a big social media presence as he ranked in the top ten on the list for Instagram and Twitter followers, as well as being in the top 25 for most YouTube subscribers.
3: Vitalik Buterin (1,313,500 total social followers)
Vitalik Buterin was an early adopter of cryptocurrency and began influencing others on the subject way back in 2011 while he was still a teenager with his 'Bitcoin Magazine'. Buterin's sphere of influence has steadily grown and he now has more than one million followers across his social platforms. Almost all of these are on Twitter where he shares most of his crypto-related information, and this large following outweighs his non-existent presence on YouTube and TikTok.
2: Justin Sun (2,684,568 total social followers)
Justin Sun is a Chinese tech entrepreneur who has become massively successful due to his involvement in cryptocurrency and consequently has developed a popular following on social media from fans dreaming of following in his footsteps. The founder of the crypto platform TRON has a huge Twitter presence with two and a half million followers. Moreover, he has a big showing on Instagram with 163,000 followers, and he also has solid scores for the rest of the categories which helps earn him second place in the overall rankings.
1: Ben Armstrong aka BitBoy Crypto (3,918,000 total social followers)
BitBoy Crypto was only set up three years ago as an informative YouTube channel teaching people about all things Bitcoin and cryptocurrency. Since then, its presence online has grown massively and it is now one of the most noteworthy sources of crypto information in the world. BitBoy Crypto achieved the number one spot in the rankings due to a spectacular presence across all social media platforms and is ranked in the top two for YouTube, TikTok, and Instagram.
And here's the full list…