Why Madonna, George Clooney and British royals are flocking to Portugal's Comporta, the new St Tropez
A-Listers and royalty are moving to Portugal's secret coastline, to the villages of Comporta and Melides, so get in now, says Adam Bloodworth
To steal a commonly-used phrase from Gen Z, Comporta is popping off. Foreign investors have been quietly moving here in their droves over the past decade, encouraged no doubt by the iconic photos of Madonna riding horseback on the beach when she lived in Portugal. It's not just the Queen of Pop who chose Comporta: George Clooney and Sharon Stone are backers to a new luxury gated residence which is pricing out even the wealthy investors. "They do a 'high net worth test,'" one Comporta property owner tells me. "You need many millions to partake."
Princess Beatrice and her husband are also living locally after they got involved in the megawatt development, and visiting the Comporta beach, it's understandable why the A-Listers come. The wide stretch of sand is similar to the beaches of Miami or South Africa and goes for 40 miles uninterrupted. Locals and Lisbonites down for the weekend sip wine in the one beach bar, or eat fresh seafood in the one restaurant, but that's it. It's a simple set up: if you were Madonna, you could pull up near a random sand bank, cut through to the beach, and not see anyone for miles either way.
A ten minute walk down a modest board walk, then along an even more modest undeveloped dirt track, and you're in the village of Comporta. It's smaller than a Devon beach town but bigger than the handful of shops you might find clustered around a Devon bay. Shops pertaining to be bohemian but are actually quite expensive sell glasswares, clothes, ornaments, many made locally. The sellers look so content and relaxed that they might fall asleep at any moment. The town's mostly owned by foreign investors these days, many British. One local tells me there's only one authentic Portuguese restaurant left in Comporta, but still, this is where Portuguese people go on their holidays or to retire.
With a car, you could spend four or five days exploring the coastline from Comporta to Melides to the south, then to the north to the Sado Estuary, where dolphins can be spotted all year round. There's horse riding, and some water sports, but mainly this part of the coastline is about doing absolutely bugger all. It's about discretion: about getting away from the hordes and having a kilometre's worth of beach to yourself.
"Comporta is what St. Tropez was 50 years ago. Or 100 years ago."
There are plenty of amazing properties on the market. Brits can easily buy in Portugal and one local tells me houses priced at £300,000 a few years back are now going for £1 million. But get in now: rates are only going to keep rising as the new hotels and the Clooney resort continue to bring more cache to the area, one of the last underdeveloped secrets left on the Portuguese coast.
The arrival of the AlmaLusa hotel in Comporta, and the Vermelho hotel in Melides, both new in the past few months, means this stretch of coastline is finally also an option for holidaymakers.
The building the AlmaLusa occupies was another hotel years back, but a basic one. Using the original building rather than having knocked it down lends this now luxury property a warmth; architecturally it retains its motel vibe, only the rooms are incredibly comfy now, and the pool's had a glow up. In my room, there's an elegant curtain hung between the bed and the living area, and furnishings and fittings are all in natural terracotta shades. Many of the pieces were sourced locally, including the unusual lampshades made of wicker, which sort of look like the unkempt hair of a scarecrow. (Don't worry, that makes them sound far scarier than they are.)
At the rooftop bar I meet the British and Portuguese founders who say: "Comporta is what St. Tropez was 50 years ago. Or 100 years ago."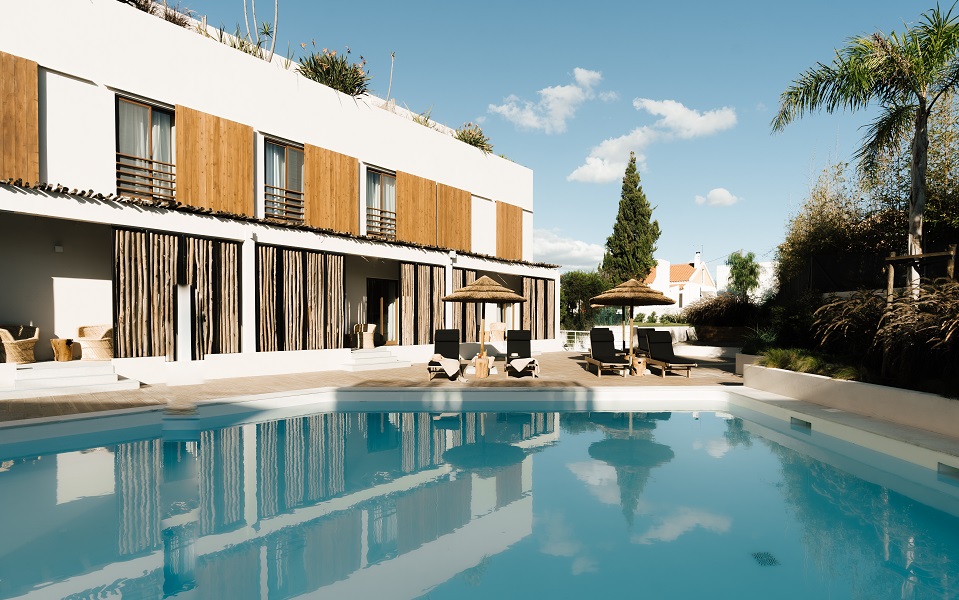 "Mr Louboutin wanted guests to feel like they were entering his private residence," I'm told as I enter the Vermelho hotel a half-hour drive away in the sleepy-quaint village of Melides, from which you can wander quickly into nearby stretches of absolutely remote countryside to look out to admire the views. The hotel is a castle-like design and every bit as staggering as you'd expect Christian Louboutin's first ever hotel to be. (Louboutin himself lives nearby.) There are only thirteen rooms, the largest of which has a painting on the balcony wall of a pair of Louboutins being served to someone by an angel. It's the only reference to the shoes; elsewhere it's all incongruous beauty, with design details referencing India, Mexico and Africa.
Detail is everywhere, from the pillows that look so nimbly embossed with curves in red that you wouldn't want to touch them, to the Romanesque clay bathtubs big enough for four people, frankly, some with views to the nature outside, where goats graze beyond the grand defences of the hotel walls. Lunch is obviously exquisite. This is the sort of place where you'd get a job just to hang out full-time.
I spent a few days drifting up and down this genteel coastline, bumping into expats who had been diligently keeping this place secret. The forthcoming Costa Terra Golf & Ocean Club is going to explode this quietly fabulous part of the world into the mainstream. Get in now before the developers do.
To book the hotels visit almalusahotels.com/comporta; vermelhohotel.com
Read more: Doing Portugal's Algarve the smart way, at Pine Cliffs Resort