Which countries eat the most ice cream in the world? Here's the scoop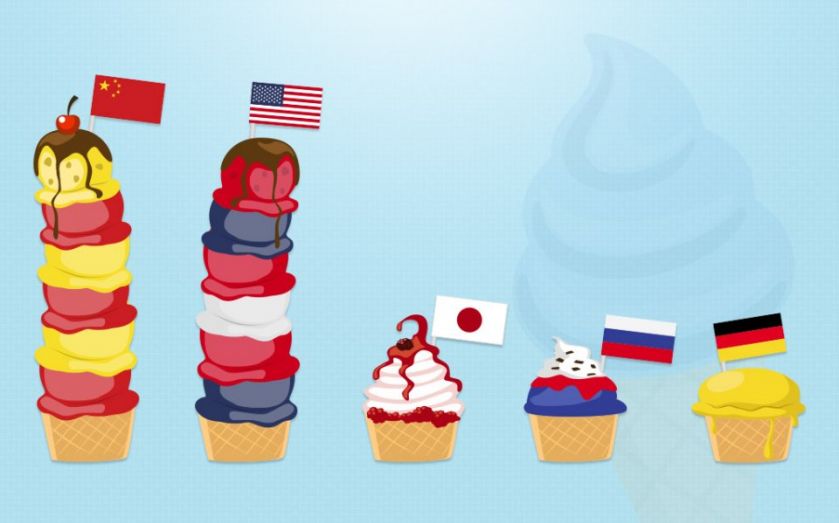 Things are changing in the delicious world of ice cream.
The Chinese are warming up to the icy delights of the classic treat and have just stolen the crown from the US as the biggest consumers of the treat in the world, licking up more than 5.9m litres of the stuff in 2014.
The change is put down to the changing consumer – in China there is a growing affluence, while in the US they are becoming more diet conscious – according to research from Mintel.
In the UK, we're nowhere near the size of these two ice cream giants, consuming 0.35m litres in 2014, but that still makes Britain the eighth biggest market in the world, even beating the home of gelato, Italy.
Read more: London has five of the best restaurants in the world
The (ice cream) saturated countries such as Italy, Canada and the Netherlands are expected to be the slowest-growing or declining markets over the next five years, while other emerging countries such as Vietnam, India and Indonesia are pegged to experience the biggest growth in demand for icy treats.
The US still retains one title, however, and that's for being the biggest ice cream lovers in the world. On a per capita basis, each person in the US is eating, on average, nearly double that eaten by most of the rest of the world – 18.3 litres each. In the UK, we're scoffing a more reserved 5.4 litres each.
Here's the scoop.