We got a dog to forecast the US jobs report and this is what happened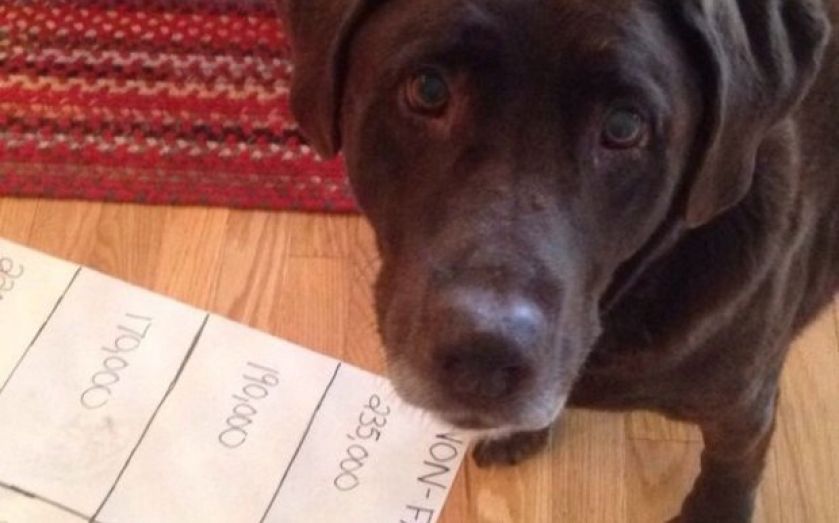 The monthly US job report is notoriously difficult to forecast, and methodologies for estimating the number of jobs added each month vary widely.
But we think we have the best. This month we're joined by 10-year old labrador Barney, who has worked hard to predict the fortune of the US labour market in the month of May.
Barney is our second canine analyst to take part in our nonfarm payrolls (NFP) game, following the sadly unsuccessful forecasting of longdog Blue last month.
While dogs are currently without a win, cats have fared better so far, going 2-1 in beating the consensus forecasts of analysts polled by Reuters, a 66 per cent victory rate. Barney is our first US-based analyst, so we're hoping he can bring some local knowledge to his work and start to even the cats vs dogs race.
This month economists expect figures from the Bureau of Labor Statistics to show that the US economy added a seasonally adjusted 218,000 jobs in May. Barney is more bullish, forecasting that the US will add a mighty 235,000 jobs.
Other indicators suggest that job growth might not be so rosy. Payroll-processors ADP saw private sector job growth at just 179,000 in May, although Deutsche Bank's Jim Reid notes that "last month showed a large divergence between the ADP and official NFP", so it's not clear that this week's ADP number will change all that much.
Societe Generale's Brian Jones is confident that we'll see the data reveal a strong month for hiring. Jones suggests that warmer weather will probably have buoyed hiring, along with the early observance of Memorial Day this year. Societe Generale estimates that we'll see a NFP print as high as 240,000.
We'll see how Barney fared against his human rivals later this afternoon.
Update: Job additions came in at 217,000 in May, seeing human analysts beat Barney's guess.