UK unemployment: 730,000 Brits lose their jobs in lockdown
Around 730,000 people have lost their jobs in the UK since lockdown began in March, official statistics showed today, in the largest quarterly slump in employment since 2009.
Since June, a further 114,000 people became unemployed, the Office of National Statistics (ONS) added.
The UK unemployment rate stands at 3.9 per cent for the prior quarter, which ONS said was "largely unchanged" on the year.
This is largely due to the government's furlough scheme. That has seen the government pay 80 per cent of 9m Brits' wages.
But the number of hours worked sank at a record pace, falling 203.3m hours year on year and 191.3m from the first three months of 2020.
Jeremy Thomson-Cook, chief economist at forex trader Equals Money, warned: "The latest UK unemployment release confirms two things. The true level of those out of work has been very effectively lowered by the government's furlough scheme.
"But, more importantly when thinking about a recovery, the level of employment has continued to fall as those who have lost their jobs through the pandemic have not yet found their next role."
Vacancies rise from record low
In one positive the number of vacancies did increase 10 per cent from the record lows of the April-June period, with 370,000 UK jobs available.
But jobs site Indeed's global economist Jack Kennedy said that was 56 per cent lower than last year.
"Not only are there far fewer jobs today than there were last year or even in early 2020, the mix of available roles has shifted too, which means some of the jobs people search for simply are no longer there", he said.
Wages drop amid pandemic
However, total pay dropped by 1.2 per cent in the three months to June on the back of the job losses, which translates as a two per cent fall in real terms.
"Annual earnings saw a further marked weakening in June and they look set to remain under pressure over the coming months," Howard Archer, chief economic adviser to the EY Item Club, said.
"Looking ahead, many companies are looking to freeze or cut pay, and to reduce bonuses."
UK unemployment rate set to rise after furlough ends
Economists warned that a spike in the number UK jobs lost was likely when the government's job retention furlough scheme comes to an end in October.
British Chambers of Commerce head of economics Suren Thiru said that the data was currently "lagging" behind the reality.
"While the headline data continues to lag behind the reality on the ground, the decline in the number of employees on payrolls and hours worked is further evidence of the damage being done to the UK labour market by the coronavirus pandemic", he said.
Before the Open newsletter: Start your day with the City View podcast and key market data
"The furlough scheme has been successful in preserving millions of jobs. However, with firms continuing to face a perfect storm of increased costs, reduced demand, and diminished cash reserves, unemployment is likely to surge as the government support schemes wind down, unless action is taken."
UK unemployment could spike at end of 2020
KPMG's chief economist Yael Selfin echoed Thiru's comments, saying the furlough scheme was masking the full extent of the crisis.
"As the job retention scheme unwinds, we expect unemployment to rise quickly in the fourth quarter", she said.
"That could see unemployment average over six per cent this year compared to only 3.9 per cent at present."
The Bank of England has predicted the UK unemployment rate could almost double to 7.5 per cent this year. Under its latest forecast scenario, the Bank believes the rate then will not fall until the fourth quarter of 2021, when it could hit six per cent.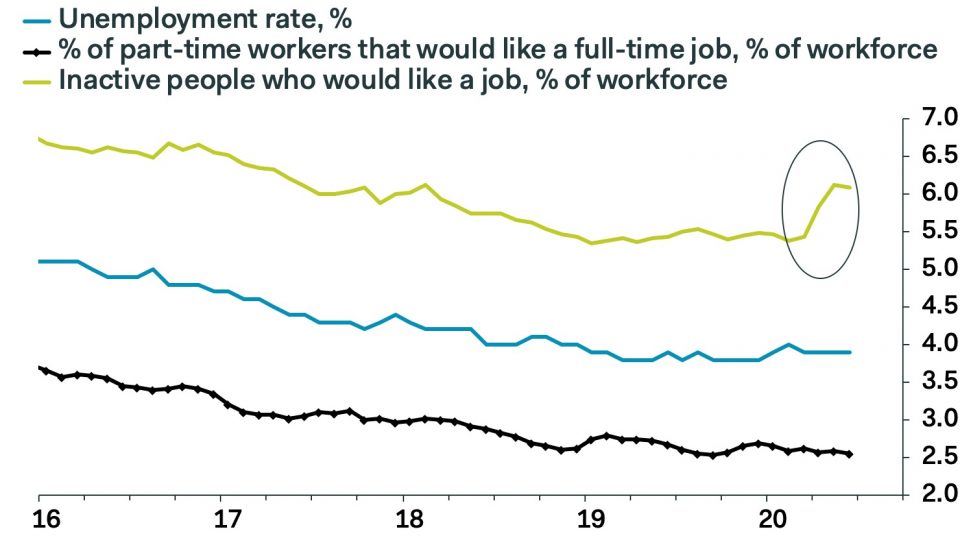 "A wide range of indicators suggest that job losses will crystallise from August, when employers must start to cover some of the costs of furloughed staff," warned Samuel Tombs, chief UK economist at Pantheon Macroeconomics.
"People losing their jobs and new labour market entrants will struggle to find work, given that the single-month measure of job vacancies was down 45 per cent year-over-year in July, not much better than June's 59 per cent fall.
"The number of job-seekers also will rise sharply when people who temporarily left the labour force at the height of the pandemic return."