The West's tech export ban could crush Russia and Putin's war against Ukraine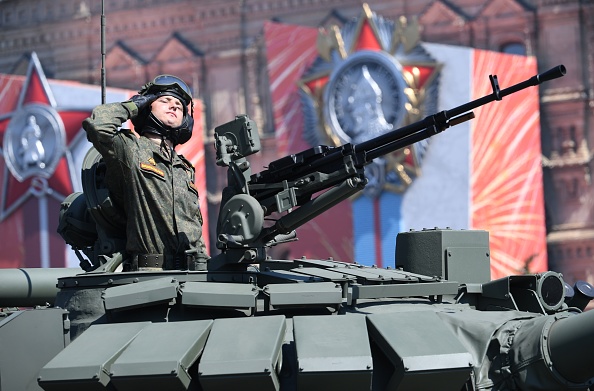 AS UKRAINE was plunged into war its allies around the world hurried to put together punitive packages of sanctions in retaliation. The Prime Minister Boris Johnson this week announced he's planning to bring forward a bill in Parliament that will effectively cut Russia off dual-use technologies critical for its defence sector.
President Biden has also been zoning in on Russia's defence industry declaring over half of high-tech exports to Russia would be cut. And that any products made by international businesses using US tech would have to abide by the same rules.
The sanctions include a ban on consumer electronics and telecommunications as well as sensors, lasers, and marine equipment. The export bans such as these could slow innovation in Russia's defence sector to a snail's pace. Russia relies on foreign tech to help fill a critical gap in its defence capabilities.
After energy, Russia's military industrial complex is the backbone of the economy. The sector employs 3 per cent of the entire workforce and accounts for around a third of manufacturing jobs. Russia's defence industry makes up 20 per cent of global arms sales, trailing behind the US who exports nearly double that. Since 2000, the Kremlin has signed arms deals with over 60 countries including China, Venezuela, Saudi Arabia and India – its biggest market destination. Its top sellers include Sukhoi and MiG fighters, helicopters, tanks and even air defence systems.
But these exports aren't made from Teflon. Prior to the annexation of Crimea, Russia's import dependence on foreign tech was a staggering 80 per cent. Tech acquired from abroad has enabled Russian defence firms to lift other parts of the economy out of the dark ages. In 2013, for example, the high-tech sector created around 4 per cent of GVA of the Russia's total GDP.
Following Russia's 2014 annexation of Crimea, a similar set of sanctions limited the flow of European capital entering the Kremlin's and the sector struggled. Over half of the components of Russia's ground-based intercontinental ballistic missiles relied on Ukrainian imports. Over 800 defence firms were affected. According to a report by foreign policy think tank Chatham House, Russia's reduced access to space-grade electronic equipment used in the satellites slowed down the production of it's GLONASS-K spacecraft, Russia's equivalent to US's GPS system. These spacecrafts have been critical to Russia's military operations particularly in Syria. There's also been reports of delays in military aircraft manufacturing including Su-57 fifth generation fighter and non-military commercial airplanes.
These sanctions have driven Putin into the arms of President Xi of China; a joint Sino-Russian project to create heavy helicopters is already underway and is expected to be active by 2032. In 2020 the government adopted an import substitution plan to replace Western tech and opted to strike partnerships with other politically isolated countries like China. 
Though the Russia defence sector yields billions for its state coffers, it only spends 1 per cent on R&D. The majority of Russian factories and equipment are outdated and this constricts how much they can make. A recent push for modernisation from Putin has propelled the sector to make progress on AI, hypersonic tech and unmanned military drones. But it's not enough to close the gap left by the UK and the US. The quality of products from China doesn't match the goods they were used to receiving from Ukraine or the West. Ultimately this could lead to breakdown in machinery and an added cost in servicing weapons down the line. There are also falling standards in STEM education and the sector has amassed such heft debts that the Deputy Prime Minister Yuki Borisov once said it was living "hand to mouth" and unable to innovate.
This is a weakness we must exploit; with a flick of a pen the UK, US and EU have taken a hammer to Russia's technological capability that will be felt for years.
£ Kay Abdilahi is an independent writer on geopolitics with a particular focus on Russia and China