The Lord Napier & Star is the best – and only – pub in Hackney Wick
Twenty years ago The Lord Napier – the last, boarded-up pub of E9's scrappy backyard, wedged between the River Lee Navigation and the A12's spaghetti junction – was bought with an eye firmly on the area's encroaching realty rush. "S**THOUSE TO PENTHOUSE" became the most iconic bit of its fully graffitied exterior, as planning disputes dragged on, only for a conservation order to be slapped on, in a bid to placate the NIMBYs. The pub had to stay, and remain a pub.
With pleasing symmetry, the man to finally bring this bricks-and-mortar martyr of gentrification back to life was the man who organised, promoted and even provided coach transport to illegal raves held at the Wick and what would become the Olympic Park's abandoned warehouses in the Nineties. He would even keep the Lord Napier's squatted-in basement on standby, should the authorities have the march on them.
Now, via a more respectable career path as club promoter turned hipster pub impresario, Mr Rob Star adds The Lord Napier & Star to his eight-strong portfolio. Incredibly, in spite of the area's cultural explosion, it remains (as the A-board outside reminds you) Hackney Wick's Only Pub. Being a local clearly helps – Star lived above his first venture, the labour of love that was (and continues to be) The Star of Bethnal Green, in 2008. He's now a Wick resident, and he's done his new local proud.
It was the food that I was most interested in, however, specifically the Northern Thai menu put together by street food collective Krapow! And boy does the eponymous Kra Pao live up to its reputation. From the first forkful it reveals a delirious spiciness, the recipe consisting of more chilli peppers than pork mince, oyster sauce and holy basil combined. Still reeling from the Thai street dish's gloves-off authenticity, I determined to seek out the kitchen to bellow my compliments across the pass, like some sweaty, K-holed Keith Floyd.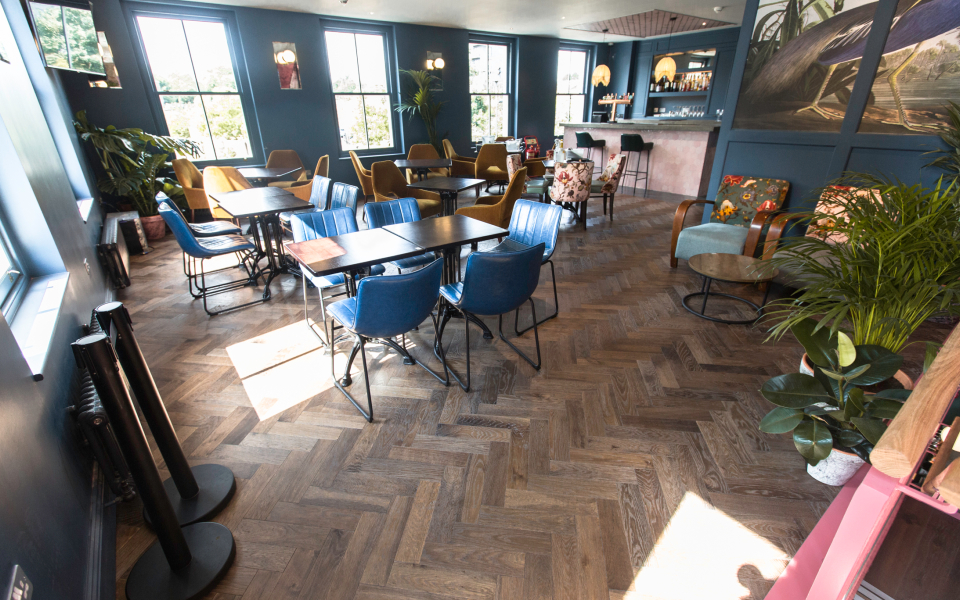 I found myself traipsing up a winding set of backstairs, paint fumes still hanging in the air, straight into some beautifully appointed maximalist toilets, complete with Pinterest-worthy tiles and houseplants. Taking a gamble on another set of stairs, the gloom was pierced by shafts of sunshine and the familiar construction-site rumble of Hackney Wick's gentrification juggernaut. Here lies the decking of a sprawling 80-seater roof terrace with 360 degree views of breakers' yards, MOT bays and tagged warehouses, punctuated by craft breweries, makers' markets, Tom Brown's revered Cornerstone, yuppy flats, taller yuppy flats and (ever controversially) yet more yuppy flats.
Still no sign of the kitchen, though. I took another flight of stairs into a sun drenched first-floor function room decorated with avian murals, sumptuous upholstery and sweeping steps of flamingo pink. From here I passed through foliage, another bar… before finally stumbling upon the kitchen, where I added my compliments to the already towering pile bestowed upon these chefs by London's foodie community.
I finally reunited with my dining partner from a direction entirely different from whence I left, to find her bugged out on smacked cucumber salad and rapidly running out of Picpoul to douse the fish sauce and lime-fuelled fire tearing through her oral passages.
Like the best pubs, the Lord Napier & Star is a happy place for all. For the cool kids over the way, for Ghostpoet sat behind us, and that bloke off of Sex Education who just walked past… and, dare I say it, for those locals who thought they'd lost the last genuine vestige of Hackney Wick.
To book a table go to lordnapierstar.co.uk, call 0208 161 4338 or visit 25 White Post Lane, Hackney Wick, E9 5ER