The tables have turned: How Ministry of Sound is shaking up the workspace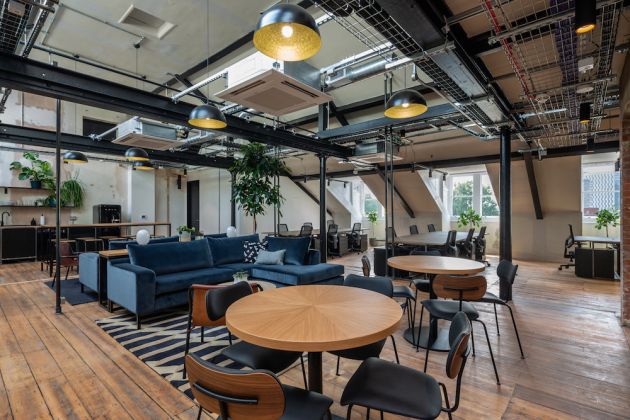 It was 1991 when Ministry of Sound first opened its doors.
Its founders had taken over a disused bus shelter in Elephant and Castle, and installed a massive sound system, fostering a subculture of clubbers who thrived on the underground music scene. At the time, there was nothing like it, and electronic dance music wasn't the shiny mainstream genre it is today.
This legendary nightclub still rakes in thousands of partygoers, and there's no doubt that its success rides off the fact that it has done things differently, pushing a few boundaries here and there. Just take the company's fitness nightclub, or its electronic music label, which it sold to Sony for a princely sum of £67m.
Music, of course, has been the heartbeat of the entire company, but it's bringing people together to create a shared experience that has brought everything to life. It makes sense, then, that the group's latest business – The Ministry – is a shared workspace for creative industries.
Offices just haven't changed; they're often dull, drably lit, and airless. But now a workspace revolution is happening.
A stone's throw from the nightclub, this social workspace occupies an 1850s warehouse. From the outside, it's not obvious – but then you can't expect an exclusive club to give away all of its secrets from the street.
Once I step into this grand old building, I know I'm in the right place. The new owners have kept the rawness of the original features, adding their own modern stamp with high-end trendy fittings – mixing the old with the new, just like the nightclub.
I meet the former chief executive of Ministry of Sound, Lohan Presencer, in the quiet buzz of the bar area. Given that the Ministry had not officially opened yet, I'm surprised to see people dotted around already. Presencer tells me that they're turning away more companies than they're letting in at the moment – a sign of the demand for cool co-working spaces.
"Offices just haven't changed; they're often dull, drably lit, and airless," he says. "But now a workspace revolution is happening."
As people crave more flexibility and enjoyment from their jobs, shared workspaces are becoming increasingly popular. But still, Presencer says the big players in the co-working sector are all largely the same. "Some of them might have tacky slogans on the walls or beer taps; there's no understanding of the people using the space – no curation or filtering. They're all creating vanilla office space, battling with each other on desk rates. That's fine, but that's not the business that we're in."
If you've got a music company next to an ad production business next to a fashion designer, there's the opportunity for sharing ideas, and you get genuine collaboration
Presencer, who is now the group's executive chairman after stepping down from his chief exec role back in 2016, clearly sees the potential in this fledging sector. And having spent his career in the music industry (he used to be a marketing director at Warner Music), he's got a vivid idea of what his customers want.
"Creative people love to share ideas and bounce things off each other. It's not going to work if the guy next to you works in civil engineering or finance. But if you've got a music company next to an ad production business next to a fashion designer, there's the opportunity for sharing ideas, and you get genuine collaboration."
Yes, Ministry of Sound's success has been built on creative people in the music biz – in publishing, live events, merchandising, digital media. And Watford-born Presencer says everyone – including co-founder Lord James Palumbo – has contributed their ideas, making The Ministry a collective effort in itself.
The new club has 900 desks, which include open-plan as well as private office spaces, soundproof studios, a 40-seat private cinema, event space, a restaurant, cocktail bar, an outdoor sun-terrace, and even a quiet room where you can sleep or meditate. The design doesn't take itself too seriously either – take the swing seat and tequila bar in the women's bathroom.
"It is an office space, but people work all times of the day and night, and they work in different ways, so we want to be able to accommodate what our members need. Also, people spend most of their time at work, so why shouldn't it be fun?"
I ask if he expects people to roll into the nightclub after a hard day working at the private club (or vice versa). "We're a 24-hour workspace, so yes. It's amazing that we found a building that is so close to our nightclub; we all walked past this building for years, and when it came onto our radar we were able to get our hands on it. It was like some sort of divine intervention."
We've seen a continual decline of late-night entertainment venues across the UK, and it's no secret that the nightclub industry is facing multiple pressures – from young people not having much money in their pockets, to the lack of affordable talent to draw people into clubs.
And the traditional use of nightclubs as an opportunity to meet people has been taken up by digital channels. As Presencer points out: "People don't lock eyes across a crowded dance floor as much anymore."
He admits that it's a difficult industry to be in. But despite that, the nightclub is still going strong. "We own one of the most famous nightclubs in the world, and we have very loyal customers who live in around London and visit us regularly. For anyone who visits London, it's the ultimate clubbing destination, so the problems haven't impacted us in the same way."
Presencer also rejects the idea that creating this new business is about making the group more resilient. "You launch an entrepreneurial business because you've got a vision for your product; that's what drives you. It's not about shoring up against threats – it's about doing things that excite us."
The Ministry seems to live up to a work-hard, play-hard mentality, slotting in wellness features here and there, such as yoga classes.
But appealing to a millennial market of creatives doesn't end with providing facilities, because Presencer stresses that actually it's the support from like-minded people that is really valuable.
"We all have our own experiences, and have gone through similar journeys, so we can offer advice," he says. "We are not a landlord just providing space for our clients."
Presencer also thinks the business could be instrumental in reviving Elephant and Castle's community. "We want to bring in a thousand really vibrant, creative workers, so they can live, work, and play in the area."