Sponsored
Ad Feature is produced by an advertiser with the specific intent to promote a product and is not produced by the City A.M. team.
Strength in numbers, when we look and sound the same, we tend to also think the same
Consensus is great for comfort (familiarity). However, be it legacy (group) thinking in an industry sector, or the blind spots that often come from being the incumbent, consensus is most definitely not great for voicing change, surfacing new ideas, driving innovation.
Rory Sutherland talks about this from a Behaviour Psychology viewpoint.
In the transport sector he points out that group think from incumbents is what got us a HS2 project costing billion, with its 25 to 40 odd minute projected faster time to travel from the North to London. He argues that the improvement on journey time is only a factor when the experience during the journey is viewed as a sub-par, inconveniencing, experience. Make the Wi-Fi on the train amazing, and the seats and desks comfortable to work on, and the productivity of the business traveller goes up significantly. The extra minutes on the train now become valuable work time. The cost to deliver this value – refitting the carriages and resolving the Wi-Fi issues Vs billions in spend and all the complexity of a decade long build.
Do you hire for Rory, or are you looking for transport planners and infrastructure engineers?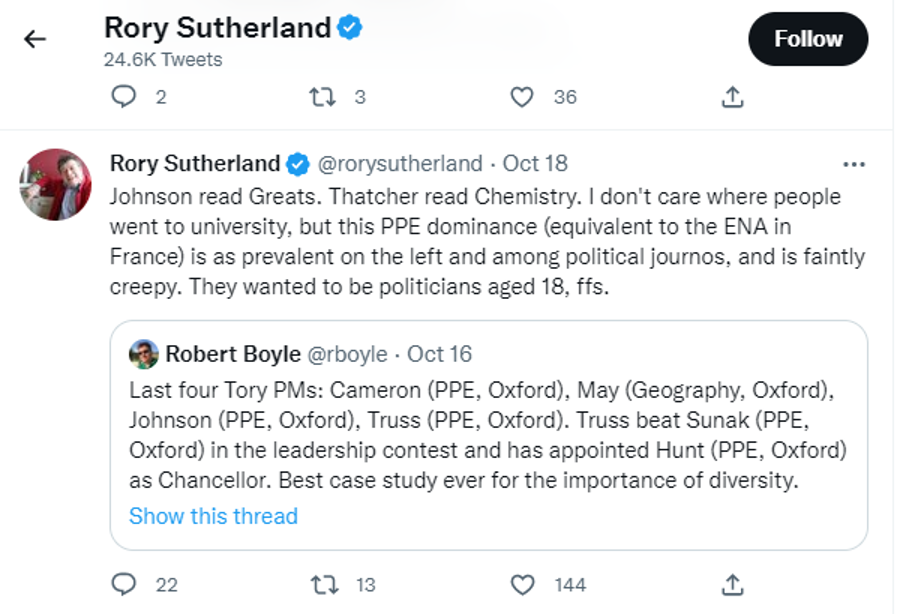 Speaking of Rory, if you follow him on Twitter (and you really should) this gem also serves to illustrate the dangers of group think (we're all the same) really rather nicely…
Omnishambles anyone!
Why does this matter in recruitment?
Think about it this way; "Having a great brand means you get to play the game of capitalism on easy mode"
At KM4, we believe that your D&I strength is a gateway to accessing talent which the herd socially and institutionally (subconsciously or consciously) screen out. 'Didn't go to the right schools, doesn't come from the right social group, hasn't taken that expensive certification*, isn't our kind of person…', all comfortable choices made by businesses who want to keep doing more of the same. Add to that, 'can't afford the travel costs, won't cover the childcare, doesn't see your business as a place that people like them work' and you can see how this filter isn't helping your search for talent.
Your business (your brand) has a commercial advantage when it is authentically engaged in recruiting those who ask the challenging questions softly, who find the lazy (fastest, most effective) way to achieve replicable, scalable, outcomes, the one's who're self-taught and deep in practical experience (without those costly to attain certifications*), and those who aren't found at their desk from 9am until 6pm, because they find solutions to gnarly problems at 3am.
Daniel Pink talked about Results only Work Environments (ROWEs) in, "Drive; the surprising truth about what motivates us". In a post pandemic world, where long commutes cost ever dwindling reserves of time and money, are we really considering what else it costs our businesses when we look at the 'shrink' we put on our potential talent pool as we define what 'working for us' looks like, and how that pre-screens (out) who we recruit and where we recruit from? Do we want the best available talent, or the talent which fits into a mould we're comfortable with? If we want innovation, we need to accept that discomfort has real value which, for so many, remains unlocked.
Jason Fried and David Heinemeier Hansson encouraged us to "Test-drive employees"* in their seminal book 'Rework'. With a remote workforce now having a substantial employee fanbase there has never been a better time to hire those with skills, irrespective of where they carry out your work.
One last word from Jason Fried and DHH; "Culture is the by-product of consistent behaviour. You don't create it. It happens." When you encourage an outlook, that becomes culturally valuable. Now you have currency. A value which attracts talent who like what they see. Think hard about what D&I means for your business. Apply the ESG measure. If it's owned by a communications function, it's typically skin deep. If it's owned by an operational function, then there's a fair chance it's an integral element, hard wired into all aspects of the business.
Where does your competitive advantage lie?
To find out more information visit: KM4 Recruitment Group
*On a mission to find the best HR and senior talent for high growth and market-leading businesses. Working with fast-growing ambitious businesse. Focusing on F/S, Fintech and Technologies sector, With over 14 years of professional recruitment experience, specialising in hires from management to board level positions across the UK.