Russia hikes interest rates to 17pc as rouble crashes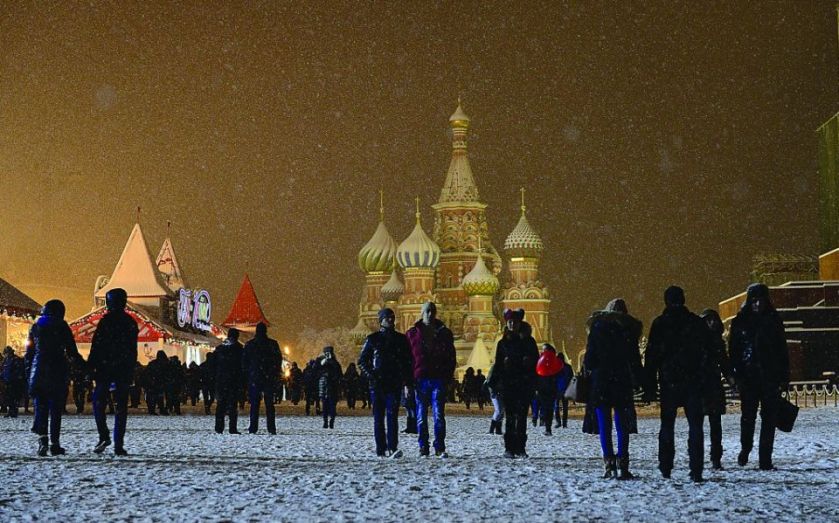 Russian interest rates shot up late last night to 17 per cent as its central bank made a drastic attempt to prevent further collapse in the value of the rouble and stem rising inflation.
The decision comes less than a week after the Central Bank of Russia (CBR) hiked rates to 10.5 per cent from 9.5 per cent. The ann­ounce­ment was made at 1am local time.
Earlier in the day, the rouble had plummeted to a historic low as oil prices continued to drop. A dollar could be exchanged for 64.2 roubles in the early hours of the morning, up from 58.2 at the start of yesterday.
The collapse in the currency's value has been attributed to plummeting oil prices.
Brent crude oil dipped by 1.5 per cent to $60.90 a barrel and has lost nearly half its value since June. WTI crude oil dipped briefly below $55 a barrel after an early rise.
"While a weaker currency is clearly part of the government's over­all policy response to lower oil prices, it will impose substantial costs on some parts of the economy and there is now a growing sense that the currency crisis is spiralling out of control," said economist Neil Shearing from Capital Economics.
A falling currency increases the burden of foreign debt, which raises the risk of a financial crisis.
The weak rouble has also made imported goods more expensive, pushing inflation higher. To stave off high inflation and curtail the collapse of the rouble, the Central Bank of Russia (CBR) has hiked interest rates, slowing growth.
Growth fears are causing capital to flee Russia's financial system. The CBR expects $120bn (£76.7bn) to leave the economy in 2014. It also predicts the economy will contract by 4.5 per cent in 2015 if oil prices average $60 throughout the year.
Shearing warns that there is a growing likelihood of the CBR introducing low-level capital controls. But he believes stringent controls such as the outright res­tric­t­ion of capital outflows have been porous and will likely be used only as a last resort.
RUSSIA AT A GLANCE
■ Annual GDP growth slowed to 0.7 per cent in the three months to June. It was 4.8 per cent in the first three months of 2012.
■ The rouble has collapsed in value with one dollar now worth 64 roubles compared to 47 a month ago.
■ For the first time in history, the dollar was worth over 60 roubles.
■ WTI crude oil dropped briefly below $55 a barrel yesterday. Brent crude oil dropped to $60.45 a barrel.
■ Inflation is forecast by the central bank to surpass 10 per cent next year.
■ Russia raised interest rates to 10.5 per cent last week.